Synopsis: A bullied teen experiences a turning point summer in which he learns to stand up for himself.
Release Date: May 11, 2018     MPAA Rating: PG-13
Genre(s): Comedy, Drama
Film Review

Set in 1976, Measure of a Man is about a young boy named Bobby Marks (The Maze Runner's Blake Cooper) whose New York family spends every summer at their lake house. This year, his parents (Judy Greer from The 15:17 to Paris and Luke Wilson from The Skeleton Twins) seem to be having problems, so instead of hanging out all summer with his childhood (girl)friend, Joanie (Aloha's Danielle Rose Russell), Bobby decides to kill the time by getting a job doing yard work for the enigmatic Dr. Kahn (Donald Sutherland from The Hunger Games). This angers the local who used to do Dr. Kahn's yardwork, a thug named Willie Rumson (The Signal's Beau Knapp), and the creep makes bullying Bobby his summer hobby. Between the responsibility of his job and the challenge of dealing with his older bully, Bobby does a lot of growing up over the short course of the summer.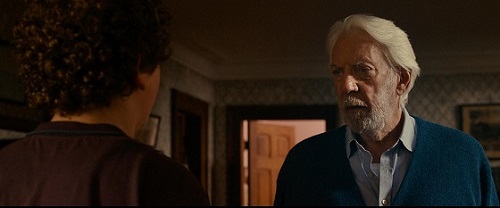 Based upon the 1977 novel One Fat Summer by Robert Lipsyte (That's the Way of the World), Measure of a Man was written by David Scearce (A Single Man) and directed by Jim Loach (son of filmmaker Ken Loach and director of Oranges and Sunshine). It's a pretty typical coming-of-age tale, complete with nostalgic "The Wonder Years"-esque voiceover narration. There's not too much to it. It's the kind of movie where the stakes don't seem that high until they're looked at from a child's perspective; sure, Bobby gets beat up and taken advantage of, but in the grand scheme of things, that's no big deal…unless you're a fat kid from the city who's trying to get by for a summer by the lake.
It would be a stretch to call Measure of a Man a Joseph Campbell's Hero's Journey, but many of the elements are there. Bobby is the reluctant hero, Joanie is his chaste love interest, a local named Pete Marino (played by Because of Winn-Dixie's Luke Benward) is the rival-turned-ally, Dr. Kahn is the mentor, and, of course, Willie and his pals are the adversaries. And Bobby's biggest challenge comes not from Willie, but from his own assessment of his limitations. Pretty deep stuff for a movie about a kid trying to get out of going to summer camp.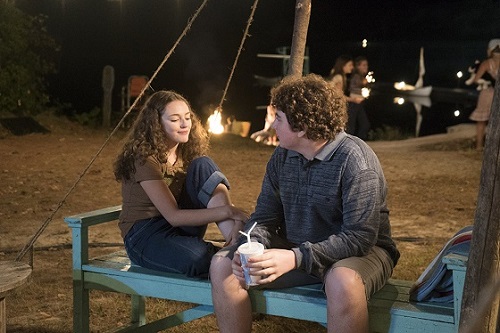 Or maybe it's not so deep. But Measure of a Man is enjoyable, in that classic retro movie way. It's corny and predictable, but it's got a lot of heart. And sometimes, heart is enough.

There's really only one aspect of Measure of a Man that gives away the fact that it's set in the seventies, and that is the soundtrack. Of course, it's full of groovy period hits, but not all of the usual suspects; the most famous song included is Jonathan Edwards' "Sunshine (Go Away Today)," and the second most famous is the Tavares version of "Free Ride." The rest of the songs are mid-to-deep cuts from the likes of Donovan, America, The Commodores, Marmalade, and Steve Harley & Cockney Rebel. The music sounds authentic without bombarding the audience with the same ten seventies hits that have appeared in just about every movie ever made that has been set in the "Have a Nice Day" decade. The soundtrack to Measure of a Man is a surprising and refreshing selection of tunes that really nails the era.
Cast and Crew
Director(s): Jim Loach
Producer(s): Christian Taylor
Screenwriter(s): David Scearce
Story: Robert Lipsyte
Cast: Judy Greer (Lenore Marks)Donald Sutherland (Dr. Kahn)Beau Knapp (Willie Rumson) Liana Liberato (Michelle Marks)Luke Wilson (Marty Marks)Danielle Rose Russell (Joanie Williams)Luke Benward (Pete Marino)Sam Keeley (Jim Smith)Ryan Boudreau (Dougie Newman)Brian Faherty (Sheriff Rumson)Joanna Herrington (Janice Williams)Blake Cooper (Bobby Marks)
Editor(s): Dany Cooper
Cinematographer: Denson Baker
Production Designer(s):
Costume Designer: Amelia Baksic
Casting Director(s): Eyde Belasco
Music Score: Ilan Eshkeri & Tim Wheeler
Music Performed By: 
Country Of Origin: USA