There is no horror movie prop that strikes fear into the hearts of viewers quite like the Ouija board. Some say it's a portal to another dimension, others say it's a silly game by Parker Brothers, but no one quite understands how or why the device behaves the way it does. One thing is for sure; whether appearing in classic films like The Uninvited and The Exorcist, or in more modern movies like Paranormal Activity and What Lies Beneath, the Ouija board (also known as a talking board or a spirit board) has carved itself out a seemingly permanent place in horror movie culture. The debatable king of the Ouija board horror movies is the 1986 spook-fest Witchboard.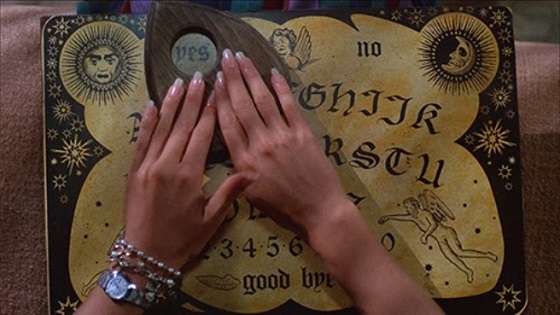 Witchboard begins with a party at the home of law student Linda Brewster (Tawny Kitaen, better known as the hood ornament on Whitesnake's car) and her boyfriend, construction worker Jim Morar (Frontera's Todd Allen). During a lull in the conversation, one of the guests, a well-to-do fellow named Brandon Sinclair (soap opera star Stephen Nichols from "Days of Our Lives," "The Young and the Restless," and "General Hospital") who also happens to be both Jim's ex-best friend and Linda's ex-boyfriend, introduces the group to the phenomena of contacting spirits through a Ouija board. Brandon happens to have one handy, and he and Linda are able to converse with the spirit of a young boy named David whom Brandon has contacted before. When Jim and his friends ridicule the impromptu séance, David gets agitated and violently flips the board, which leads to a hostile confrontation between Jim and Brandon. In the ensuing melee, Brandon accidentally leaves his Ouija board behind, and Linda breaks the cardinal rule of spirit contact by playing with it by herself over the course of the next few days. At first, Linda and David carry on harmless conversations, but when Linda starts to behave erratically, Brandon brings in a medium named Zarabeth (Road House's Kathleen Wilhoite) who discovers that Linda has not been contacting the innocent ghost of a young boy named David, but the evil spirit of a demonic murderer named Malfeitor (J.P. Luebsen from Witchtrap). When the death and destruction start to pile up, Jim and Brandon have to put their differences aside and work together in an attempt to keep Linda from being possessed by Malfeitor.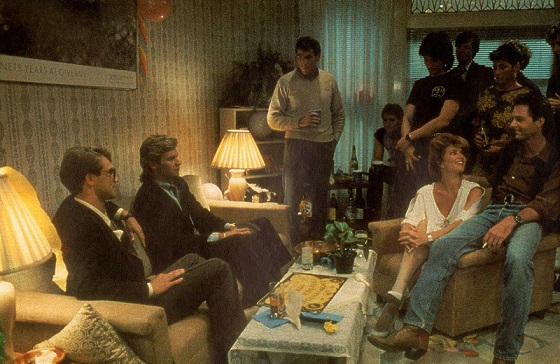 Although Witchboard owes an obvious debt of gratitude to both the possession movies of the seventies and the slasher craze of the early eighties, it really is its own entity. The film was written and directed by schlock horror master Kevin S. Tenney (Night of the Demons, Pinocchio's Revenge), and it boasts a seamless and compelling story, even if the dialogue and acting are a bit strained. All of its flaws just serve to give the movie character, and truth be told, it does have its fair share of legitimate scares. In spite of its inherent campiness, or possibly because of it, Witchboard is a bona-fide eighties horror classic.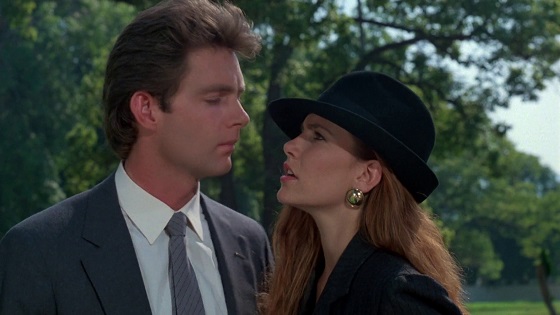 Of course, because Witchboard is a bona-fide eighties horror classic, it doesn't even try to hide the fact that it was made in 1986. From Linda's poofy hair, rocker makeup, and tasteful asexual headwear to the guys' almost-mullets, frosted tips, and high collars, everything about the actors' appearances just screams eighties. The character archetypes are there, as well; Zarabeth the psychic is the epitome of an eccentric punk rocker, and Jim's low-life work buddies are typical jocular stoner dudes. Even the houses and cars make the film look dated, but that's not a bad thing – the commitment to the time period gives Witchboard a cool, unintentionally retro vibe.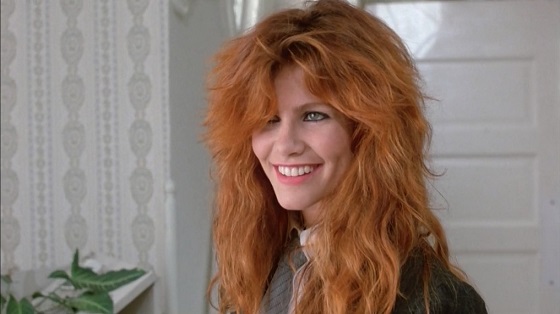 Even though it has the feel of a slasher, Witchboard is more of a possession movie and, as such, has a relatively low body count. There are only a handful of deaths in the film, but the ones that do occur are both memorable and creative – and more than a little shocking. Because of the very limited amount of bloodshed, none of the details of the deaths will be spoiled here, just let it be known that the kill scenes draw influence from classic movies such as The Exorcist and The Omen, and they look to have had an impression on the ambiguous antagonist films that have been made more recently like It Follows and the Final Destination series. Witchboard is that kind of a movie; it's more supernatural than splatter.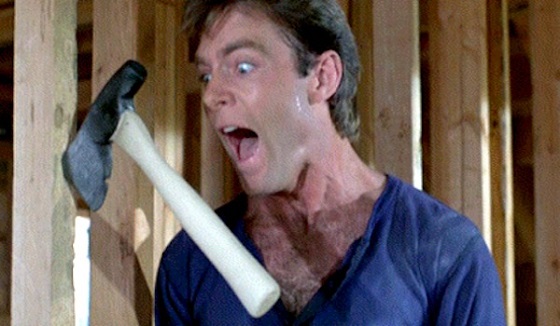 A big part of Witchboard's charm is due to the cinematography of Roy H. Wagner (Return to Horror High, A Nightmare on Elm Street 3: Dream Warriors). Wagner relies on plenty of the staple techniques of horror movie photography in Witchboard, so it looks almost too much like a fright flick. For example, he uses a fun The Evil Dead-like fast-and-sweeping POV shot to illustrate the spirit demon's attacks. He also utilizes soft focus and low-lying theatre fog in order to give the handful of dream sequences a more surreal look. Keeping with the tongue-in-cheek feel of the picture, Wagner also uses faux-symbolic imagery that comes off as a little corny, but purposefully so; in one scene, a knife falls to the ground and the blade sticks in the floor, and a bottle of ketchup spills down on it to emulate blood. Wagner captures it all in stunning color…and with comical restraint. Because of Wagner's photography, Witchboard has a very distinct look that is, curiously, also very familiar.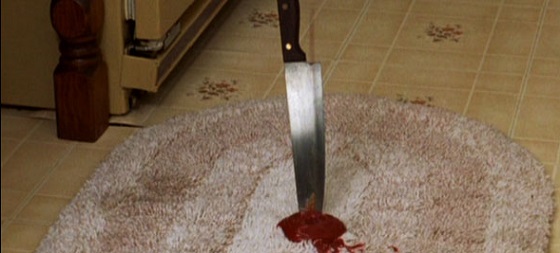 As is the case with most of Kevin S. Tenney's movies, the music for Witchboard was written by his brother, Dennis Michael Tenney (who has also done the music for, among other films, Leprechaun 3 and Leprechaun 4: In Space). The score for Witchboard is much like that of Tenney's other films; it's simplistic, synthesized, and downright spooky. It's mostly soft and electronic keyboard melodies, the type of stuff that sounds like it was written in the basement of the Tenney household while mom and dad are asleep upstairs, but that's the kind of eerie etherealism that the film needs. Witchboard is a creepy movie, and it has a creepy score.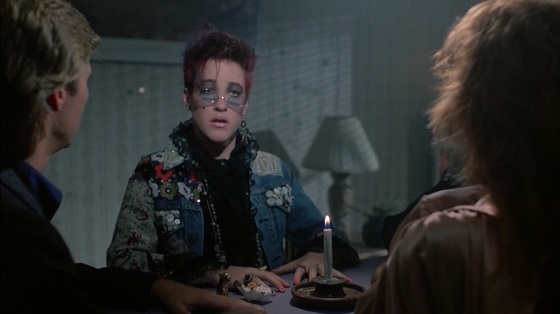 Ouija boards continue to show up in horror movies. There are literally dozens of movies that show up in an IMDB search for the word, including last year's teen fright flick Ouija. Heck, even Witchboard was released in France under the much more generic title Ouija. That doesn't take away its legacy as the coolest Ouija board movie to come out of the Reagan decade.