Last weekend, Hollywood icon George Kennedy passed away at the age of 91. Kennedy won an Academy Award for his performance in Cool Hand Luke, but he was not above taking sillier, less distinguished roles in fun movies; he appeared in all of the Airport series of disaster movies as well as the entire The Naked Gun comedy franchise, and that's not even mentioning his stint as a regular on the nighttime soap opera "Dallas." Of course, he also did horror movies, with performances in the noir thriller Strait-Jacket, the schlockfest Brain Dead, and the "Old Chief Wood'nhead" segment of the anthology Creepshow 2. In 1981, Kennedy even appeared in the full-blown slasher movie Just Before Dawn.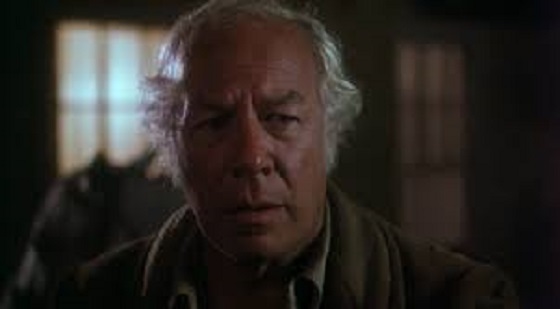 Just Before Dawn begins with a pair of hunters, Ty (Sleepaway Camp's Mike Kellin) and Vachel (Charles Bartlett from Jaws: The Revenge), running into a machete-wielding killer in an old abandoned church in the woods. Vachel is killed, but Ty escapes. A group of twenty-something kids that includes a guy named Warren (Body Double's Gregg Henry), his girlfriend Constance (Deborah Benson from Ghost Fever), another boy named Jonathan (Chris Lemmon from "Thunder in Paradise"), Jonathan's girlfriend Megan (Jamie Rose from "Falcon Crest"), and Jonathan's brother Daniel (Ralph Seymour from Ghoulies), heads into the area to check out a piece of property that they have just bought. The forest ranger, Roy McLean (Kennedy), warns them not to continue up to the site, telling them that there are "demons" in the woods. They ignore him, but soon run into Ty, who is still running from his assailant. Ty also warns the kids of their impended doom, but they ignore him as well. When they reach their campground, the kids are in awe of the beauty and peace that surrounds them. Their serenity is short lived, however, as the murderer soon finds them and starts to pick them off, one by one.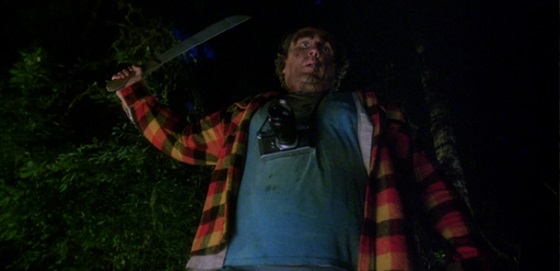 As you can probably tell from that synopsis, Just Before Dawn kicks off just like any old killer-in-the-woods slasher movie, but it soon becomes evident that it is more than just a simple Friday the 13th/Madman/The Burning/The Final Terror ripoff. Sure, it's full of all of the tropes and trappings of the subgenre, but there's a big twist at about the midway point of the movie that is a huge game-changer. Written and directed by Jeff Lieberman (Blue Sunshine) from a story idea by Joseph Middleton (Through the Looking Glass), Just Before Dawn ends up owing just as much to survival movies such as Deliverance and Straw Dogs as it does to horror flicks like The Hills Have Eyes and The Texas Chain Saw Massacre. Lieberman mixes the stupid kid archetypes and the endless red herrings that permeate the slasher genre with some clever and creepy revelations about the killer until the whole thing culminates into one of the most unforgettable climactic showdowns in horror movie history.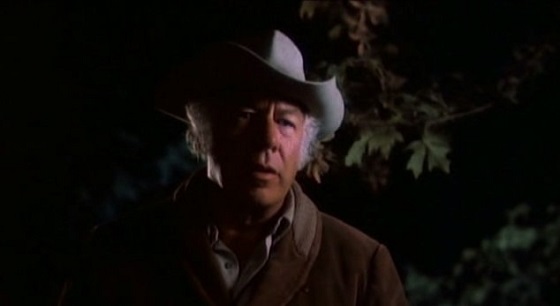 Although his performance as Ranger Roy McLean in Just Before Dawn is not exactly a scene-stealer, for his part, George Kennedy sells his role well. His character is a reluctant hero, either crazy or drunk (or a little of both), but he comes through for those in need when the chips are down. Kennedy plays a good faux-authority figure, and he steps in to save the day just as well as he does in his screwball disaster movies of the seventies. George Kennedy makes the most of his small amount of screen time, and his charisma helps him become one of the more likeable characters in the movie.
Just Before Dawn was shot on location in the Silver Falls State Park in Silverton, Oregon by cinematographer Joel King (Frightmare). The movie is filled with beautiful scenery, with lush woods and flowing waterfalls visible in just about every exquisite frame. It is, of course, a slasher movie, and there are plenty of backlit, low-angle shots of the antagonist that seem as if they could have been taken right out of The Burning or Madman, but King also gets a little creative in places, doing things like purposely losing focus to show the point of view of a character whose eyeglasses get knocked off of his head. Between Joel King's keen eye and Oregon's stunning beauty, Just Before Dawn has a very striking look to it.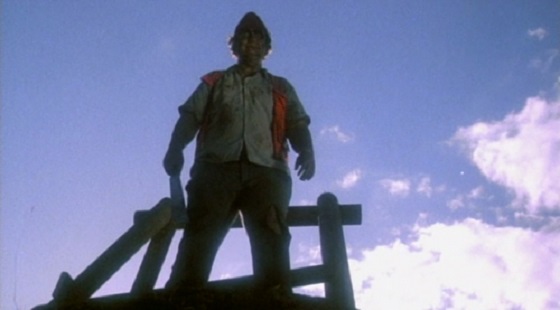 The music for Just Before Dawn was done by Brad Fiedel, the composer behind The Terminator, Fright Night, The Serpent and the Rainbow, and The Midnight Hour. Fiedel's score is sparse yet effective, mixing seamlessly with the sound effects to provide a threatening new age-y musical landscape of running water, blowing leaves, and chirping crickets. Much of the soundtrack is made up of electronically modified vocal recordings that echo the noises of the natural location and the sounds of the characters. Fiedel tosses in some traditional movie score-type of stuff, too, just for good measure, but the really creepy music is the barely noticeable, naturalistic textures that eerily accompany the action. Fiedel's score for Just Before Dawn isn't one that will leave its listener humming, but it definitely provides an extra layer of spookiness to the movie.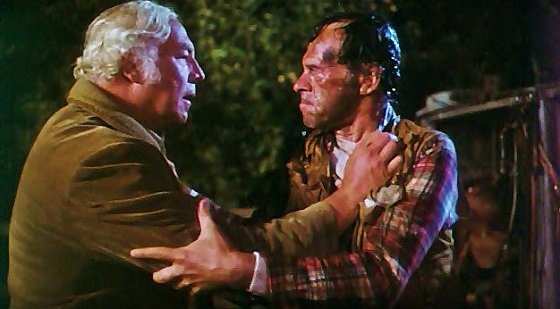 They don't make actors like George Kennedy anymore. The man was a consummate professional. He was the rare type of actor who cared more about his craft than he did about the quality of the roles that were offered to him. He brought his best to every performance, whether he was in an Oscar contender such as Cool Hand Luke…or a splattery slasher like Just Before Dawn.