Synopsis: Detective Harry Hole investigates the disappearance of a woman whose pink scarf is found wrapped around an ominous-looking snowman.
Release Date: October 20, 2017     MPAA Rating: PG-13
Genre(s): Crime, Drama
Film Review

Norwegian author Jo Nesbø has been writing novels about a troubled homicide detective named Harry Hole (no, really, that's his name) since 1997. Twenty years after the first Harry Hole novel, the brilliant investigator is finally hitting American movie screens in The Snowman.
The Snowman sees Harry (Michael Fassbender from Alien: Covenant and Frank) investigating a series of killings in Oslo, Norway. The killer, who preys upon women with children, taunts Harry by building snowmen outside of his crime scenes and sending handwritten notes about the murders to the police. Working with a young upstart detective named Katrine Bratt (Life's Rebecca Ferguson), Harry begins to see a pattern emerge that links the killings with another batch of murders from nine years earlier in nearby Bergen. Harry and Katrine race against the clock to solve the murders before any more women are abducted and killed.
Nesbø's book, the seventh Harry Hole mystery novel, was adapted for the screen by director Tomas Alfredson (Tinker Tailor Soldier Spy, Let the Right One In) and screenwriters Peter Straughan (Tinker Tailor Soldier Spy, Frank), Hossein Amini (Drive, Snow White and the Huntsmen), and Søren Sveistrup ("The Killing"). Harry Hole is somewhat of an icon in Norway, and Fassbender brings him to life very well. Although the main relationship in the film is between Harry and Katrine, Fassbender and Ferguson are supported by an all-star cast which includes Charlotte Gainsbourg (the Nymphomaniac movies), J.K. Simmons (Whiplash), Val Kilmer (Top Gun), Toby Jones (Atomic Blonde), James D'Arcy (Dunkirk), and Chloë Sevigny (Love & Friendship). On paper, The Snowman looks like it can't fail.
The reality is a bit less sunny. Alfredson has gone on record as saying that, because of the late start of production (Alfredson replaced Martin Scorsese as director at the last minute), he only got to shoot about 85% of the script. This revelation explains a lot, as The Snowman is full of under-realized ideas and unfollowed pathways. There are poorly utilized characters everywhere, some of whom are hinted at as suspects but not developed enough to be taken seriously, and others who are supposed to generate emotional sympathy but just.don't. Other parts of the story are just puzzling in that they literally go nowhere. The whole thing is just half baked.
As a mystery, The Snowman really misses that unshot section of the screenplay. Things are set up well enough in the early stages of the film (including one of the best opening segments of the year), but it all goes downhill from there until the entire film goes completely off the rails in the third act. If The Snowman was a less serious film, it would be more effective, as it unintentionally ventures into campy territory in places. The silly cross between Se7en and Jack Frost is a tonal mess.
There's a good movie scrambling around somewhere within The Snowman. It either needs to have the unrealized 15% of the script added in, or have all of the references to that 15% that are still there excised. The latter is preferred, as that would turn it into a tight and suspenseful ninety-minute thriller, but even the addition of twenty minutes or so to the just-a-hair under two hour running time would flesh things out a lot better. As it is now, The Snowman seems like exactly what Alfredson says it is: an unfinished movie.

The Snowman was shot on location in Norway by cinematographer Dion Beebe (Into the Woods, Edge of Tomorrow). It's a cold country, and Beebe captures that frigidity unbelievably well, so the movie also feels very cold. The landscape itself is beautiful, with snow flurries sweeping past ice-capped mountains in just about every wide-angled external shot. While The Snowman doesn't exactly function as a makeshift tourism movie for Norway (like Land Ho! does for Iceland), its dazzling imagery does make the viewer want to visit the frozen country. Beebe doesn't just limit himself to gorgeous scenery, though; even a simple conversation is made more engrossing by his use of selective rack focus and slowly shifting camera movement. Dion Beebe's photography is far and away the most interesting aspect of The Snowman.

It's a bit unfair that The Snowman is being sold as a horror movie, because it's not scary at all. There are a handful of brutal gore scenes, but even those are whitewashed so that they don't slip down the torture porn alley. As a killer, the Snowman himself would actually be a better slasher villain than a police procedural target, as his whole M.O. is kind of corny, like it's right out of a horror movie. Unfortunately, there are no scares to go along with the horror movie methodology. The Snowman…wait for it…lacks chills.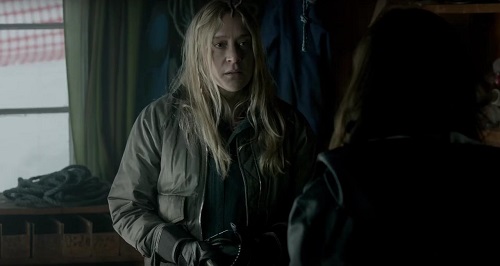 Cast and Crew
Director(s): Tomas Alfredson
Producer(s): Tim BevanEric FellnerPeter GustafssonRobyn Slovo
Screenwriter(s): Hossein AminiPeter StraughanSøren Sveistrup
Story: Jo Nesbø
Cast: Michael Fassbender (Harry Hole)Rebecca Ferguson (Katrine Bratt)Chloë Sevigny (Sylvia Otterson & Anne Pedersen) Val Kilmer (Gert Rafto)J.K. Simmons (Arve Støp)Charlotte Gainsbourg (Rakel)Jamie Clayton (Edda)James D'Arcy (Filip Becker)David Dencik (Idar Vetlesen)Toby Jones (Investigator Svensson)
Editor(s): Thelma Schoonmaker
Cinematographer: Dion Beebe
Production Designer(s):
Costume Designer: 
Casting Director(s): Jina Jay
Music Score: Marco Beltrami
Music Performed By: 
Country Of Origin: USAUK