For as iconic of a figure as Nirvana leader Kurt Cobain is, fans of the musician really haven't gotten the documentary about the man that they have always wanted. There was Kurt & Courtney, Nick Broomfield's totally unsanctioned 1998 film that focused more on the suspicious circumstances that surrounded the death of the rock star than on his life itself. Then, there was About a Son, the 2006 snorefest that paired up author Michael Azerrad's interview tapes with Cobain with a bunch of boring cinematography in an attempt to capture the desolation and despair of the singer's old Washington state stomping grounds. But audiences have never gotten an honest depiction of the man behind the music. Until now.
The HBO Documentary Films production Kurt Cobain: Montage of Heck tells the story of Cobain's life, beginning with his early childhood and going all the way up to his suicide at the age of 27. Documentarian Brett Morgen (The Kid Stays in the Picture, Chicago 10) was given the go-ahead by Cobain's ex-wife, Courtney Love, and the couple's daughter, Frances Bean Cobain, to make pretty much whatever movie he wanted to make. Morgen conducted interviews with Cobain's parents, stepmother, and old girlfriend, as well as with more obvious subjects like Love herself and Cobain's Nirvana bandmate Krist Novoselic, all of which help to put the troubling events of Cobain's life into words. But the film is much more than just interviews; Morgen had access to private audio tapes that were made by Kurt, home movies from his childhood, and several notebooks full of Kurt's writings, lyrics, and drawings – even a list of potential band names that were scribbled down before he and Novoselic decided calling their band Nirvana. Basically, Brett Morgen sorted through a ton of material in an effort to tell Kurt's story as Kurt would have told it. For better or worse, Kurt Cobain: Montage of Heck is a brutal portrayal of the private life of a very public personality.
The approach that Brett Morgen takes towards the subject matter is a very creative one. While Kurt Cobain: Montage of Heck does have its share of typical on-screen interviews interspersed between the same old archival MTV and SNL footage that all Nirvana fans have seen over and over again, it also includes some cool animation sequences that are synced up to Cobain's own taped monologues, so the film visually tells the story at the same time that Kurt aurally tells it. Morgen also lets Cobain speak for himself through his writings, showing the pages (and pages…and pages) of his notebooks with sections of words highlighted and animated so the viewer gets an almost follow-the-bouncing-ball tour through the mind of the boy genius who would grow up to be such an influential figure. Morgen skillfully puts all of these elements together into an enlightening, powerful, and sometimes heartbreaking movie.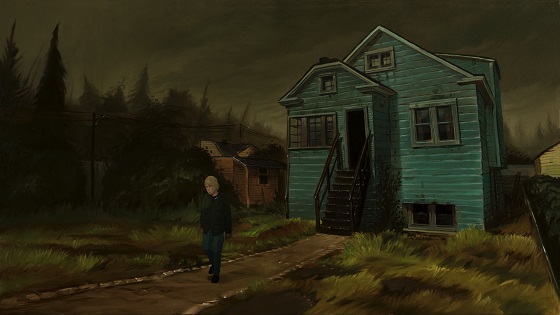 The last third of the movie is particularly tragic, even without the knowledge that Cobain would be dead within a few short months. Morgen lets Kurt and Courtney tell this part of the story themselves by including home movie footage (shot by Love's friend and Hole guitarist Eric Erlandson) of them, both with and without little Frances Bean, high on anything that they can get their hands on. It's incredibly sad, but it also lends an air of authenticity and honesty to the film. The home movies are broken up by interviews with Love where she frankly talks about that point in Kurt's life, and she even makes a stunning admission or two about her own behavior. The viewer gets the feeling that if Kurt Cobain: Montage of Heck will go so far as to show all of this, warts and all, that every other word and image in the film has to be true.
The other thing that Kurt Cobain: Montage of Heck has that the earlier documentaries about Cobain do not is the music; Frances Bean Cobain served as executive producer for the project, so Morgen had access to all of Nirvana's music, and he uses it. Kurt Cobain: Montage of Heck is packed with music, containing plenty of album cuts and live tracks of both Nirvana songs and of Kurt by himself. It's also got some cool alternate versions and creative interpretations of classic Nirvana tunes. The Kurt solo acoustic stuff is actually the most compelling, with the highlight being a stirring cover of The Beatles "And I Love Her" that, with a little luck, will be released on the soundtrack album to the film. Morgen also includes sound collages that Cobain made in his youth (one of which gives the film its name – Montage of Heck), and these are also very interesting in that they provide a little insight into how Cobain's creative mind worked. Whether through Nirvana or his own fiddling, Kurt Cobain: Montage of Heck uses Kurt's own music to tell the story, and that's how it should be.
One of the most interesting questions about Kurt Cobain: Montage of Heck is in regards to someone who is not in the film; there is no interview in the movie with Nirvana drummer/Foo Fighters frontman Dave Grohl. Given the rumored bad blood between Grohl and Love, one would think that either Grohl refused to be involved or that Love had black-balled him from the project. Brett Morgen revealed the truth to Billboard magazine – Morgen wanted Grohl in the film, but the drummer was too busy shooting his own HBO television series "Sonic Highways" and couldn't be scheduled. Morgen did score an interview with Grohl, but it came only after he already had a cut of Kurt Cobain: Montage of Heck with which he was very happy. So, maybe Dave will be a bonus feature on the home video release? Who knows. But, for as much as Grohl is missed, the film manages to stand on its own without him. Kurt Cobain: Montage of Heck is a must-see for fans of Nirvana – a breathtaking, ear-shaking, heartbreaking must-see.