Several years ago, Cinema Fearité covered The Astral Factor, aka Invisible Strangler, which is a 1976 movie about a killer who has mastered the psychic art of astral projection, allowing him to commit his crimes without being detected. However, a year before The Astral Factor was made, in 1975, another movie beat it to the conceptual punch. That movie is Psychic Killer.
Psychic Killer is about a man named Arnold James Masters (Don't Be Afraid of the Dark's Jim Hutton) who is committed to a mental hospital after being found guilty of a murder which he did not commit. While inside, Masters learns the art of astral projection, or how to let his spirit leave his earthly body for short periods of time, from another inmate. He is vindicated and released, but the first thing he does is use his new-found skill to go after the people who have wronged him. A pair of hard-boiled policemen named Morgan (Paul Burke from Valley of the Dolls) and Anderson (Night Shadow's Aldo Ray) are on the case, and they team up with prison psychiatrist Dr. Laura Scott (Julie Adams from Creature from the Black Lagoon) and psychic expert Dr. Grubner (The Harder They Fall's Nehemiah Persoff) to put an end to Masters' reign of terror.
Directed by Raymond Danton (Deathmaster) from a script that he co-wrote with Greydon Clark (Danse Macabre) and Mikel Angel (Grotesque), Psychic Killer is part supernatural slasher and part police procedural. The original title of the film was The Kirlian Effect, named after a scientific study of the glowing auras of objects and organisms, but producers changed it to Psychic Killer to play up the horror elements of the film. And that was probably a good decision. Or at least a better one than changing Invisible Strangler to The Astral Factor.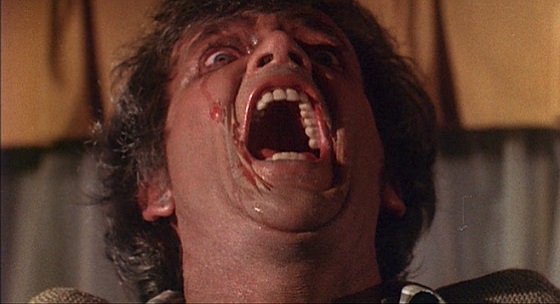 Of course, the main similarities between the two movies is the method of the killer, with both murderers using their learned psychic powers to track and execute their victims, all of whom just happen to be those who helped put them in prison. While the killer in The Astral Factor makes himself invisible to strangle women, Arnold Masters is actually able to leave his body and teleport to wherever his victims may be. And maybe it's because he was wrongfully convicted and is, therefore, angrier about his lost freedom, but Masters is much more violently creative with how he dispatches his victims.
And those death scenes are what makes Psychic Killer fun. Masters doesn't just kill his victims, he makes statements. One woman is killed in a crazy Witchboard-meets-Witchtrap shower mishap. One man is crushed by a huge heavy stone that falls on him from a towering crane, Wile E. Coyote-style. Another is shot by a phantom gun that never materializes. Masters' kills combine the slasher sensibility with an occult manifestation, and that makes them really entertaining to watch.
It's worth noting that Psychic Killer is packed with familiar faces in the support cast. Blonde Bombshell Mary Wilcox ("SCTV") shows up as a nurse. Creepy icon Neville Brand (Without Warning, Eaten Alive) plays a butcher who is dispatched as quickly as he appears. Character actor Whit Bissell (The Time Machine, I Was a Teenage Frankenstein) and movie cowboy Rod Cameron (Trigger Trail, Requiem for a Gunfighter) both portray doctors under very different circumstances. Harry Holcombe (Empire of the Ants, King Kong vs. Godzilla) pops in as a judge. Career cinematic cop Marland Proctor (The Fury) plays, yep, a motorcycle cop. Bill Quinn (Dead & Buried) cameos as a coroner. Even screenwriter Greydon Clark gets into the act as a cop. Picking out the recognizable actors in Psychic Killer is a bit like playing with a Where's Waldo book; you have to look everywhere.
Since The Astral Factor was probably in production when Psychic Killer was being made, it's entirely possible that the films' similarities are a case of spontaneous inspiration. Or they could have been products of an era that loved its exploitive supernatural mysteries and couldn't get enough of speculative television shows like "In Search Of…" and "That's Incredible!" Either way, retro-loving audiences have two cool out-of-body killer movies to choose from, and choice is never a bad thing.