Synopsis: Primatologist Davis Okoye shares an unshakable bond with George, the extraordinarily intelligent gorilla who has been in his care since birth. But a rogue genetic experiment gone awry transforms this gentle ape into a raging monster. As these newly created monsters tear across North America, destroying everything in their path, Okoye teams with a discredited genetic engineer to secure an antidote, fighting his way through an ever-changing battlefield, not only to halt a global catastrophe but to save the fearsome creature that was once his friend.
Release Date: April 13, 2018     MPAA Rating: PG-13
Genre(s): Action, Adventure
Film Review
Production
Rampage might be based on a video game, but it draws its inspirations from the likes of Godzilla and Kong: Skull Island. This is a movie where three mutated animals – in this case, an albino gorilla, a wolf, and an alligator – lay waste to the city of Chicago. It's the type of fetishistic, CGI heavy destruction that is pure, mindless entertainment. Unfortunately, the journey to the destruction is paved with poor character development, a generic story, and some uninteresting action set pieces. Rampage knows exactly where it wants to end up, but can't find anything interesting to do on the journey.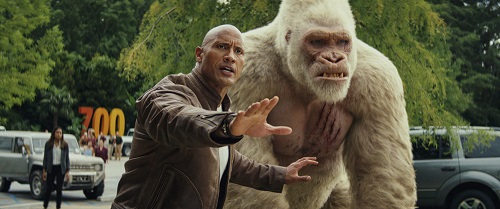 That journey begins with Davis Okoye (Dwayne Johnson), a Primatologist in San Diego that works closely with an albino gorilla named George. The two seem to have a strong bond, but when George is exposed to a chemical agent that forces him to grow to an enormous size and increases his aggression, Davis must try to stop George as he sets on a path towards Chicago. Along the way, Okoye picks up Dr. Kate Caldwell (Naomie Harris), who worked on the mutagen that not only infected George, but also a wolf in the Midwest and an alligator in the East. There's also an evil corporation operating behind the scenes, led by Claire Wyden (a very self-aware Malin Akerman), and an old-school government agent, played by Jeffrey Dean Morgan.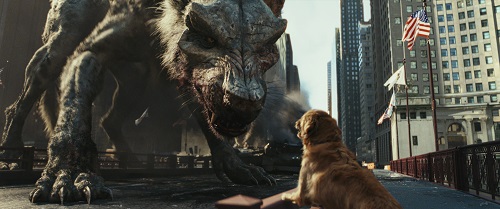 All the pieces are there for a passable B-movie and, by and large,
Rampage
delivers. The only problem is that the movie is so back-loaded with action that getting to the Gorilla-Alligator-Wolf showdown becomes a slog. Checking in with Akerman's character only serves to confuse the tone of the movie since she is clearly trying to chew up as much scenery as possible. While Johnson and Harris are trying to play it straight as more obvious action movie archetypes, other characters feel like caricatures. To Johnson's credit, he is as charismatic as ever, but he deserves better than a Syfy-level plot with blockbuster quality effects.
But the destruction is still plenty satisfying, and it lives up to the
Rampage
title. George, the wolf, and the alligator lay waste to Chicago in fantastic fashion, and eventually the fighting shifts to beast-on-beast action. Is it a little reminiscent of
King Kong vs. Godzilla
by the end? A little, but the film delivers enough excitement to be engaging in its latter half. The action is completely mindless, mind you, but that should be enough for a matinee.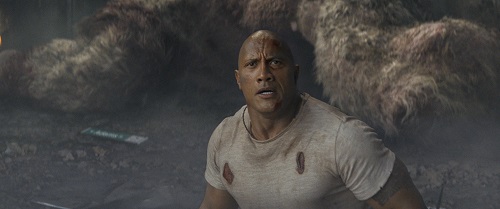 If nothing else,
Rampage
ticks the box of "destruction on a massive scale," even if it takes over an hour to get there. The characters are disposable, the story is B-movie fluff, and the tone is all over the place, but at least moviegoers get to see a giant gorilla, wolf, and alligator lay waste to a skyscraper.
Action Sequences
Rampage delivers on a scale that moviegoers are going to expect. Yes, there is a lot of the movie where very little is destroyed and the action sequences prior to the Chicago showdown are pretty lackluster, but about 20 minutes of pure destruction can more than make up for that. The effects on the monsters are well done, there are some clever touches to make them feel distinct and imposing, and Dwayne Johnson still gets to do his thing as well. If you go in looking for some mindless action and destruction on a massive scale, Rampage will not disappoint. It will tease you for a while, but in the end, it will be worth it.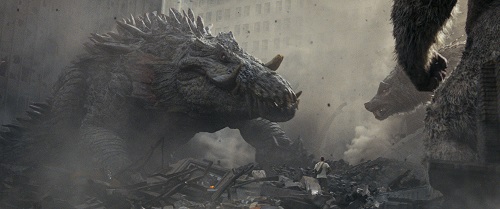 Cast and Crew
Director(s): Brad Peyton
Producer(s): Beau Flynn, Hiram Garcia, Brad Peyton, John Rickard
Screenwriter(s): Carlton Cuse, Ryan J. Condal, Adam Sztykiel
Story: Ryan Engle
Cast: Dwayne Johnson (Davis Okoye), Jeffrey Dean Morgan (Agent Russell), Malin Akerman (Claire Wyden), Joe Manganiello (Burke), Will Yun Lee (Agent Park), Naomie Harris (Dr. Kate Caldwell)
Editor(s): Bob Ducsay
Cinematographer: Jaron Presant
Costume Designer: Melissa Bruning
Music Score: Andrew Lockington
Country Of Origin: USA