Geek culture lost one of its biggest icons this past weekend when Adam West passed away at the age of 88. West was easily most well-known and loved for fighting crime on television in the sixties as "Batman" (the Pow! Zap! Bam! era), but he also won over millennial audiences by playing a cartoon version of himself, Adam West, the mayor of Quahog, Rhode Island, on the animated series "Family Guy." But West had a plentiful and prolific career on both the big and small screens, even venturing into horror a few times with movies like Zombie Nightmare, Curse of the Moon Child, and the subject of this week's Cinema Fearité: the 1982 supernatural thriller One Dark Night.
One Dark Night begins with the discovery of the body of a notorious Russian occultist named Karl "Raymar" Rhamarevich in his apartment along with the bodies of a half dozen young girls. After the police investigation concludes, he is interred in a mausoleum, and his daughter, Olivia McKenna (Melissa Newman from Revenge of the Stepford Wives), and her husband, Allan (West), are among the few mourners.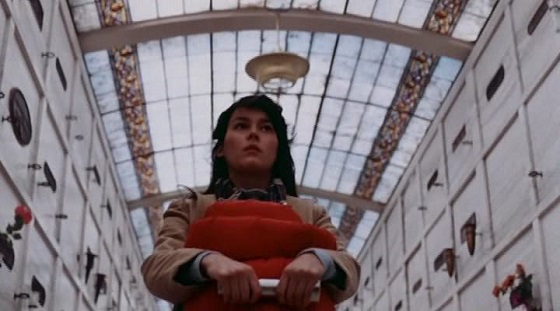 Meanwhile, a young girl named Julie Wells (Psycho II's Meg Tilly) is pledging to become a member of a select sorority-like group of girls called The Sisters who are led by a conniving shrew named Carol Mason (Robin Evans from Rage of Honor). For Julie's final initiation, Carol comes up with the idea to force the pledge to spend the night inside of the mausoleum in which Raymar has just been laid to rest. Of course, Carol also plans to scare Julie all night, with the help of fellow sisters Leslie (Pee-wee's Big Adventure's Dottie herself, Elizabeth Daily) and Kitty (Leslie Speights, who supplied voice acting for the "New Kids on the Black" animated series). However, the foolish pranks are not the only threat within the crypt; Raymar's corpse is trying to come back to life. Along with Julie's boyfriend, Steve (David Mason Daniels from "Days of our Lives"), Olivia and Allan speed to help the girls before it's too late.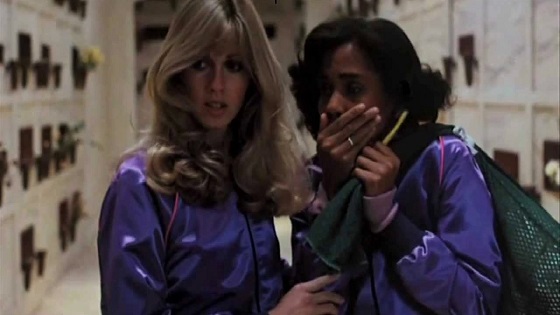 Written and directed by Tom McLoughlin (who not only directed Jason Lives: Friday the 13th Part VI and Sometimes They Come Back, but also played S.T.A.R in The Black Hole and the monster in Prophecy), One Dark Night is basically a high-school drama that is interrupted now and then by a supernatural thriller. It's all more complex than that, though. Raymar was a psychic energy vampire à la Lifeforce. His daughter, Olivia, also has telekinetic and extrasensory powers which clue her in to that fact that someone is in trouble near her father's crypt. And finally, Julie's boyfriend, Steve, used to date Carol, giving the Sisters leader a legitimate reason to have it out for the new girl. Throw in some strife between the Sisters and a little zombie-lightning climactic battle, and you've got One Dark Night.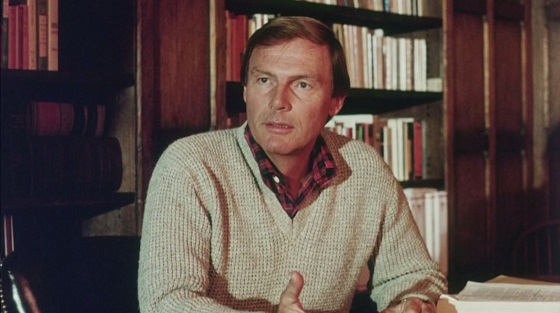 For his part, Adam West's Allan McKenna is a supporting characters, a bit player who serves more as a support system and a sounding board for his wife/Raymar's daughter, Olivia. That being said, the role of Allan was seemingly written for West. His performance is very Bruce Wayne-esque in both stature and authority, played with both charisma and sensitivity. It's a small part for the Batman, but after seeing West in it, it's difficult to picture another actor in the role.
But no one watches a movie like One Dark Night for the acting. They're there for the spook-a-blast, and One Dark Night delivers. The climax is a crazy, Poltergeist-like spectacle of re-animated corpses and splintering coffins that inspires just as many cheers as it does chills. (One Dark Night was actually shot before Poltergeist, but Spielberg beat it to theaters so many viewers at the time thought that Once Dark Night was a ripoff). The visual effects are a mixture of post-production ghost-and-lightning bolt type of stuff and practical, deflating head makeup kind of things (the latter supplied by the Burman brothers, Ellis and Tom, who also worked on classics like Empire of the Ants, Happy Birthday to Me, and The Manitou).
And then, there's the cinematography. Director of photography Hal Trussell (Night Train to Terror) effortlessly walks the line between using the primary color lighting schemes of classic Dario Argento and the stale mortuary white of Phantasm. The dark of night gives way to the stark bright marble walls of the mausoleum in a stunning display of contrast, with just enough smoke and mirrors to keep things mysterious. Trussell's photography gives McLoughlin's visual effects team a beautifully spooky canvas on which to paint their wonderfully eighties imagery.
In the pop culture world, Adam West will always be Batman, and that fact will never change, no matter how many cheesy horror movies he made over the course of his long and storied career. But looking back through the old Caped Crusader's resume will bring up some awesome overlooked gems…movies like One Dark Night.