Synopsis: A harmless game of Truth or Dare among friends turns deadly when someone — or something — begins to punish those who tell a lie or refuse the dare.
Release Date: April 13, 2018     MPAA Rating: PG-13
Genre(s): Horror, Thriller
Film Review

In the last few years, horror fans have gotten not one, but two Blumhouse movies about Ouija boards with Ouija and Ouija: Origin of Evil. It was only a matter of time before Blumhouse made a movie about the other big teenage slumber-party game Truth or Dare. And they seem to be so proud of it that they're sticking their name above the title, calling it Blumhouse's Truth or Dare.
Blumhouse's Truth or Dare is about a young woman named Olivia (Lucy Hale from "Pretty Little Liars" and Scream 4) who goes to Mexico on a vacation with a bunch of her friends. There, she meets a dark stranger named Carter (Landon Liboiron from "Hemlock Grove") who takes them to an old abandoned mission and convinces them to play Truth or Dare. As the game goes on, Carter reveals that the game is not just a game, and that the group is now cursed to play until they are all dead. Sure enough, one by one, Olivia and her friends encounter creepily smiling people in their daily lives that keep asking them "truth or dare?" If they don't tell the truth or complete the dare, they die in a mysterious and brutal way. As the questions get tougher and the dares get harder, the stakes are raised, leaving Olivia and what's left of her circle of friends to find a way to stop the game before they're all dead.
For better and worse (mostly worse), Blumhouse's Truth or Dare is exactly the movie that it tries to be, which is a throwback to nineties teen horror films like Scream and Urban Legend tinged with a little supernatural curse element à la Final Destination and It Follows. The movie was directed by Jeff Wadlow (Cry Wolf, Kick-Ass 2), who also co-wrote the script with Christopher Roach (Non-Stop), Michael Reisz ("Boston Legal"), and Jillian Jacobs (the "Big Brother" producer making her feature writing debut), and just as one would expect, it's full of beautiful young people making questionable decisions, finding themselves in hot water through heavy-handed exposition, and conveniently being given a seemingly insurmountable task that will get them out of it. Fortunately for Blumhouse, it's a formula that's proven, but unfortunately for fans, it's one that they've seen over and over again.
As is typical of these types of teenage horror movies, the characters in Blumhouse's Truth or Dare are disposable and archetypical, so the audience knows exactly who's going to survive, and even the order in which the ones who don't survive will die, just because of how likeable they are and how much development is put into their character. And honestly, the only likeable character is Olivia herself, and even she has deeply flawed secrets which the game helps her work through. The rest are all just cannon fodder for the game, which takes on the role of slasher villain in the film as it works its way through its victims. The whole thing is very predictable. It would make a better drinking game than a date movie.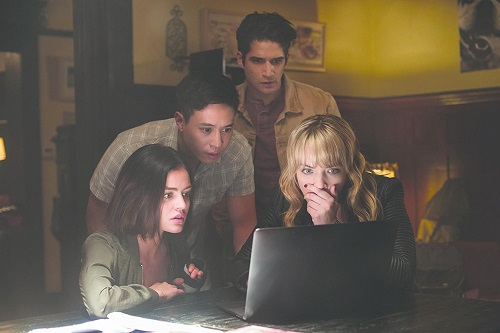 Blumhouse's Truth or Dare is as slick of a movie as one would expect from the flagship horror studio, but the silly story lacks sense, substance, and shocks. Hell, in most places, it even lacks entertainment value. It's not going to sink the entire Blumhouse brand, but Blumhouse's Truth or Dare will probably be one movie that Jason Blum and company would rather forget.

Blumhouse's Truth or Dare is not scary at all. The CG smiles that secondary characters stretch across their faces before they ask the titular question to the main characters are a bit creepy, but they're used so much that the effect wears off in the first act. And there's one scene involving a girl who is dared to walk around a building's perimeter on the roof that is somewhat suspenseful, but it's made comical by her friends' reactions – two carry around a mattress to catch her if she falls while a third tries to knock down an ominous spiked gate that poses a Final Destination-esque threat. What could have been a horrifying scene is turned into a slapstick comedy routine that's too dumb to be frightening. And that's kind of the tone of the whole movie – too dumb to be frightening.
Cast and Crew
Director(s): Jeff Wadlow
Producer(s): Jason BlumCouper Samuelson
Screenwriter(s): Jillian JacobsChristopher RoachJeff Wadlow
Story: Michael Reisz
Cast: Lucy Hale (Olivia)Tyler Posey (Lucas Moreno)Violett Beane (Markie Cameron) Nolan Gerard Funk (Tyson Curran)Landon Liboiron (Carter)Sophia Taylor Ali (Penelope)Sam Lerner (Ronnie)Brady Smith (Roy Cameron)Hayden Szeto (Brad Chang)Morgan Lindholm (Alexis Podell)Aurora Perrineau (Giselle)Tom Choi (Officer Han Chang)
Editor(s): Sean Albertson
Cinematographer: Jacques Jouffret
Production Designer(s):
Costume Designer: Lisa Norcia
Casting Director(s): Sarah DomeierTerri Taylor
Music Score: Matthew Margeson
Music Performed By: 
Country Of Origin: USA