A while back, Cinema Fearité triggered ex-babysitters everywhere when we covered the 1979 classic When a Stranger Calls. Now, we've got sequel fever. It's time to take a look at the 1993 TV movie When a Stranger Calls Back.
Similarly to When a Stranger Calls, When a Stranger Calls Back begins with a teenage girl named Julia Jenz (Jill Schoelen from Popcorn and The Phantom of the Opera) who is tormented by a mysterious stalker (or two) while babysitting. In the end, the children in her care are abducted, and Julia is traumatized by the event. Five years later, Julia, now a college student, starts to notice little things around her apartment that lead her to believe that the stalker from years ago has found her again. She looks for help from one of her counselors, who happens to be Jill Johnson (Carol Kane, reprising her role from When a Stranger Calls), a woman who went through the same experience years earlier. Desperate to help Julia, Jill enlists the aid of John Clifford (Charles Durning, also from the first movie), the cop who helped her years ago. The similarities between their cases drum up memories in Jill, to the point where she starts to wonder if those memories are more than just memories.
In addition to starring Kane and Durning, When a Stranger Calls Back also brings back original movie writer/director Fred Walton (who also made April Fool's Day). Essentially, it is a retread of When a Stranger Calls, a simple urban legend mystery updated for a new generation. This time around, however, Jill is a strong, confident badass, and the stalker, a creepy ventriloquist named William Landis (played by Gene Lythgow from The Tie That Binds), is a more cunning psychopath.
The opening scene of When a Stranger Calls Back is, like that of When a Stranger Calls, almost a short film in and of itself. Julia shows up at the house, and no sooner do the parents leave, than the mysterious stranger shows up at the door asking to use the phone to call the Auto Club. She refuses, but says that she'll make the call for him. When she discovers the phone is dead, she lies to the man, not wanting him to know that she has no way of calling for help. The game of cat and mouse goes on for hours, with the man coming back to the door repeatedly, with another man seemingly in the house messing with Julia and the kids. It's not quite as spine-tingling as the phone call scene from the first movie, but the opening scene of When a Stranger Calls Back is enough to make any young girl think twice about babysitting.
Because it's essentially a TV movie (it aired on the pay-TV Showtime network, but well before the envelope-pushing "Masters of Horror" days), When a Stranger Calls Back is more tame than the usual slasher movie. That does not mean that it doesn't have its share of thrills and chills, only that the graphic violence is replaced with subtle atmosphere. The best example of this comes when John Clifford suspects Landis of being Julia's stalker, and goes to check out his ventriloquism show. Landis sits in the shadows on stage, wearing all black with his face painted to match (an eerie foreshadowing of the heart-pounding climax), while the spotlight just illuminates his faceless dummy. It's more performance art than ventriloquism, but it provides the creepiest cinematic dummy moment since Magic.
When a Stranger Calls Back was photographed by cinematographer David Geddes, who not only worked on television shows like "21 Jump Street" and "Beverly Hills 90210," but also shot schlocky horror flicks like Tucker and Dale vs Evil and Halloween: Resurrection. Knowing his resume, the style of When a Stranger Calls Back makes perfect sense. It looks like a slick television movie, but Geddes has complete control of the shadows and darkness within the frame, which is of the utmost importance when dealing with an antagonist who's known for hiding in plain sight. As far as made-for-TV horror movies go, When a Stranger Calls Back looks better than most.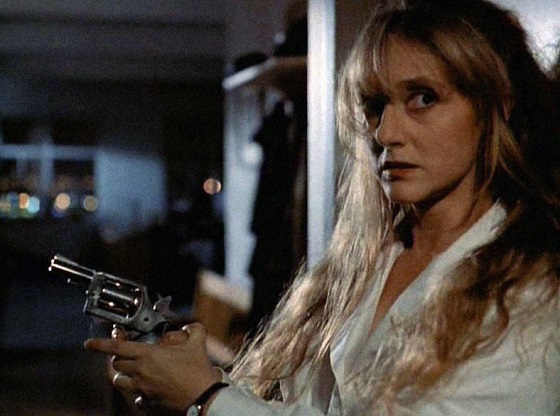 For When a Stranger Calls Back's music, Fred Walton turned to another alumni of When a Stranger Calls – composer Dana Kaproff (Empire of the Ants, Death Valley). Kaproff's score for the sequel is reminiscent of his work on the original, only with less dramatic stingers and more moody vamps. It's a safe score, one that is well suited for a television movie. There's nothing particularly memorable about it, but on the bright side, it doesn't distract from anything, either.
In a way, When a Stranger Calls Back was a smidge ahead of its time, even coming nearly fifteen years after the original. If it had been released a few years later, in a post-Scream horror climate, it might have found a bigger audience. As it is, it's a cult classic. It's not as good as the original, but what sequel is?