Synopsis: Mourning the sudden death of his parents, Daniel invites his childhood friends up to their lake house in an attempt to relive the glory days of their youth — whether they like it or not. Things take a turn for the worse when it becomes clear that none of his friends share his nostalgia for the good old days — and his ex-girlfriend shows up with a new fiance. But as the night progresses, secrets are confessed, romances are rekindled, and a particularly epic game of Whiskey Slaps is played.
Release Date: November 14, 2014     MPAA Rating: PG-13
Genre(s): Drama,
Film Review

Like it or not, crowdfunding has become a legitimate way to get a movie made. Sure-fire filmmakers like Spike Lee and Rob Zombie have turned to the public to raise money for their projects, and this year's Veronica Mars movie practically broke the internet with how fast it reached its goal. Perhaps taking a cue from the Veronica Mars campaign, first-time writer/director Chris Lowell, who had reprised his role of Piz from the "Veronica Mars" television show in the movie, turned to crowdfunding to raise finishing money for his feature Beside Still Waters. Needless to say, he reached his goal.
Beside Still Waters is about a young man named Daniel (Ryan Eggold from "90210") who has just lost his parents in a car accident. Tasked with the job of cleaning out their house and getting it ready to be sold, Ryan invites a group of his childhood friends to help him out and lend support during this difficult time. His best friends all show up, but they are there more to party and to say goodbye to the home where they spent much of their childhood than to actually pack anything up. The situation is made even more uncomfortable for Daniel when his ex-girlfriend, Olivia (The Letter's Britt Lower), shows up with her new fiance, Henry (Reid Scott from "Veep"). As the gathering turns into a raging party and the group gets more and more inebriated, Daniel decides that he wants Olivia back, and his friends are more than happy to run interference with Henry while Daniel makes his move. Daniel and all of his friends cope with their grief in different ways, but their friendships will be tested as the weekend devolves into a miserable insult-fest.
Writer/director Chris Lowell found inspiration in his own past while writing Beside Still Waters, as his parents owned a lake house at which he and his friends would gather to party. Comparisons between Beside Still Waters and The Big Chill are inevitable, and also warranted; both films deal with a group of friends who are reunited after a period of time apart because of the death of someone close to them. The group of friends is younger and hipper (the ensemble cast includes such up-and-coming talents as Beck Bennett from "Saturday Night Live," Not Fade Away's Will Brill, Brett Dalton from "Agents of Shield," Jessy Hodges from "Anyone But Me," and The Quitter's Erin Darke), but the themes of loss and reconnection are still there, and they are treated in roughly the same manner. That's not a bad thing, since The Big Chill is a great movie, and one that might not have been discovered yet by the twenty-something target audience of Beside Still Waters. It's not a rip-off if the viewer hasn't seen the original.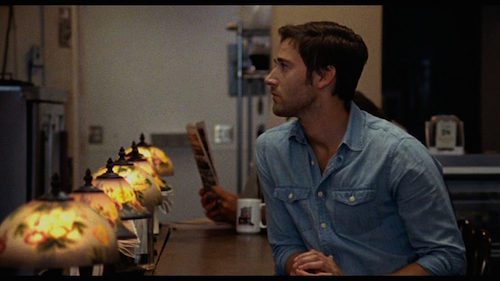 As familiar as the story feels, Beside Still Waters is still a very enjoyable film. It's surprisingly lighthearted for a movie that deals with getting over the sudden loss of one's parents. The film gets a little predictable towards the end, but it's still a very satisfying watch. With a running time of about 75 minutes, it's short, tight, and to the point. It's a very economical film; there's nothing wasted or bloated about it. There are definitely worse ways to spend an hour and fifteen minutes than by watching Beside Still Waters.

In another similarity to The Big Chill, the music in Beside Still Waters plays an important part in the telling of the story. The musical selections are not as nostalgic as those in The Big Chill, but the characters are also not as old, so the newer songs work. The soundtrack to Beside Still Waters consists of the type of music to which characters such as Daniel and his friends would listen, a tasteful combination of moody shoegazing noise-pop and alternative country-rock. The film contains songs by indie groups like The Barr Brothers, Delta Spirit, The Milk Carton Kids, The Low Anthem, The Belle Brigade, and others that, although they are not household names, know how to write catchy songs. The soundtrack to Beside Still Waters doesn't have the hit-single power that the soundtrack to The Big Chill had, but the effect is the same; the music is very memorable, and it helps to sell the story.

While Beside Still Waters is a comedy, it's not the type of comedy that's going to keep people rolling on the floor. It's more charmingly funny, full of the type of gags that provide amused smiles as opposed to uproarious laughter. There are silly moments, such as when a few of the friends try to drunkenly sing "Modern Major-General's Song" from The Pirates of Penzance. There are also genuinely funny moments that are manufactured through cinematography and editing, as evidenced in a morning-after sequence where the action shifts between different pairings and subgroups of the friends who each have a very different version of the previous night's events. Beside Still Waters is a fun movie, never taking itself too seriously, but it's not the type of film where the flow gets interrupted constantly by uncontrollable laughter.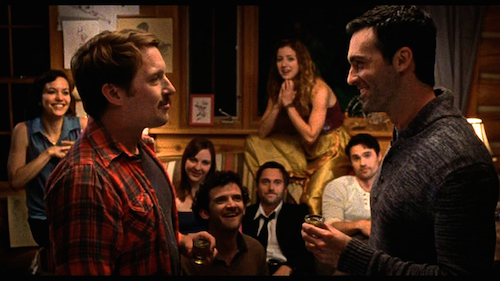 Cast and Crew
Director(s): Chris Lowell
Producer(s):
Screenwriter(s): Chris LowellMohit Narang
Story: 
Cast: Beck Bennett (Tom)Will Brill (Martin)Brett Dalton (James) Erin Darke (Abby)Ryan Eggold (Daniel)Jessy Hodges (Charley)Britt Lower (Olivia)Reid Scott (Henry)
Editor(s):
Cinematographer: Timothy Naylor
Production Designer(s):
Costume Designer: 
Casting Director(s): 
Music Score: 
Music Performed By: 
Country Of Origin: USA