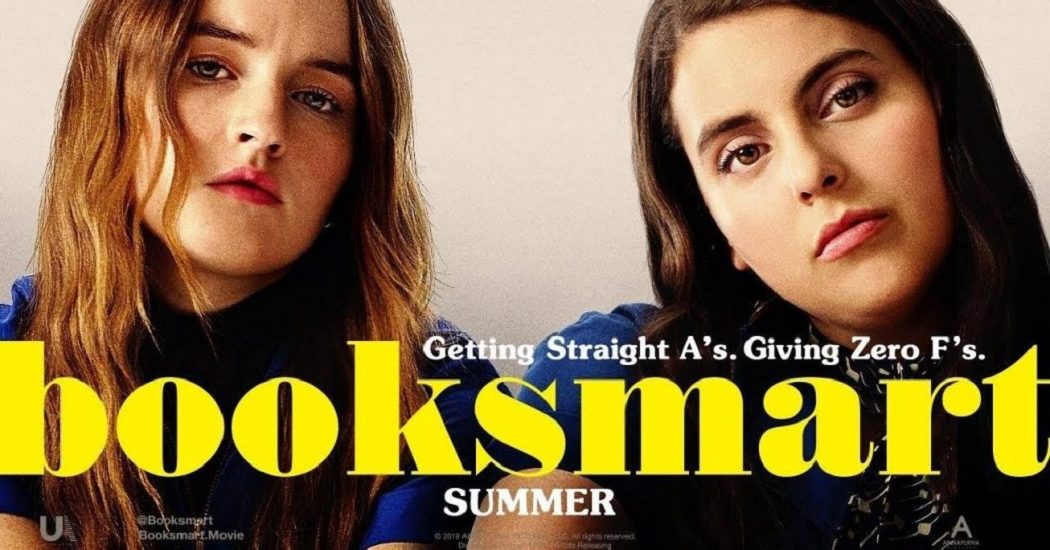 Booksmart Review
Olivia Wilde does her best Greta Gerwig impression with 'Booksmart.'
Release Date: May 24, 2019
On the eve of their high school graduation, two academic superstars and best friends realize they should have worked less and played more. Determined not to fall short of their peers, the girls try to cram four years of fun into one night.
Director: Olivia Wilde
Screenwriters: Katie Silberman, Susanna Fogel, Emily Halpern, Sarah Haskins
Producers: Chelsea Barnard, David Distenfeld, Jessica Elbaum, Megan Ellison, Katie Silberman
Cast: Beanie Feldstein (Molly), Kaitlyn Dever (Amy), Jason Sudeikis (Principal Brown), Jessica Williams (Miss Fine), Lisa Kudrow (Charmaine), Will Forte (Doug), Victoria Ruesga (Ryan), Mason Gooding (Nick), Skyler Gisondo (Jared), Billie Lourd (Gigi), Diana Silvers (Hope), Molly Gordon (Triple A), Eduardo Franco (Theo), Nico Hiraga (Tanner), Austin Crute (Alan), Noah Galvin (George)
Editor: Jamie Gross
Cinematographer: Jason McCormick
Production Designer: Katie Byron
Casting Director: Allison Jones
Music Score: Dan the Automator

Remember Greta Gerwig's Lady Bird? Remember Lady Bird's best friend Julie, played by the charismatic Beanie Feldstein? If you thought Julie needed her own movie, Booksmart was made for you.
Booksmart stars Feldstein as Molly, a high school senior (and class president) who has worked hard for her entire academic career to become her school's valedictorian. She and her best friend, Amy (Short Term 12's Kaitlyn Dever), have studied so hard for the past four years that they have forgotten to have any fun. So, on the night before their graduation, the pair decides that they are going to go to the biggest party in town and finally get to know their classmates outside of school. Their journey to the party helps them get to know more about each other, too.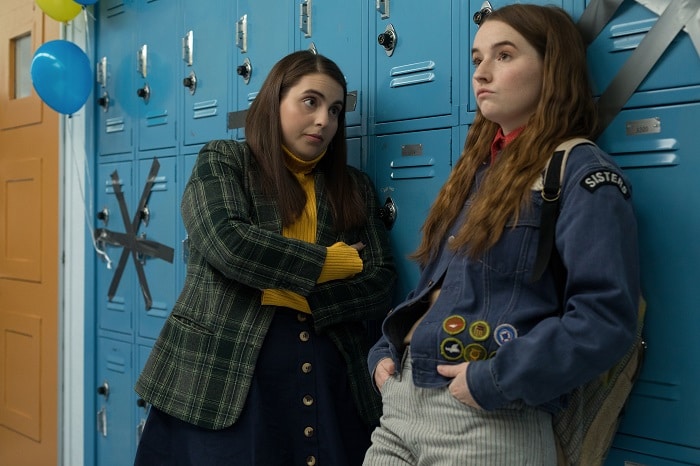 The directorial debut of actress Olivia Wilde (Cowboys & Aliens, The Lazarus Effect), Booksmart has been hailed as a female version of Superbad. And that comparison is valid; the basic plot concept of two best friends out for a night of hell-raising before heading off to different colleges (or, in Amy's case, on a soul-searching activist's journey to Africa) is essentially the same. Heck, Beanie Feldstein's big brother Jonah Hill was even in Superbad. But being a Superbad clone doesn't mean that you've seen Booksmart before.
At first glance, Booksmart is just a wild night out movie. But the characters are extremely relatable, so there's an emotional investment in their journey. It's not that everyone is going to see a part of themselves in Molly and Amy, it's that everyone will wish that they had a friend like Molly or Amy, a ride-or-die that is there until the bitter end. Of course, their relationship goes through its arc over the course of the evening, but when the chips are down, these two have each other's backs. Whether it's supporting each other as they chase down their respective crushes or calling each other out on their petty bullpucky, their friendship is one for the ages. It's Molly and Amy against the world, and that's a big part of what makes Booksmart so great.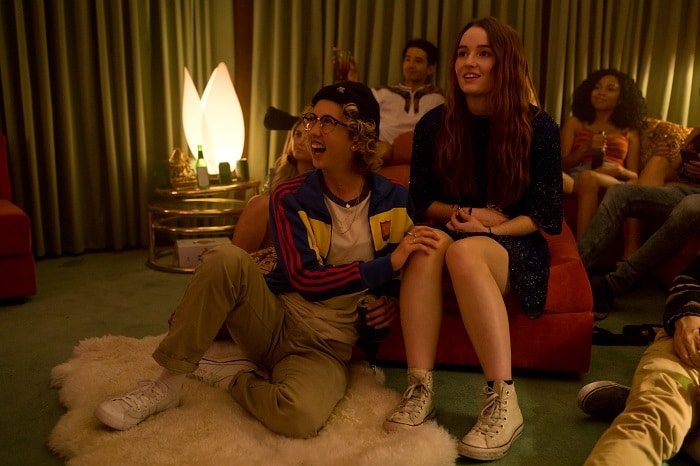 There are no fewer than four screenwriters credited on Booksmart. The original script was written by Susanna Fogel (The Spy Who Dumped Me) along with Emily Halpern and Sarah Haskins (both of whom have written for "Trophy Wife" and "Good Girls"), with Katie Silberman (Isn't It Romantic) coming in to do crucial rewrites that would help solidify Wilde's sweetly comedic vision. Add in performances from Feldstein and Dever that feel more improvisational than scripted, and Booksmart has that perfect storm, lightning-in-a-bottle vibe that only happens when a whole lot of creative personalities come together to construct something really special.
Whether Olivia Wilde will become the next Greta Gerwig is up in the air. Booksmart has all of the heart and humor of Lady Bird, but doesn't quite have the same personal touch, which is probably a symptom of too many screenwriters on the project. Whether it will have the same awards buzz as Lady Bird also remains to be seen, but Booksmart is one of the best movies of the year, so if it doesn't garner any nominations (at least for the acting), it says more about the awards than it says about the movie.

While Booksmart was shooting, Olivia Wilde suggested that Beanie Feldstein and Kaitlyn Dever room together, and the friendship that blossomed because of this idea spills all over the screen. The chemistry between Feldstein and Dever is a hoot; the girls are having so much fun doing their thing, and the audience can't help but share in that joy. Whether the girls are playfully sparring with words, having a dance-off in their front yard before school, or emotionally baring their souls to each other, the genuine affection and love that they have for one another is contagious. Even during those rare moments when the plot stumbles and falters into predictable corners, the seamless give and take between the two leads makes Booksmart an incredibly fun experience.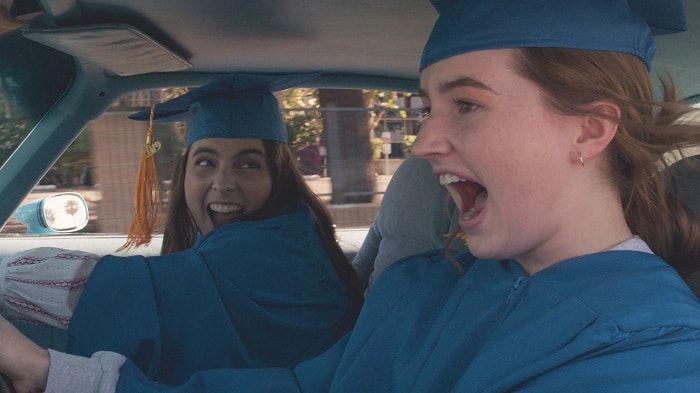 The comedy in Booksmart is razor sharp. The humor is built on the foundation of the comic timing of Feldstein and Dever, but the two youngsters get plenty of help from comedy vets like Jason Sudeikis (Horrible Bosses, Colossal) as the school principal and Lisa Kudrow ("Friends") and Will Forte ("Saturday Night Live") as Amy's parents. Then there are the other kids, who, with the exception of Skyler Gisondo (The Amazing Spider-Man), who plays an attention starved classmate, and Billie Lourd (Star Wars: The Last Jedi), whose burnout chick pops up (literally) everywhere the girls go on their night out, are basically straight men for Feldstein and Dever.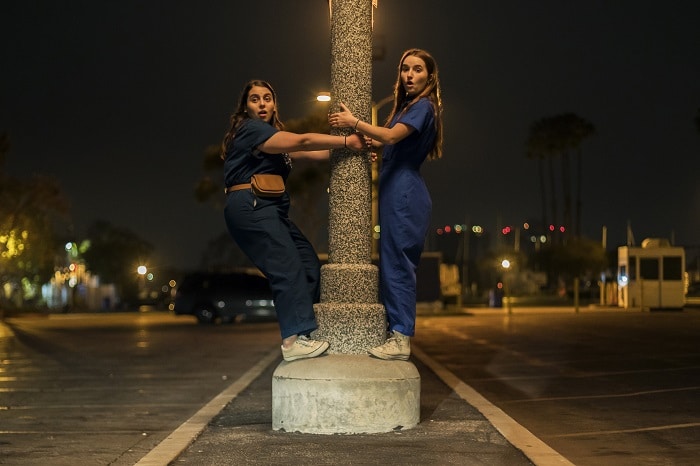 The humor is a sweet-spot mix of witty wordplay and physical comedy, with just enough dirty stuff for the movie to earn its R rating. It's far from potty humor, though. Every joke, gag, and stunt is well written, perfectly directed, and flawlessly executed. Even when it borders on the raunchy, Booksmart has a very smart style of comedy. Smart and hilarious.