Synopsis: A quiet observation of the triumphs and defeats of daily life, along with the poetry evident in its smallest details.
Release Date: January 27, 2017     MPAA Rating: PG-13
Genre(s): Comedy, Drama
Film Review

Adam Driver is living the dream. The actor was cast as the main villain in the newest batch of Star Wars movies, beginning with Star Wars: The Force Awakens. He's a recurring character on the hit cable television show "Girls." He's gotten to work with Martin Scorsese on Silence, The Coen Brothers on Inside Llewyn Davis, and even Steven Spielberg on Lincoln. Now, Driver can scratch another item off of his bucket list; he's the lead in the new Jim Jarmusch (Down by Law, Dead Man) movie Paterson.
In Paterson, Driver plays a bus driver, named Paterson, who lives and works in the town of Paterson, New Jersey (coincidence?). Paterson spends his free time on his route writing poetry and observing the people around him. At night, he sneaks out of the home that he shares with his wife, Laura (Golshifteh Farahani from Exodus: Gods and Kings), and drinks at a bar while pretending to take her dog, Marvin, for a walk. And then he wakes up the next day and does it all over again, the only thing breaking up the mundanity of his life being the poetry that he creates each and every day.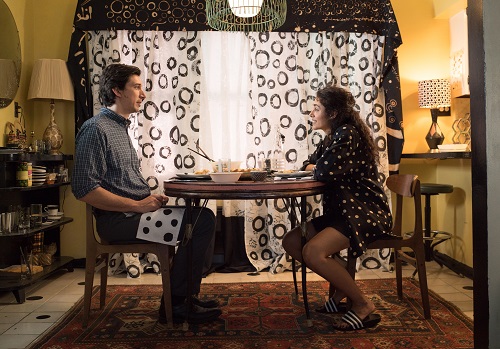 There's not a whole lot to Paterson. It's an observational film about a watchful guy and the things he sees and hears in his surroundings. There are some artistic and creatively edited montages that divide up the monotony, with Driver's voiceover providing spoken-word poetry while the images reinforce his writings, but Paterson is basically a day-in-the-life story that lathers, rinses, and repeats.
Now, for a movie that is just about a bus driver who lives his life dreaming of bigger and better things, Paterson is very engrossing. Paterson is a character who elicits sympathy without drawing pity; the viewer feels empathy for him without feeling sorry for him. He's surrounded by selfish people who have better things to do than entertain him, but he's got better things to do than worry about it.
Paterson is a simple movie, and doesn't seem to pretend to be anything more. It has its deep moments – it is a movie about a sensitive poet, after all – but there's very little actual conflict or drama in the film. It's just about a normal working guy who goes on about his day, day after day. And it's very entertaining. It's the most humdrum feel-good movie ever made.

Paterson is a one man show, and Adam Driver takes complete ownership of it. While Paterson himself is a very passive protagonist, Driver's performance is still mesmerizing to watch, with the actor capturing all of the sensitivity, depth, and passion of the character. The support cast in the film is strong, but each role is basically a walk-on; essentially, everyone besides Paterson and Laura are in the movie for just a few minutes each. Driver's biggest threat of being upstaged comes from the loveable English Bulldog Nellie who plays the loveable English Bulldog Marvin. Nellie's gender-bending performance (the female Bulldog plays a male in the film) won her the Palm Dog award at Cannes, but sadly, it was a posthumous victory, as Nellie passed away a couple of months before the festival. Along with Charlie as Black Phillip in The Witch and Sully as Steven Seagull in The Shallows, Nellie's performance as Marvin is further proof that there should be a Best Animal Actor category at the Academy Awards.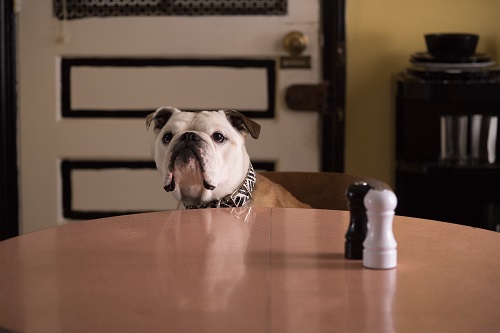 The sound design in Paterson, done by Robert Hein (Irrational Man, Magic in the Moonlight), is intriguing. What little music there is in the film was provided by Jim Jarmusch's group Sqürl (who also did the score for Jarmusch's Only Lovers Left Alive), and it's essentially only used during transitions and montages. During the narrative scenes, the sound is all natural ambient noise, things like the wind, bus engines, and the walla of crowded city streets, sounds like that. Basically, Jarmusch is letting the audience hear what Paterson hears when he's eavesdropping on people or overhearing things on the job. At one point, for example, Paterson walks past a laundromat and hears a rapper (Method Man, basically playing himself) floating some rhymes while he waits for his clothes to dry. Paterson stops and listens for a while before complimenting the artist and continuing on his way, and the audience hears the exact percussive poetry coming through the doorway that Paterson hears. It's a very organic and textural style of sound design, and it works perfectly for the kind of movie that Paterson is.
Cast and Crew
Director(s): Jim Jarmusch
Producer(s): Carter LoganJoshua Astrachan
Screenwriter(s): Jim Jarmusch
Story: 
Cast: Adam Driver (Paterson)Golshifteh Farahani (Laura)Nellie (Marvin) Rizwan Manji (Donny)Chasten Harmon (Marie)William Jackson Harper (Everett)Barry Shabaka Henley (Doc)Trevor Parham (Sam)Troy T. Parham (Dave)Brian McCarthy (Jimmy)Frank Harts (Luis)
Editor(s): Affonso Gonçalves
Cinematographer: Frederick Elmes
Production Designer(s):
Costume Designer: Catherine George
Casting Director(s): Ellen LewisMeghan Rafferty
Music Score: Carter Logan
Music Performed By: Sqürl
Country Of Origin: USAFrance