Netflix Can't Be Streaming Indiana Jones and the Kingdom of the Crystal Skull Because It Doesn't Exist, Says Twitter
It's crazy to think that I owe thousands of Twitter users a great big thank you, but after they hilariously shot down the existence of Indiana Jones 4 to Netflix, I'd even hug them.
On the rare occasion I go on Twitter, I'm always hoping something will strike my fancy. On January 10, 2019, that happened in a big way – and I'm still laughing. Netflix announced that all four Indiana Jones movies were streaming for US customers, and the response from the Twitterverse was fantastic because as we all know, there are only three Indiana Jones movies; Indiana Jones 4 streaming is impossible — it doesn't exist.
In reality, Indiana Jones 4, officially known as Indiana Jones and the Kingdom of the Crystal Skull, exists. Steven Spielberg directed it, and audiences around the world saw it in 2008. The lack of fanfare over the fourth Indiana Jones franchise installment's 10-year anniversary in 2018 says a great deal, but Twitter users said so much in a succinct way when Netflix announced Indiana Jones 4 and every other Indiana Jones movie is streaming.
That never happened, which is why we never speak of such a thing happening

— Class Maledictorian (@bornwithatail_) January 9, 2019
You mean all 3 Indiana Jones movies and The Movie That Must Not Be Named. 😉

— DutchClockblocker (@captainhoeksema) January 9, 2019
Came here to make a "only three" joke, but was beat by seven thousand other folks.
*shrug*

— Ken (Not an actual Captain) (@cptbananas) January 9, 2019
Ken was late to the party on harping on Indiana Jones 4 streaming on Netflix. As of this writing, more than 7,000 users have retweeted Netflix's Indiana Jones streaming PSA, and there are more than 2,000 comments, many include funny gifs. Some people do support all four Indiana Jones movies being available to stream on Netflix, but I choose to ignore them.
Indiana Jones 4 Is One of the Worst Movies Ever Made
I've seen Indiana Jones and Kingdom of the Crystal Skull twice, and that's more than enough. It's terrible for a variety of reasons, but here are six that stand out clearly in my mind.
1. They Kill Off Sean Connery, aka Professor Henry Jones
We do have to understand here that Sean Connery, former James Bond and Zardoz icon, said he did not want to be a part of Indiana Jones 4 and actually told Spielberg to kill the character off. But why? Would you want to be part of Indiana Jones and the Kingdom of the Crystal Skull? That's a rhetorical question.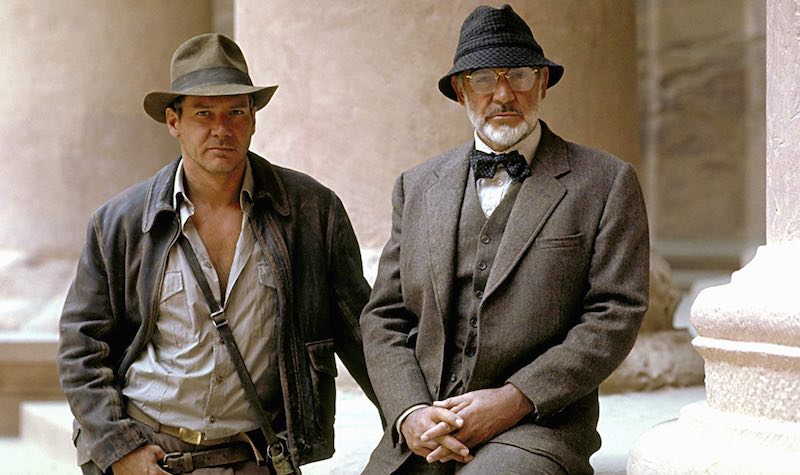 According to Connery, who is retired from acting, the part was not generous and did not make sense for him to come back for. Plus, Connery said, "They had taken the story in a different line anyway, so the father of Indy was kind of really not that important." A different direction for sure, making Indiana Jones 4 one of the most hated movies ever, and Connery the smartest actor in the room for turning a role in the movie down.
2. Shia LeBeouf as Indiana Jones' Son
I'm sorry, but if Indiana Jones is your dad, you're not going to be a pathetic James Dean wannabe who is obsessed with combing your dead animal corpse-looking coarse hair on your head at every moment. And you sure as hell aren't going to roll up on a motorcycle with a look of constipation on your face that's meant to be a smoldering stare. Nor will you whine constantly and make every line that comes out of your mouth a tragic event.
We could blame Mutt Williams' mom, Marion Ravenwood (Karen Allen), for keeping him away from Indiana Jones his entire life for why he's such a disappointment but even she was once a feisty, world-traveler who would never have hooked up with a guy like her son that's now worthless.
And on that note, the next reason why Indiana Jones 4 is one of the worst movies ever.
The best part of Indiana Jones and Marion's relationship in Raiders of the Lost Ark is their feistiness with each other. Marion never backs down from Indiana Jones and gives him a piece of her fiery personality at every turn. She's tough and capable, and you love her for being a strong woman. In Indiana Jones and the Kingdom of the Crystal Skull, she's begging for his love, meek and inadequate. The fire is gone, and all love we had for Indiana Jones and Marion goes out, too.
4. Cate Blanchett's Russian Accent
We all know Cate Blanchett is talented, but wow, the accent in Indiana Jones and the Kingdom of the Crystal Skull she uses as Irina Spalko is downright horrible. And just in case you're wondering, people in Russia or Ukraine (as is mentioned in the film) do not sound like Cate Blanchett's Spalko. Not even close.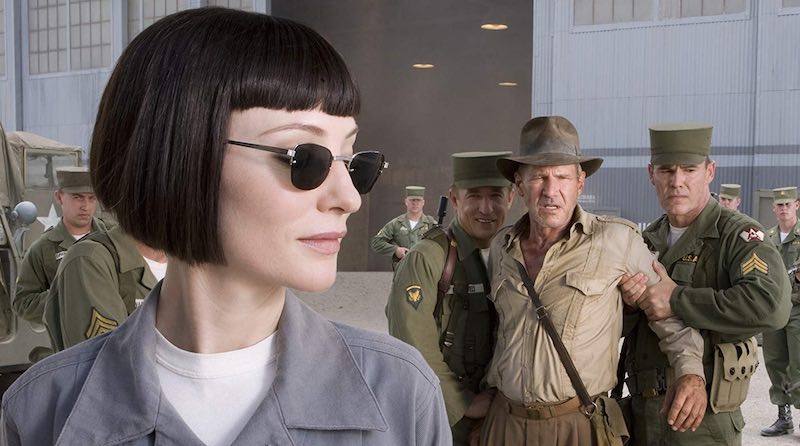 5. The Indiana Jones 4 Aliens
I'm not completely against Indiana Jones discovering aliens but when you throw in the stupid mind-control, supernatural, psychic storyline, you've just ruined everything there is to love about Indiana Jones. Indie movies have always had a touch of the otherworldly, but they're rooted in archeology and adventure, not science fiction. There's just too much alien and not enough exploration and excitement over historical findings in Indiana Jones 4.
There's a reason Temple of Doom is the second least favorite Indiana Jones movie, too much weird voodoo (and Kate Capshaw screaming).
There's a big tease at the beginning of Indiana Jones and the Kingdom of the Crystal Skull: The Ark from Raiders of the Lost Ark makes an appearance at Area 51. It's not a MacGuffin; just an Easter egg that's cruel and unusual punishment because to show the ark and then do nothing with it, especially if all you get instead is a flimsy family reunion and aliens you're happy about leaving earth, makes South Park's treatment of Indiana Jones 4 completely acceptable.
That's enough talk about why Indiana Jones and the Kingdom of the Crystal Skull is one of the worst movies ever made. I'm starting to tear up with all this nostalgia and the pain Spielberg, George Lucas, Harrison Ford, and the rest of the gang behind Indiana Jones 4 has caused me.
An Indiana Jones 5 You Say?
I would like to hold out hope that Indiana Jones 5, scheduled for a 2021 release, is going to right all the wrongs and be a rightful fourth film in the Indiana Jones franchise, but it's tough. Harrison Ford is the only cast member on board with Spielberg in the director's chair. Jonathan Kasdan, the son of Lawrence Kasdan who wrote Raiders of the Lost Ark, is writing the screenplay for Indiana Jones 5. I really hope his father is helping him because we need another perfect screenplay like Raiders of the Lost Ark.
Until Indiana Jones 5, thank you Twitterverse for setting Netflix straight: There are only three Indiana Jones movies.