For the past five years or so, the horror genre has been saturated with a new subset of films that critics have dubbed "torture porn," meaning that the films pay more attention to sickening gore than a cohesive plot. While films like Saw
and Hostel
seem fresh and new, one only needs to look back about twenty years to find the prototype for today's torture porn, 1986's Crawlspace.
Crawlspace
starts with a young woman wandering into a room in an apartment building calling out for a man named Mr. Guenther. Inside the room she finds several sadistic traps, as well as a small woman locked in a cage.
Unfortunately for her, she also finds Karl Guenther (Klaus Kinski, Dracula from Nosferatu the Vampyre), who explains to her that the woman cannot talk because he cut her tongue out. Karl then presses a button, triggering a mechanism that swings a blade right through the woman. Karl then sits at a table, puts a bullet in a revolver and puts it to his head. He pulls the trigger, and when the gun clicks harmlessly, he says "so be it." A few days later, a young lady named Lori Bancroft (Talia Balsam from "Mad Men
") arrives at the building inquiring about renting an apartment. Karl shows her the apartment and tells her about the previous tenant, a woman who disappeared without paying the rent. Lori moves in and meets the other tenants of the building, all of which are young women. Karl rents the apartments to the girls and, using the attic crawlspace and ventilation ducts, spies on them. In between peeping on his tenants and torturing young women, Karl writes in his diary about his past; his father was a Nazi and he himself was once a doctor who would euthanize his patients, even when they were bound to recover. A few days after Lori moves in, a man named Josef Steiner (Kenneth Robert Shippy from "The Adventures of Superboy
") comes snooping around the building, confronting Karl about the death of his brother and interrogating Lori about her landlord. At first, Lori doesn't believe Josef's story about Karl being a murderer, but, soon enough, she learns the truth about Karl's sadistic ways. Lori has to save herself and her neighbors before Karl gets to all of them.
While somewhat tame by today's standards, Crawlspace
shocked the mid-eighties world that had become too comfortable with Michael Myers and Jason Voorhees. Written and directed by David Schmoeller (Puppetmaster
, The Seduction) and produced by Charles Hand (Ghoulies, Laserblast), the film introduced a new kind of killer – Karl Guenther is not the faceless shape in the darkness that stalked so many other horror films of the era, he's the trusted landlord of his victims.
Karl's traps may not be as clever or elaborate as Jigsaw's traps in Saw, but they are every bit as effective, hacking and slicing body parts of his victims like butter. As a former doctor, Karl performs cruel experiments on his victims like Dr. Heiter from The Human Centipede
and, while none of the procedures are shown onscreen, their aftermath is very much present. Karl is a mentally unstable, sadistic madman who doesn't choose his victims so much as they choose him.
Klaus Kinski's portrayal of Karl is epic. Karl Guenther is portrayed somewhat compassionately, going through his Russian roulette ritual after every kill, seemingly hoping that the bullet will be in the chamber each time, ending his reign of terror and his pain.
Kinski plays the creepy part extremely well, playing up the Nazi evil doctor angle just enough for him to still be a villain while still generating sympathy from the viewer. When he is being grilled by Josef about his brother, Josef comes off as the jerk. Kinski walks the thin line between unfeeling antagonist and misunderstood protagonist, creating an anti-hero of sorts in Karl, resulting in a career-defining performance.
Part of the reason that the character of Karl is so memorable is the fact that the other characters are so forgettable. As stated earlier, the curious Josef comes off looking like the bad guy in his investigation, being thrown out and rebuffed by both Karl and Lori. The other tenants of the building are interchangeable and disposable, and even Lori is a stereotypical female horror movie heroine. It is Kinski's Karl that carries the film, and he does it admirably.
Crawlspace was shot by legendary Italian horror cinematographer Sergio Salvati (Zombie, City of the Living Dead
), and his experience is evident. The film is tight and claustrophobic. Salvati's photography shows off his Italian horror influences, combining bright primary colors (particularly red) with dark shadows to provide a contrasting visual effect similar to the films of Dario Argento and Lucio Fulci.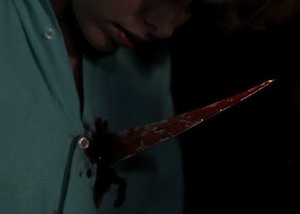 The cinematography is the perfect complement to Schmoeller's eerie plot and Kinski's flawless execution.
The music for Crawlspace was done by another Italian legend of horror, composer Pino Donaggio (who was Brian De Palma's right hand for awhile, scoring Carrie
, Blow Out
, and Dressed to Kill
). Donaggio's score is mostly the same style of electronic synthesizer music that was all over the eighties horror scene, but it fits the film perfectly. It sets the mood and is never distracting, supporting and underscoring the voyeurism and sadistic torturing on the screen.
While Crawlspace
has never been lost and forgotten, it hardly has the same household word status that other films from the same time period enjoy. It was its own film, not just a cookie-cutter clone of a slasher. Of all the horror movies that were produced in the mid eighties, few have had the lasting influence that Crawlspace can claim.
**Watch Crawlspace now via Instant Streaming on Netflix.**