By the nineteen seventies, every filmmaker in the horror world was looking for something new to scare audiences, and the scurry led to some very original films. For every influential blockbuster frightfest like The Exorcist, Jaws, or Halloween, there were several lesser known but just as creative movies. One of these films that slipped through the cracks was the 1973 low budget monster thriller Sssssss.
Ssssss begins with a reptile researcher named Dr. Carl Stoner (Strother Martin from Nightwing and The Brotherhood of Satan) visiting his friend, Dr. Ken Daniels (Richard B. Shull, who also had roles on "Monsters" and "Tales from the Darkside"), at a local college. Dr. Stoner reveals that his old research assistant had to leave town and asks Dr. Daniels if he can help him find a new one.
Dr. Daniels recommends a student of his named David Blake (Dirk Benedict from "Battlestar Galactica" and "The A-Team"), and David accompanies Dr. Stoner back to his lab for an orientation. Dr. Stoner explains his research to David and tells him that in order to work in the lab with the snakes, David must be vaccinated against the various venoms. David receives a series of inoculations that have strange effects on him. Not only does he begin to have feverish dreams, but he also starts to feel empathetically connected to the snakes in the lab. Before long, it becomes clear that the shots that Dr. Stoner has been giving David are doing more than vaccinating him against snake venom; they are turning him into a snake himself and, once he is too far gone, not even Dr. Stoner can bring him back.
Conceptually, Ssssss (that's seven S's for those who want to google it) is equal parts mad scientist and monster movie, drawing its influence from early horror films like Frankenstein and Dr. Jekyll and Mr. Hyde.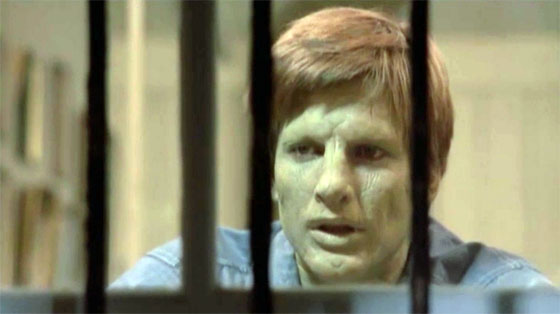 Director Bernard L. Kowalski cut his teeth making low-budget gems like Attack of the Giant Leeches and Night of the Blood Beast, then moved on to do heavy work on television shows such as "Perry Mason" and "The Untouchables." The screenplay was written by Hal Dresner, who wrote for "Rod Serling's Night Gallery" and "M*A*S*H." With those resumes, it's no wonder that Sssssss seems like a cross between a sci-fi B-movie and a television network movie-of-the-week.
Dr. Stoner is a great mad scientist. Strother Martin plays him as cordial and polite, yet always gives the feeling that something is off about him. He is solidly committed to his snakes, and he firmly believes that what he does is for the good of science.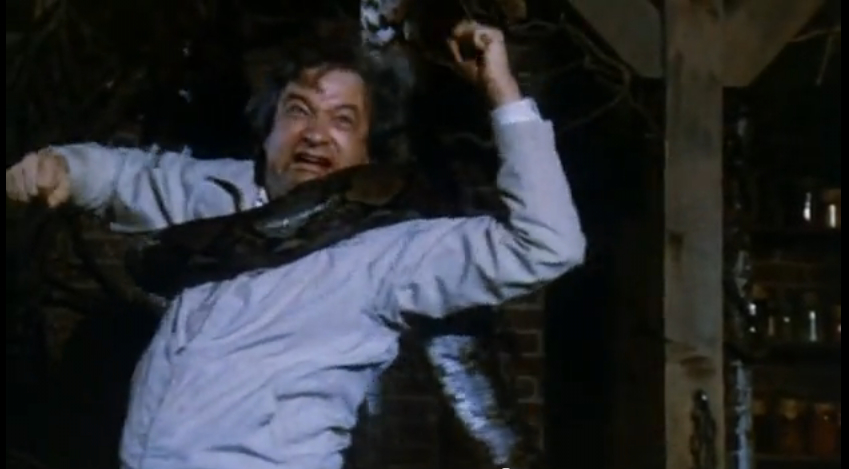 At one point, when one of his snakes is killed by a neighborhood bully, Dr. Stoner drops a deadly black mamba (made famous by Quentin Tarantino in Kill Bill: Vol. 2) into the poor sap's shower. Dr. Stoner also plays a fun game with Dr. Daniels later in the film where he locks him up with two snakes, one deathly poisonous and the other harmless, forcing him to identify the deadly one. Dr. Stoner is a hands-dirty kind of villain, and his presence as the antagonist in Sssssss makes it all the more fun to watch.
Another thing that is fun to watch in Sssssss is David's transformation from human to snake. Like Seth Brundle in David Cronenberg's remake of The Fly, David's metamorphosis is gradual. First, he notices the skin on his face peeling. Next, he starts feeling cold, like the temperature of his blood is dropping. Then, he starts seeing little changes to his facial structure. Eventually, he develops scales and loses his limbs (thanks to some cool latex makeup effects by John Chambers, who also worked on the Planet of the Apes movies). The changes in David's appearance start gradually and progress subtly, and his transformation is chilling because of it.
Sssssss is the type of movie that the audience can put together before the characters can. In the opening scene, Dr. Stoner sells a hissing crate to a carnival barker.
Later in the film, David and Dr. Stoner's daughter, Kristina (Piranha's Heather Menzies), see the same carnival barker at a freak show that contains a "Snake Man," letting the audience know that Dr. Stoner's old assistant did not just skip town. The "Snake Man" sequences tip the viewer off to the fact that Dr. Stoner's injections are more than just anti-venom. Kowalski gives his viewers the pieces and lets them put them together, making the trip more meaningful than the destination. This is important because Sssssss has a very abrupt ending, leaving the viewer to wonder what the heck happens next. They are forced to fill in the blanks themselves, but they are given all the tools to handle the job.
Most of the nature and science horror movies produced in the seventies have been relegated to late night showings on first-tier cable channels, and Sssssss is no exception. However, Sssssss proudly wears its madman-and-monster influences on its sleeve, and is a film that warrants staying up late to see.