Synopsis: In the wake of a disaster that wipes out most of civilization, two men and a young woman find themselves in an emotionally charged love triangle as the last known survivors.
Release Date: August 28, 2015     MPAA Rating: PG-13
Genre(s): Drama, Sci-Fi
Film Review

There are two kinds of dystopian movies. There are the action packed, kill-or-be-killed movies such as The Hunger Games and Mad Max: Fury Road, and then there are the more introspective films like Children of Men and The Rover. Z for Zachariah belongs firmly in the latter category.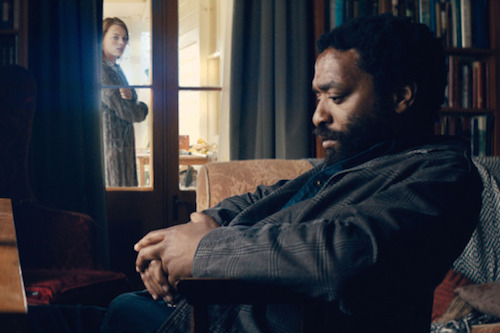 Z for Zachariah takes place in a post-apocalyptic world that has become contaminated with radiation. Ann Burden (Margot Robbie from The Wolf of Wall Street) lives in a small pocket of non-radioactivity, tending to her farm and killing time with her dog, thinking that she is the last person on Earth. One day, a drifter named John Loomis (12 Years a Slave's Chiwetel Ekiofor) wanders by and, noticing that there is no radiation, dives into a pool of water to bathe. Annie saves his life by pointing out to him that the water comes from a radiated area, and the two become friends. Loomis helps Annie get her farm equipment running, figures out a plan to harness the river to supply them with power, and just keeps her company when she is lonely. This situation works well for a while, until a man named Caleb (Chris Pine from the Star Trek reboots) shows up. He is just as helpful as Loomis, and Loomis, who has developed feelings for Annie, gets jealous. Because they are seemingly alone in the world, the three find themselves in a strange dystopian love triangle.
The screenplay for Z for Zachariah was written by Nissar Modi (Breaking the Edge) from a novel by Robert C. O'Brien (The Secret of NIMH) that that the screenwriter remembered fondly from his youth. The main difference between O'Brien's book and Modi's script is the character of Caleb; Modi added him to create tension and mystery, and the addition works, as the character's arrival raises the stakes for everyone in the film. Caleb is an ambiguous character, with the audience never knowing whether he's on the level or not, so he provides intrigue to the film. Caleb is the danger in A For Zachariah.
Z for Zachariah was directed by Craig Zobel (Compliance), who masterfully points out the desperation and hopelessness of the apocalyptic situation in which the characters find themselves, and he does it with simple little things that get into the viewer's head. For example, at one point, Annie tells Loomis that she used to keep a calendar, but after a while, she realized that it just didn't matter. At another point, she tells Loomis that she blew the generator while she was watching a DVD, feeling guilty and stupid about it, but explaining that she was just so bored and lonely, pining for something – anything – to do to kill the time. It's the little things like this that Zobel does that keep the viewer emotionally involved. There's also a sneaky little dig at the science vs. religion argument when Loomis wants to tear down the town's church to build a water wheel in order to get energy from the river. Annie doesn't want to let him, but seeing the need, she eventually relents, scoring one in the W column for science!
There are parts of Z for Zachariah that get a little long winded, but the existence of the characters is similarly tedious. What Zobel does (and does well) is explore the human nature behind the situation, one that is built on trust but tainted by suspicion and jealousy. To its credit, Z for Zachariah only gets racial once (Loomis tells Annie "you wanna be white people together, that's fine!") when it could have become a huge plot point. Zobel realizes that, in the end, black or white doesn't matter when there's no one left in the world.

There are only three characters in Z for Zachariah (four counting Annie's dog), which means that the film is carried by only three actors. Margot Robbie brings a sense of innocence lost to the character of Ann, playing her as sheltered and naïve, forced to grow up too quickly as she finds herself in the position of possibly being the last woman on Earth. Chiwetel Ejiofor brings a similar type of social insecurity to Loomis; the man was a scientist, hunkered away in an underground lab when the catastrophe struck, but does not know how to act in the presence of a woman, especially one that he sees as his last chance for romance. Caleb is the figurative monkey wrench in the works, showing up just in time to mess up Loomis' game, and Chris Pine plays the character with mystery and ambiguity. Caleb's motives are never really known, and that feels like a conscious choice on the part of the actor and filmmakers. There's a lot of screen time for all three actors in Z for Zachariah, but each one of them holds their own, working with and feeding off of each other very well.
Cast and Crew
Director(s): Craig Zobel
Producer(s): Sophia LinTobey MaquireSkuli Fr. MalmquistMatthew PlouffeSigurjon SighvatssonThor Sigurjonsson
Screenwriter(s): Nissar Modi
Story: Robert C. O'Brien
Cast: Margot Robbie (Ann Burden)Chiwetel Ejiofor (Loomis)Chris Pine (Caleb)
Editor(s): Jane Rizzo
Cinematographer: Tim Orr
Production Designer(s):
Costume Designer: Bob Buck
Casting Director(s): Kerry BardenAllison EstrinPaul Schnee
Music Score: Heather McIntosh
Music Performed By: 
Country Of Origin: IcelandSwitzerland