Ahead of next week's release of Nicolas Winding Refn's latest film Only God Forgives, which reunites him with Drive star Ryan Gosling, it is only fitting to explore the deep film noir roots of the intensely stylish, highly acclaimed Drive. It's not surprising that Refn won the prize for Best Director at Cannes with this film because, even though the subject matter may be familiar –the film has been compared to the likes of The Driver (1978) and the works of Michael Mann – Refn's direction breaks with Hollywood banality to create a positively captivating film. Drive seamlessly blends minimalism and visually striking style into a film that manages to perfectly situate '40s film noir characters in a modern Los Angeles.
The film follows an unnamed Hollywood stunt driver (Ryan Gosling) who moonlights as a getaway driver by night. Driver also works part-time as a mechanic for Shannon (Bryan Cranston) who acts as his manager and organizes his one-off getaway assignments with criminals. Whatever background, family, or even personality Driver has, we see none of it. His cool, inexpressive façade lifts, if only slightly, when he meets his beautiful neighbor, Irene (Carey Mulligan), and her son, Benicio. Driver suddenly feels the urge to help them, protect them, and care for them, but his growing attachment to them is interrupted by the return of Irene's husband, Standard (Oscar Isaac), who is released from prison owing a lot of money to some very unsavory men. While his relationship with Irene becomes more muted, he remains committed to helping her, Benicio, and Standard.
Many neo-noirs rely on a lasting nostalgia for the early days of noir and capitalize on the aesthetics of that time, but Drive effectively breathes new life into the noir anti-hero. Gosling's Driver is quintessentially noir to a fault. He is a silent, enigmatic getaway driver and killer who lives by his own particular code of honor. He is for all intents and purposes a "common man" but certainly a very unusual one. So much of Refn's film recalls the works of Jean-Pierre Melville, from the cinematography to the characters, but nothing more so than Driver's portrayal. Like Melville's taciturn Le Samouraï, Driver is an alienated character – nearly a cipher – whose way of life suggests an existential void. A key connection between the two films is their protagonists' ritualization of gloves. Jef Costello never carries out a hit without first putting on his white gloves. Similarly, Driver never takes part in a getaway without his brown driving gloves. Driver's actions are always deliberate, mechanical, and frequently highly ritualized, from his five-minute getaway windows to his stunt driving. The mystery surrounding him only enhances this impervious exterior and solidifies Driver as the epitome of a cool hero.
Mystery is a defining element of the Driver character, as he has no known origins. His progress from childhood to his present day as a dangerous and ultimately sad soul is completely avoided. In lieu of an expansive backstory, Driver instead springs fully formed onto the screen as a weathered and melancholic anti-hero. Refn treats us to extreme close-ups, using the camera and Gosling's face to tell us everything we need to know about the character. Although he rarely speaks, Driver's principled nature is unmistakable. Like the traditional film noir protagonist, Driver defers to his own abiding code of honor. When he tells his criminal clients that he's theirs "no matter what" as long as they finish their work within five minutes, we know his promise is genuine. The same goes for his failed heist with Standard. As Shannon says, "A lot of guys I know mess around with married women, but you're the only one I know who robs a joint just to pay back the husband." Not only is he then acting out of loyalty to a "client" but loyalty to his new-found friends.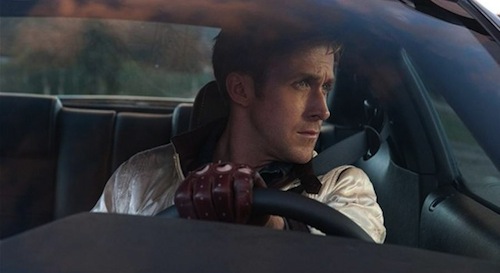 Classic film noir always presented two kinds of women: the femme fatale and the nurturing sweetheart. Drive more or less combines these archetypes and gives us Irene who is at once an effective approximation of a femme fatale in terms of her function in the film and Driver's object of desire. Irene is absolutely angelic and by far the most innocent character in the film. Despite her unmistakable purity, she functions as a femme fatale, guiding Driver's actions toward an inevitable doom. In Drive, Irene is hardly aware of Driver's actions and never once asks for his help. It is instead given freely with no real thoughts of lust but merely to save her. Out of his desire to help her, he makes reckless decisions and involves himself in poorly planned heists, all actions typical of a protagonist under the influence of a duplicitous femme fatale. And just as Driver voluntarily drives toward his end for Irene's sake, he voluntarily leaves her after killing her husband's murderers with his same, unflinching sense of honor served.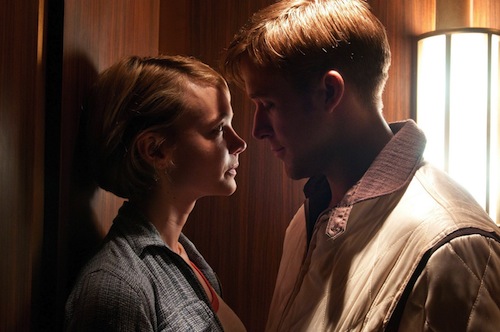 The question of Driver's motivation still stands, however. It's understood that once involved in saving Standard, he will finish the job as a matter of honor, but why does he become so attached to Irene and her family? The film itself resists interpretation of Driver's motivations and remains ambiguous. This ambiguity within the film only enhances the protagonist's detached exterior and strengthens the overall film. Yet his motivations are not so unfathomable. He is immediately drawn to Irene, a beautiful, wholly innocent woman. She is the opposite of Driver's speeding life of crime. When her well-being is threatened, he only naturally uses his own niche skills to save her. His final act of leaving the money from Standard's heist and leaving Irene serve to maintain his character's honor and purity. Driver never did seem to be in it for the money, and not going back to Irene may be penance for his ultimate failure.
Drive's very title signals that its protagonist is speeding toward an irreversible fate, but its convoluted plot and operatic violence still manage to come as a surprise in a film of ultra-long pauses and languid pacing. Refn illustrates exactly how a deliberate, principled anti-hero can follow a string of reckless decisions to a bloody, but honorable, end. The film's major success is its treatment of noir archetypes and tropes. Drive handles these deftly, breathing new life into old characters and well-worn conventions. Through his use of vivid imagery and lighting that subtly evokes shadows of black and white, Refn constructs a film worthy of the label noir.