Synopsis: A successful businesswoman gets caught up in a game of cat and mouse as she tracks down the unknown man who raped her.
Release Date: November 18, 2016     MPAA Rating: PG-13
Genre(s): Drama, Thriller
Film Review

Paul Verhoeven used to be cool when he was making movies like Robocop, Starship Troopers, and Total Recall. Hell, even Showgirls is a lot of fun when it's put into context with his other movies (it's a parody!). Somewhere around the turn of the century (post Hollow Man), he lost his way and started making art films. Now, with Elle, he's even made one in French.
Elle begins with the brutal rape of a successful video game designer named Michèle Leblanc (Isabelle Huppert from Louder Than Bombs) by a masked home intruder. The list of suspects is long; as the daughter of a notorious mass murderer, Michèle is a very unpopular person in her town. When she starts getting notes and text messages from her attacker, she decides to put all of her efforts into tracing the clues and figuring out who he is so that she can have her revenge. But, the rapist has ideas of his own, and he isn't done with her yet.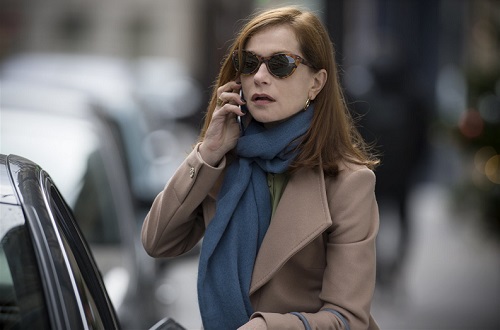 As much as it sounds like one from that description, Elle is not a rape-revenge movie. At least, it's not a typical rape-revenge movie, which is both good and bad. It's good, because we've seen all of that before. It's bad, because it lacks that spark of anger that's needed in order for it to connect with its audience. Adapted from a novel by Philippe Djian (Love Is the Perfect Crime) by horror writer David Birke (13 Sins, Freeway Killer), It's more of a suspenseful mystery than an exploitation flick. Which would be fine if the actual mystery wasn't solved so early on in the movie.
There's a weird pacing at work in Elle. The first two acts are compelling enough, with Michèle alternating between being stalked by her assailant and stalking him herself. Once the rapist is unmasked, however, it's all downhill. The tone of the movie shifts, the big reveal transforming the journey into a completely different ride – one that no one watching wants to be on.
On a technical level, Paul Verhoeven knows how to make a movie. Aided by a great lead performance from Isabelle Huppert and some powerful imagery (there's an early shot of Michèle in bloody bath water after her initial attack that is unforgettable), Elle is a serviceable movie. At about two hours and ten minutes, it's also a bloated one – long, slow, and drawn out, full of scenes that exist only to shock the audience instead of moving the story forward. There's a tight ninety minute movie trapped somewhere inside of Elle. The trick would be convincing Paul Verhoeven of that.

On paper, the character of Michèle Leblanc isn't very intriguing, but the skillful way that Isabelle Huppert subtly brings her to life definitely is. Michèle isn't exactly a sympathetic character. She's not even a likeable person, yet Huppert stills manages to play her in a way that subliminally pulls the audience into her corner, grieving for her troubles and rooting for her to win, even when she's being ruthless and cruel to those around her. Thanks to Huppert's solid performance, Michèle is not seen as a victim, and that's an important part of her character and, in a broader sense, the movie itself. Huppert injects little bits of vulnerability, defiance, stubbornness, anger, and even lust into the character, all of which help humanize Michèle. Isabelle Huppert creates a strong character with cracks in the armor, fatal flaws of insecurity that she desperately tries to keep hidden underneath a mosaic of half-stuck band aids. Huppert carries the movie; her performance doesn't quite save Elle from its own indulgence, but it is the best reason to keep watching until the end.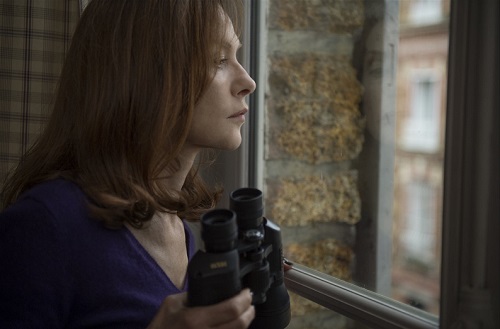 Cast and Crew
Director(s): Paul Verhoeven
Producer(s): Saïd Ben SaïdMichel Merkt
Screenwriter(s): David BirkeHarold Manning
Story: Philippe Djian
Cast: Isabelle Huppert (Michèle Leblanc)Laurent Lafitte (Patrick)Anne Consigny (Anna) Charles Berling (Richard Leblanc)Virginia Efira (Rebecca)Judith Magre (Irène Leblanc)Christian Berkel (Robert)Jonas Bloquet (Vincent)Alice Isaaz (Josie)Vimala Pons (Hélène)Raphaël Lenglet (Ralf)Arthur Mazet (Kevin)
Editor(s): Job ter Burg
Cinematographer: Stéphane Fontaine
Production Designer(s):
Costume Designer: Nathalie Raoul
Casting Director(s): Constance Demontoy
Music Score: Anne Dudley
Music Performed By: 
Country Of Origin: FranceGermany