A film that has been somewhat under the radar over the past few months is Red Tails. Only lately have materials been released for it, and only in the past two weeks has anyone been talking about it–mostly because of Executive Producer George Lucas. The time has come to see what Red Tails is all about when it releases on Friday, January 20th. Sure, the hopes for the film are not all that high because:
1. It has been hidden from audiences, and not much marketing put into it by 20th Century Fox.
2. With a release date in January it is always a gamble on whether a film will be worth anyone's time (lucky for all of you we help you with that decision).
But, we always have hope for every film we watch and review.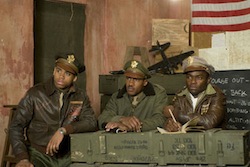 Red Tails is special, and why it was not released in February during Black History Month is a mystery–that would have been a great marketing angle, and an avenue to have many a special event screening. I digress. What makes Red Tails special is the story it tells about the first all-African American aerial combat unit to serve in World War II, the Tuskegee Airmen. As George Lucas stated, "It boils down to a bunch of young men thrust into an incredible situation who, against all odds, do a phenomenal job and come out heroes – they're really the knights of the contemporary age." Wow, that is a very big statement George, I hope the film does their story justice.
With a great cast, a talented director in Anthony Hemingway (he comes primarily from TV, having directed episodes for "Battlestar Galactica", "The Closer", "Treme", and "The Wire", to name a few), Lucasfilm handling the visual effects, and a story that sounds incredibly memorable, Red Tails has all the necessary ingredients; it is now up to the execution.
A nice addition to the press notes on the film includes a statement from Director Hemingway: "I'd like for every person, young or old, to walk away from the film feeling that anything is possible; Dedication, sacrifice, courage, daring and excellence are qualities that the Tuskegee Airmen displayed, but the presence of them are not limited to any group. I'd hope that people see the value in the bond and love that these men shared and that it's possible for us all. Red Tails is a celebration. It's a celebration of life and a celebration of breaking down barriers." – we do hope you are right.
Synopsis: Red Tails is a high-flying action adventure film inspired by the heroics of the first all-African American aerial combat unit to serve in World War II.
The action-packed movie places viewers in the cockpits of nimble fighter planes in the thick of aerial combat, takes them into the tension-filled halls of the Pentagon as the military brass debate the risks of using black pilots in battle, and invites them to experience the camaraderie of the young hotshot Tuskegee Airmen as they serve with excellence. It is an inspiring tribute to real American history told in an exciting, fast-paced style.
Cast: Bryan Cranston, Josh Dallas, Cuba Gooding Jr., Michael B. Jordan, Terrence Howard, Theo James, David Oyelowo, Method Man, Tristan Wilds, and Ne-Yo.
Directed by: Anthony Hemingway
Written by: John Ridley and Aaron McGruder
Film Clips from Red Tails
Trailer
Check back later this week for James Jay Edwards review of Red Tails located here.