On April 8th millions of people worldwide will be celebrating one thing, and it is not the soon-to-be-released films Lockout and The Cabin In The Woods (yes, we are excited for them both). Nope, April 8th is none other than the Easter Holiday for Catholics, Christians, and any other religion who follows the New Testament. It is also, and maybe for some more importantly, the day the Easter Bunny visits, bringing chocolates and goodies for children everywhere–and maybe even a fun-filled Easter egg hunt too. Just because it is a family-oriented holiday does not mean there will not be movie-watching going on; and for those who do not celebrate Easter you need to find something to do with yourself because Costco is closed on Easter Sunday. Thus I bring you the Easter Movie Survival Guide, a list of films that will appeal to the family, the religious, the heathens, and more importantly, the person who wants to watch movies all day on Easter Sunday because they can, and will.
Here we go…
I have children, and I will do anything to get them to sit still after eating all the candy the Easter Bunny brought them in their basket…Hop.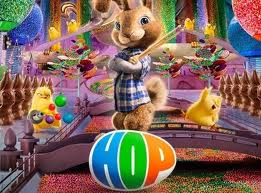 The film is nothing great, believe me, I have seen it, but its got an Easter Bunny who is more "hip" than most and features the occasional musical interlude. Children love music and bright colors, so it is sure to distract them.
Help! I'm stuck with my family and they won't leave me alone!…Donnie Darko. Go ahead and tell them it is an Easter themed film, bunny and all. Then slowly watch as one-by-one individuals start to leave the room during this twisted tale. Finding alone time has just been solved.
All I want in my Easter basket is something horrifying. Well, Atrocious may be what you are looking for then. Utilizing the found footage horror genre technique, Atrocious tells the story of a Paranormal Investigator and his sister who come into contact with a terrifying evil while spending Easter at their family's country house.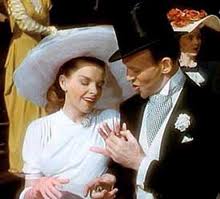 Beware, the only thing that remains is the videotape they left behind.
I would really like a great classic family film to watch with everyone (that includes some singing and dancing). Easter Parade! In 1948 Fred Astaire and Judy Garland teamed up for this musical gem about a dancer who teams up with an inexperienced chorus girl in order to show-up his former partner. The movie is simple to follow, but it is Irving Berlin's music that makes this a romantic musical of the classic nature. Fun for everyone, indeed.
Give me an epic; a long epic to pass the time. Ben Hur. It may not seem like a likely choice for an Easter themed movie but the entire film is interlaced with the story of Christ. You get the tension filled fast-paced chariot races and a dose of religion on the side.
I have been dreaming about chocolate, and am now surrounded by it, BUT I'm on a diet.
Help me! If you cannot satiate your cravings with your taste buds use another of the five senses–your eyes–with Chocolat. The delectable creations will curb your desires because you'll be too focused on Johnny Depp in one of his sexiest roles.
Let's Rock out Christian style!…Jesus Christ Superstar. Andrew Lloyd Webber adapted this gem for the screen, creating a musical adaptation of the life of Christ. What better way to spend a couple hours than watching Mary Magdalene belt out a love song for Jesus Christ.
Give me a film that looks idiotic, just from the DVD cover, so while I'm getting drunk all day I have something to make jokes about. Based on a search of the World Wide Web, and Netflix On Demand's options, Hank and Mike looks to be the perfect choice.
I'll let the DVD cover talk for itself on this one as I have not seen the film and will not vouch for it in any way, shape, or form (but it does look pretty idiotic–mission accomplished!).
I will only watch high-brow cinema, directed by an Auteur. This one is easy for all the film-snobs out there: The Last Temptation of Christ, directed by Martin Scorsese. Not only do you get Scorsese, but Willem Dafoe plays Christ, Harvey Keitel is Judas, and rounding out the cast is Barbara Hershey as Mary Magdalene, David Bowie (yes, BOWIE) as Pontius, and Harry Dean Stanton (Yes, STANTON too) as Paul. The film depicts the life of Christ and all the temptations he encountered–including imagining sexual activities. This is not the pro-Christian film one would show their Prayer Group, nor does it claim to be. A disclaimer on the film actually says it is not based on the Gospels. Watch at your risk, a risk worth taking.
My family loves a good debate. The Passion of the Christ will suit all of you perfectly.
You can debate whether the film is in fact anti-semitic, thanks to the stigma placed upon Director Mel Gibson nowadays. You can also debate if the added pieces on Jesus' life could in fact be given merit, even though the Catholic Church did not agree. Lastly, try having a poll afterwards of who thought the film was overly violent–many viewers and critics did.
What's Easter? For all of the people who do not celebrate Easter may I suggest going to see a movie at the theatre this weekend? A few recommendations include Mirror Mirror (for the whole family), Salmon Fishing In The Yemen (good for anyone, except the kiddies), The Raid: Redemption (for those who crave action, crazy action), Wrath of the Titans (brainless entertainment based on pre-Christian thought), 21 Jump Street (to laugh your a*s off, seriously), Friends With Kids (a great movie for couples, singles, and the like), and John Carter (it's good, give it a chance).
That does it for the Easter Movie Survival Guide. Happy Easter, or Happy Sunday, to everyone!!!
**Many of the above films are available to watch via Instant Streaming on Netflix, so be sure to check here.**