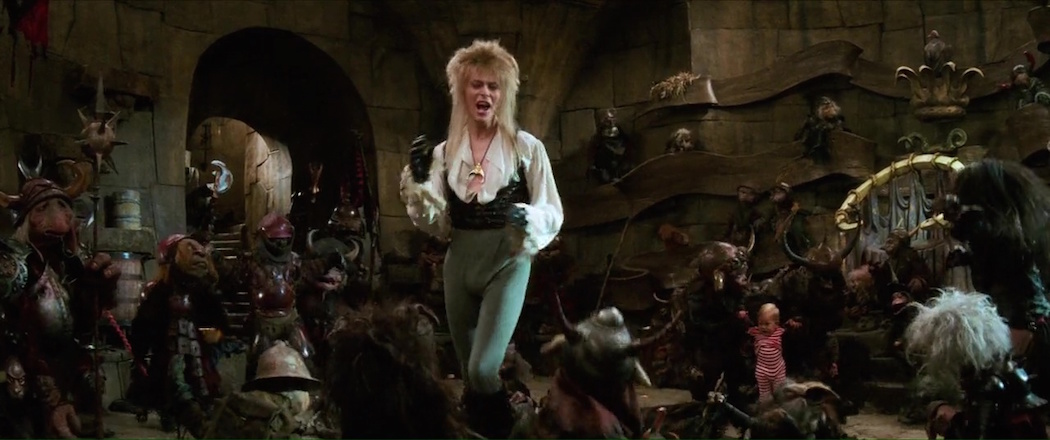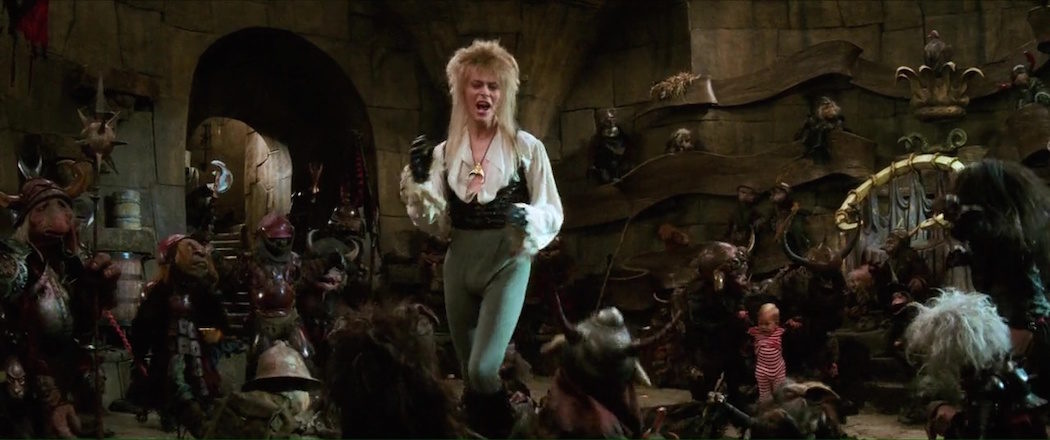 To honor David Bowie's bulge in 'Labyrinth,' here are the best codpieces to ever grace the silver screen (and crotches).
The codpiece isn't just for heavy metal or a kinky fad, it's a part of movie history.
LIke every other Xennial girl and more than a few of the boys, Labyrinth captivated me. It was on perhaps my 43rd or so VHS tape viewing of Labyrinth as a young tween that I realized I had become slightly mesmerized by David Bowie's bulge. It was hypnotic; once I'd seen it, I couldn't look away. When Nietzsche talked about staring into the abyss and it stares back, he was clearly talking about Bowie's bulge.
Because I have questionable hobbies and poor time management, I've spent many an hour scouring the Internet for answers to the hidden meaning of the Goblin King's little goblin, bouncing deliriously from academic debates among Reddit scholars to in-depth analyses in the wilds of YouTube. I've yet to arrive at any deeper truth, but it's been a fun ride.
Embedded in these forums and subthreads lingers an unexpected controversy—a codpiece controversy, to be precise. Clearly, Bowie has some kind of a manliness shield lurking underneath those heckin' tight pants, judging by its magical convexness. But does it constitute a codpiece?
After much speculation and scholarly analysis, I've come to land squarely in the non-cod camp. Like the Lady Gaga of codpieces Henry VIII might tell you, "Nay. Verily, a codpiece goeth on the outside of a Lord's tights."
The Rise and Fall of the Codpiece
According to Wikipedia, the incontrovertible fount of all knowledge and wisdom in the universe, codpieces originally sprung up at the top of the Renaissance, when they were first used to cover a guy's fellers when manly miniskirts came into vogue.
As a men's fashion statement, the codpiece had a lot to offer. It was a throbbing beacon of male virility you could stuff your medicated salve into and still have swingin' room. But like every passing fashion from JNCO jeans to mullets, it soon began to spiral out of control until the fashion police finally put it out of its misery. In our lingering collective shame, we've even retconned it from history in most modern Renaissance-era stories—see: "The Tudors."
Today, echoes of the codpiece live on in three separate realms: heavy metal, film, and kink. Although Bowie's magical goblin shield doesn't make the codpiece cut on a technicality, its contributions to American culture are worth noting. In honor of Bowie's bulge, here's a list of the 13 best movie codpieces of all time, in no particular order of excellence.
1. The Bold Eagle: Sting in Dune
Repping House Harkonnen in David Lynch's perennially divisive Dune adaptation is none other than Sting rocking an iron-forged winged wanger shield. The story goes that Sting was originally meant to appear in the buff, but when the money folks caught wind, many pearls were clutched. Some quick thinker in costumes decided to slap a steel-plated airline logo on Sting's private eye and the rest is history.
2. The Korova Milk Bone: Alex and his Droogies, A Clockwork Orange
Part jockstrap, part adult diaper doesn't sound nearly as menacing as it ends up looking. Ultra-violent juvenile delinquents Alex and his Droogs roam around whacked out on milk plus (Moloko Plus) and Beethoven wreaking high hell all over future dystopian London, where everything is horrible except the groovy pop-modernist art and those comfy-looking codpiece cozies. With a snake snuggie like that cupping his joe, it's no wonder Alex is singin' in the rain.
3. The Imagine Dragon: Tom Cruise in Rock of Ages
This adaptation of the Broadway musical of the same name represents everything my husband hates about the human race: Glam rock and happy people narrating their lives in song. But, seeing Tom Cruise in a bedazzled dragon/demon codpiece as rocker Stacee Jaxx is definitely worth the price of admission. Reportedly, he's even pranced around at home in the ruby rhinestone-encrusted love cover. I didn't come here to kink-shame, so carry on, Tom.
4. The Chief Justice: Sylvester Stallone in Judge Dredd
Bold but pragmatic, Sly's codpiece in Judge Dredd is the true star of the film. When you're an officer of the law living in a post-apocalyptic hyper-metropolitan hellhole riddled with cannibals and questionable robots, you need sleek, dignified metal to protect your junk. It's the perfect accessory to the skin-gripping pleather leotard and gleaming Versace epaulets you'll no doubt be wearing.
5. The Imperial Guard: Darth Vader in Star Wars
Whether murdering his own men for talking smack, oppressing the Galactic Empire, or working on winning father of the year, Lord Vader certainly knows how to raise shields to protect the old Star Destroyer. Evil Anakin's codpiece looks to be made of gym mat foam and patent leather, which any Jedi will tell you is the perfect combo for deflecting lightsabers.
6. Phallus Maximus: Russell Crowe in Cinderella Man
Technically, this is really just a leather jockstrap, which sounds like a terrible idea. But I'm putting it on the list anyway because of its cultural significance. When Russell Crowe's gladiator shield from Cinderella Man (2005) went up for auction as part of the actor's big divorce shebang, John Oliver saw something he couldn't live without and dropped a cool seven Gs on it.
7. The Bone Ranger: Robert Rodriguez's Penis Pistol
Kudos to Robert Rodriguez for taking the movie codpiece to the most on-the-nose logical conclusion with the Penis Pistol, a cinematic jewel, and then getting his money's worth on it in three films: From Dusk Till Dawn, Desperado, and Machete Kills. This slick shooter à la DC Comics' supervillain Codpiece is a self-erecting, aluminum-milled marvel of modern craftsmanship. Word on the street is that Rodriguez really, really loves this thing and thinks it is absolutely hilarious. Antonio Banderas wore it first in Desperado, but Sofía Vergara wore it best in Machete Kills.
8. The Big Red: Sean Connery in Zardoz
The jury's still out on whether or not Sean Connery's marvelous getup from Zardoz constitutes a codpiece, but it's such a delightful banana hammock that I just had to include it on my list. This cinematic brown acid trip hasn't aged very well–its tagline is "Beyond 1984, Beyond 2001, Beyond Love, Beyond Death"–but what is certainly eternal is Sean Connery's Magic Mike in a bold red unitard with x-shaped accordion suspenders tucked into his codpiece.
9. The Hidden Treasure: Ted Hamilton in The Pirate Movie
The glittering jewel pouch featured in this whimsical pirate musical based loosely on Gilbert and Sullivan's "The Pirates of Penzance" is a fan favorite among movie codpiece aficionados. Worn by the Pirate King as he prances about among his band of surly bears and fops, it has all the subtlety of Liberace.
10. The Bruce Wang: Batman and Robin in Batman Forever
Easily the most bonkers of the Batman DC franchise films, Batman Forever has it all: A smokin' hot Nicole Kidman, Jim Carrey trimmed out in more glitter than a New Year's drag show, that super sexy Seal song that makes literally no sense, and Tim Burton in the producer chair gone amok. But Val Kilmer and Chris O'Donnell's foil-wrapped manties were the icing on this delicious pile of banana pancakes.
11. The Industrial Metal in Mad Max: Fury Road
Nothing says high industrial like a pistol-flanked, gear-embedded metal plate stamped with numbers across your Mad Max. This little number post-apocalyptic wasteland tyrant Immortan Joe in Mad Max: Fury Road sports boasts not one but two firearm holsters framing his main attraction. Take that, Robert Rodriguez.
12. The Tin Mormon: Trey Parker in Orgazmo
Drawing on the Shakespearean trope of the porn flick-within-a-play, this missionary mess somehow managed to eke out a 48 percent rating on Rotten Tomatoes. Orgazmo is so naughty it got slapped with an NC-17 rating. File Trey Parker's metallic bang beacon under another example of taking something–in this case, the superhero codpiece–to its most obvious conclusion.
13. The Velvet Sheath: James Franco in Your Highness
Renaissance man James Franco sports a well-suited sire in this compilation of cinematic sins marketed to your college friend who spends the day getting blazed and playing World of Warcraft. This velvety cod cushion would be right at home as King Henry's royal guard.