Synopsis: In Machete Kills, Danny Trejo returns as ex-Federale agent MACHETE, who is recruited by the President of the United States for a mission which would be impossible for any mortal man – he must take down a madman revolutionary and an eccentric billionaire arms dealer who has hatched a plan to spread war and anarchy across the planet.
Release Date: October 11, 2013     MPAA Rating: PG-13
Genre(s): Horror, Thriller
Film Review
Production
Starting as a bit part in the Spy Kids movies and evolving from a fake trailer in Grindhouse, Robert Rodriguez's Machete character has become one of the more popular and endearing figures of modern pop culture. The sequel to 2009's Machete, which is lovingly titled Machete Kills, contains a whole lot more of the same blood-soaked exploitation for which fans of the anti-hero go crazy.
After a fake (or is it?) trailer for Machete Kills Again…In Space, Machete Kills begins with Machete Cortez (career badass Danny Trejo from The Devil's Rejects) being rescued from the clutches of the corrupt Sherriff Doakes (The Shawshank Redemption's William Sadler) by none other than the President of the United States of America (played by "Carlos Estevez," who bears more than a passing resemblance to Charlie Sheen from "Two and a Half Men"). Mr. President needs Machete; it turns out that a schizophrenic Mexican revolutionary named Marcos Mendez (A Better Life's Demian Bichir) has a missile aimed at Washington, and Machete is the only person tough enough to stop the madman from unleashing it.
Machete is assigned a contact, a beauty pageant contestant known only as Miss San Antonio (Drive Angry's Amber Heard), and slips into Mexico with orders to kill Mendez. When Machete locates Mendez, he discovers that the missile controls are wired into Mendez's heart, and killing him will immediately launch the missile. Machete takes Mendez and heads for America, hoping to get him to the only person who can disarm the missile launching mechanism – weapons manufacturer Luther Voz (good old Mel Gibson from Braveheart and The Patriot).
The situation is complicated by Mendez taking out a twenty-million-dollar contract on his own life, meaning that Machete not only has to reach the border with him but has to fight off seemingly every hitman and bounty hunter in Mexico along the way. Machete soon learns that Mendez is a simple pawn; the threat is much larger than anyone realized, and the real villain in the plot is Voz himself. With the help of old friends Luz (Avatar's Michelle Rodriguez) and Sy (special effects wizard Tom Savini) from the first Machete, Machete must fight his way through obstacle after obstacle in order to save the world from total annihilation.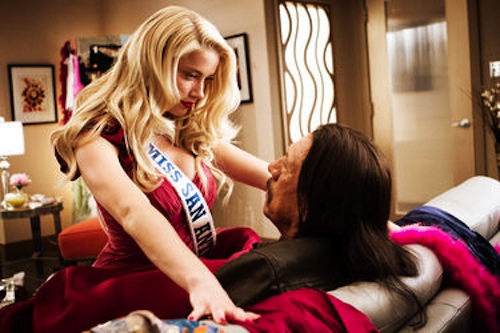 Written by director Robert Rodriguez (
Sin City
) and his brother, Marcel (who also collaborated with him on
The Adventures of Sharkboy and Lavagirl in 3D
),
Machete Kills
is a fantastically retro throwback to the classic exploitation films of the seventies. Every aspect of the film is reminiscent of old-school drive-in flicks, from the driving musical score to the gimmicky cinematography (both of which, incidentally, are credited to Rodriguez).
The visual effects are modern, updated for the times, but the look and feel of the film are decidedly campy and grindhouse. Machete Kills is a love letter to the movies on which Robert Rodriguez's generation grew up, and there are subtle (and not-so-subtle) references to everything from Dr. Strangelove to Star Wars mixed in amongst all of the kung-fu fighting and machine gun battling. The best word for Machete Kills is outrageous, and that's meant in the best way possible.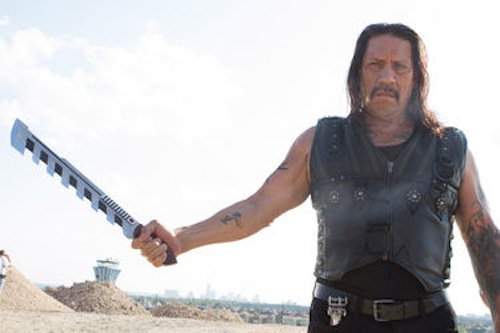 Those who have seen
Machete
know exactly what to expect from
Machete Kills
. It is a hilariously funny movie. Every second of the film is wildly entertaining, full of tongue-in-cheek action and outlandish stunts with just enough corny dialogue to keep the story moving along. It's not a hugely emotional experience, and it doesn't pretend to be. There's nothing deep and serious to think about that is going to distract from the carnage. It's the kind of film that will keep audiences laughing and cheering for the entire running time, then convince them to stay after the credits to see if there's any extra fun stuff (hint: there is).
Machete Kills
is a summer blockbuster, without the summer part.
Acting
While Machete Kills is not going to win any big awards for acting, it does boast an impressive cast. Danny Trejo has made a career out of playing Machete-type characters, and nobody does the Hispanic thug archetype better, whether it's actually playing Machete in the Spy Kids movies or simply portraying different incarnations of the tough guy in "Sons of Anarchy" or From Dusk Till Dawn.
The real fun in Machete Kills, however, is in the supporting cast. The film is packed with big-name stars in minuscule roles who seem to all be having an absolute blast with their parts. Sheen and Gibson are only the tips of the iceberg of Hollywood talent that appears in the film. Sofia Vergara from "Modern Family" stars as Desdemona, a brothel owner with firearms hidden in all the right places, and she is hilarious. Antonio Banderas (The Skin I Live In), Cuba Gooding Jr. (The Butler), Walton Goggins ("The Sheild"), and Lady Gaga (yes, the pop star) all play different incarnations of a shape-shifting, face-changing assassin called El Cameleon.
Other big stars like Jessica Alba (Sin City), Vanessa Hudgens (Spring Breakers), and Alexa Vega (Spy Kids) also have small but pivotal roles. The one thing that all of the performances have in common is the spirit in which they are given; every single actor or actress commits to their character, and what ends up onscreen is extremely fun to watch. There's nothing very challenging in the script, but the cast has a ton of fun with it, and the feeling and energy spills over into the audience.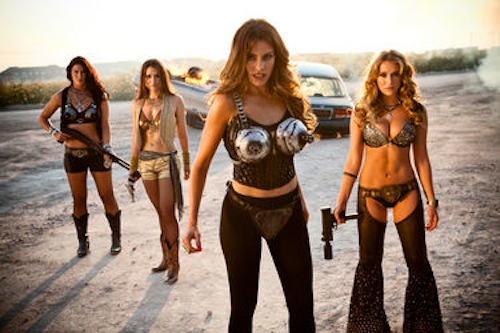 Cast and Crew
Director(s): Robert Rodriguez
Screenwriter(s): Kyle Ward
Cast: Danny Trejo (Machete), Amber Heard (KillJoy), Sofia Vergara (Madame Desdemona), Vanessa Hudgens (Cereza), Jessica Alba (Sartana), Michelle Rodriguez (She), Mel Gibson (Luther Voz), Antonio Banderas (Gregorio Cortez), Lady Gaga (La Chameleon), Charlie Sheen (The President), Cuba Gooding Jr. (El Cameleon)
Music Score: Carl Thiel
Country Of Origin: USA