Throughout his career, Hitchcock returned again and again to stories of wrongfully accused men desperately trying to prove their innocence. From The Lodger to The 39 Steps and even Strangers on a Train, this theme is a specialty of Hitchcock's. In The Wrong Man, Hitchcock would once again return to this theme, but what sets the story apart from previous incarnations is the fact that the events of the film are true. With this key change, Hitchcock adjusts his approach away from incorporating tempering whimsy in favor of depicting the gravity of this very real situation. Hitchcock creates a sense of danger so convincing as to mimic the realism of the darkest film noirs. The story of Manny Balestrero, a man mistaken for a robber and tried for his alleged crimes, is therefore told as a stark tragedy to reflect the seriousness of the actual events. This approach solidifies The Wrong Man as one of Hitchcock's bleakest films and a brilliant foray into film noir territory.
The film's proverbial "wrong man" is an everyman, a New York-bred Italian Catholic named Christopher Emmanuel "Manny" Balestrero (Henry Fonda). Manny is a musician at the upscale Stork Club and a devoted husband and father. He and his wife, Rose (Vera Miles) struggle to make ends meet but are obviously happy in their life together. Rose's impacted wisdom teeth, however, threaten to break the bank, unless Manny can borrow $300 on her life insurance policy. When Manny goes to the insurance company the next morning to ask for a loan, three office clerks are certain that he is the man who has robbed their office twice. This initial case of mistaken identity quickly escalates, as Manny is charged with several robberies from the past year. Booked by the police, Manny naively cooperates with the detectives, trusting that in the end justice will free him. An attorney, Frank O'Connor (Anthony Quayle), agrees to represent Manny and prove his innocence. Having been released on bail, Manny joins Rose in establishing alibis for each alleged robbery, but their luck is dwindling and the stress of the investigation has a drastic effect on Rose.
A Hitchcock cameo is typical of most of his films, but The Wrong Man is unique in that Hitchcock chooses to address the audience at the beginning of the film, just as he does in episodes of "Alfred Hitchcock Presents." The opening shot is none-too subtle: Hitchcock appears in silhouette, shadowed by extreme chiaroscuro lighting. The image evokes the darkness of film noir and announces in the strongest visual terms that The Wrong Man will be a wholly atypical Hitchcock foray into the bleakest territories of film noir. Unlike Hitchcock's previous cameos, he is not silent here but admits to the audience, in no uncertain terms, that this film marks a change of pace in his direction. He declares, "I have given you many kinds of suspense pictures. But this time, I would like you to see a different one." This statement recognizes the sheer scope of Hitchcock films. From Gothic romance (Rebecca) to screwball comedy (Mr. and Mrs. Smith), Hitchcock can't be said to have only dealt in thrills and suspense. The Wrong Man marks another change in that it is, in fact, based on the true story of Christopher Emmanuel Balestrero who was misidentified as a robber and put on trial in New York in 1953. Where the story comes into its own and plays into the deft hands of the Master of Suspense is in its "stranger than fiction" elements. We know this is the true story of an innocent man, but we can't help but fall prey to overwhelming doubts about his alibis and the integrity of the justice system.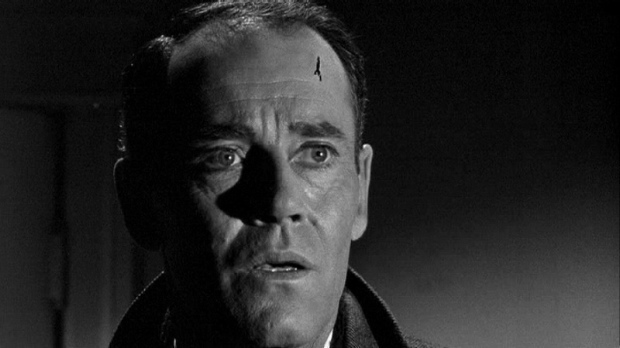 What firmly establishes Manny as an unflinchingly honest and upright citizen is his absolute faith in the law. This calmly serene family man never seems to lose his optimism, believing that the truth will come out and he will be set free. This optimism – or is it naivety? – leads Manny to cooperate absolutely with authorities. He submits to witness line-ups, interrogations, and a night in jail with little question. One thing that is never in question throughout the film is Manny's innocence, and that is due largely to the talents of Henry Fonda. In another actor's hands, Manny's behavior in the latter half of the film might have raised suspicion, but Fonda is the definition of honorable and unpretentious integrity. The decision to cast an actor known for his honesty and natural everyman quality, rather than the charismatic movie star type Hitchcock generally preferred in those years, is key to the effectiveness of The Wrong Man. Whereas similar films like Strangers on a Train trap protagonists, truly innocent victims of circumstance, in webs of murder and deceit and build upon their inherent weaknesses to establish guilt, The Wrong Man finds Manny the victim of societal fears, legal bureaucracy, and his own blind faith. In this sense, the film isn't so much about the concealed dark side of a good man but about a good man ruined by the darker inclinations of his society.
This long, drawn-out legal process only succeeds in digging Manny into a deeper hole and ultimately costs Rose her sanity. It is so blatantly obvious to Rose and to the audience that Manny is innocent, but countless insurance agents and store owners insist that he is the man who held them up. These irreconcilable opinions have a drastic effect on Rose, causing her to lose her own confidence in reality. When their last chance at establishing an alibi fails, she breaks down in hysterics and develops irrational feelings of guilt and paranoia. She alternates between blaming herself for sending Manny to the insurance office to questioning whether or not Manny truly is innocent. As portrayed by Vera Miles, Rose's disintegration is subtle and poignant, causing her not to become so much frenzied and maniacal but listless and inept. Her mental breakdown culminates in a kinetic scene in which she completely loses control and attacks Manny with a hairbrush, cutting his forehead and, most important symbolically, breaking a mirror. Manny has no choice but to hospitalize his wife. Even when he can announce with finality that he has been found not guilty and is free, Rose is unresponsive and her depression unrelenting. This is the real tragedy of the film, that Manny overcomes a fatal case of mistaken identity only to lose the one thing in his life he loved most.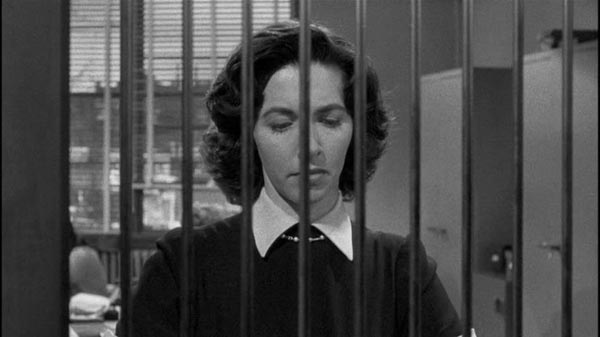 The Wrong Man is at once one of Hitchcock's most atypical films and brimming with Hitchcockian suspense and psychologically-fueled drama. The character of Manny Balestrero is straight-laced and honorable to a fault and portrayed by the effortlessly honest Henry Fonda, rather than the typical Hitchcock choice of a young, charismatic movie star. There is no ambiguity in such an obviously innocent protagonist, and Hitchcock instead chooses to focus the film on the false judgments of everyday people and the complexity of legal bureaucracy. Manny is not a Guy Haines and certainly not a Norman Bates but the epitome of a good man who, instead of fighting against an unacknowledged bad side must fight in a courtroom to prove that that bad side is, in fact, another person wholly separate from himself. The Wrong Man is a police procedural, a tragedy, and, above all, a true story.