Here they are, the best films of 2012–a personal list.
1. Zero Dark Thirty
The film begins in complete darkness and all we hear are disturbing distress calls from the September 11 attacks, the capture of Osama bin Laden is still fresh in our minds, but our memories from over a decade ago instantly return us to why that manhunt was so important, so deeply personal. Zero Dark Thirty is the best film of the year not only because of its masterful craftsmanship, but because it's wholly satisfying in finally presenting the truth to the citizens of the United States. Truth of course, comes with a price, as the film raises questions as to how the information that informed the movie was retrieved, and whether or not our nation's use of "enhanced interrogation techniques" was warranted. The hunt may be over, but the mirror held to America's soul is a disturbing one difficult to accept. Screenwriter and former journalist, Mark Boal, refuses to give his audience answers; he is loyal to his journalist code, sticking to well-researched facts rather than offering personal opinion. That's not to say Zero Dark Thirty is a documentary as director Kathryn Bigelow creates one of the most entertaining crime procedurals of all time, one that is half investigation and espionage fueled by the intensely secretive CIA and the other half being grand, yet intimate, moments of war such as the Seal Team Six raid shot completely in night vision. All of this intensity surrounding one of the darkest decades in American History is channeled through the amazing Jessica Chastain as Maya. Not only is the film a thoroughly researched piece of journalism, a well-made portrayal of war, but a character study that reveals intelligence, obsession, dedication, and extreme sacrifice are the requirements of a true American heroine. It would be naive to say that our involvement in the Middle East is over, that the War on Terror is over, but what Zero Dark Thirty miraculously communicates is not Democratic or Republican, it's an unbiased form of closure for a painful chapter in United States History.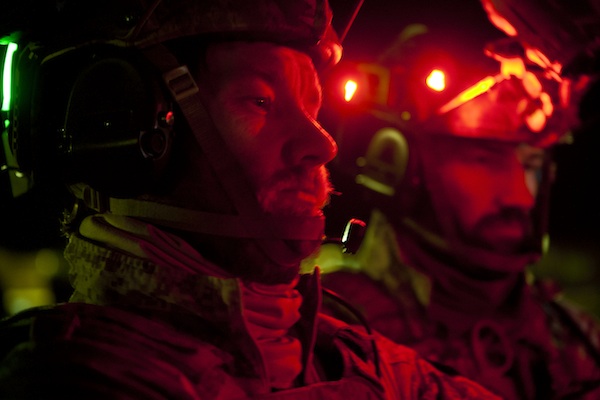 2. The Master
There is no possible way to summarize the entirety of The Master into one simple paragraph. Viewers who expected the film to be a scathing commentary on Scientology were undoubtedly disappointed in that director P.T. Anderson has created something much more dense and intellectually challenging. In fact, Anderson chooses to screw the audience all together, by offering no simple resolutions or clear view points, making one of the most frustrating films of all time. Like all of his movies, especially 2007's There Will Be Blood, Anderson makes divisive art-house films not for cinephiles, that would be too broad, but for P.T. Anderson fans alone. Only they would revel in the disorienting usage of 70mm, the drawn out long shots, uncomfortable close-ups, and an entire toolbox of cinematic technique used to manipulate an audience into hypnosis, thus replicating the spell a charismatic leader such as Lancaster Dodd (the great Philip Seymour Hoffman) uses to exploit childish lost souls such as Freddie Quell (a fantastic Joaquin Phoenix) into joining a new religion. Scientology, or as the movie calls it, The Cause, is displayed in scenes of informal processing where subjects are put into a trance in an attempt to recall memories of their past selves, but the real story is that of Freddie Quell and Lancaster Dodd. It is the father-son, master-disciple, scientist-lab rat dynamic between Hoffman's insecure con-man and Phoenix's displaced post World-War II self that propels the story forward. The superb acting, including Amy Adams using her usual wholesome persona to disturbing new heights, is pretty much the only thing spectators can mutually agree on. The Master is not a classically enjoyable experience, it will definitely put you through the wringer mentally and emotionally, you'll need lots of time to process it (a second viewing is helpful), and after you've accepted the fact that seeing it will haunt you forever, you'll hate the movie for all the same reasons I love it.
3. Lincoln
With Steven Spielberg directing, a script by Tony Kushner ("Angels in America"), and the great Daniel Day-Lewis portraying the sixteenth and arguably greatest president of all time, Lincoln is an Academy Award juggernaut. And it would be easy to reduce the film to an awards-bait contender if it were not for the fact that the movie is so freakishly good. All the hype surrounding a Daniel Day-Lewis performance is once again justified, as he completely immerses himself into Abraham Lincoln, nailing every possible idiosyncrasy. From his posture, to his quiet high-pitched voice, to the sadness in his eyes, it's as if Abraham Lincoln is indeed on the screen. Tony Kushner lays down the groundwork perfectly with his script, divulging just enough details about Lincoln's life and personality for Day-Lewis to completely flesh out while simultaneously setting the stage for the bigger picture, abolishing slavery with the passage of the thirteenth amendment. Steven Spielberg dials down the John Williams score, the usual sentimentality in favor of something quieter, allowing Kushner and Day-Lewis to do their thing, resulting in a style that is dare I say, cool. The movie is full of more wall-to-wall perfection: Janusz Kaminski's cinematography, completely authentic costumes, sets, production design and art direction and a top-notch ensemble cast including the likes of Sally Field, David Strathairn, Joseph Gordon-Levitt, James Spader, Hall Holbrook, John Hawkes, Gloria Reuben, Tommy Lee Jones and too many other great actors, all of which get their shining moment onscreen. Beyond the Hollywood glamour, this is first and foremost an intelligent portrayal of a soul-changing period in our nation's history, a truthful glimpse into the slippery world of trying to get a law passed and the sacrifices in attaining a more moral union. This is history and film history coming together to help demystify the myth of a great man, succeeding only in making Abraham Lincoln loom larger, an impossible standard to which we will forever aspire.
4. Beasts of the Southern Wild
It is one of the rarest things to happen, but sometimes, true originality can break its way to the surface of a constant river of superhero sequels, book adaptations, and headline news stories. Beasts of the Southern Wild may be based on a stage play, but immediately after viewing the film one would easily agree that freshman director Benh Zeitlin has a unique voice that will hopefully emerge onto Hollywood's stage many more times in the future. His talent as a filmmaker is represented by actors Dwight Henry and Quvenzhane Wallis, originally non-actors also plucked from complete obscurity. The movie is a masterpiece, a touching and timely portrait of poverty, class, global warming, and industrialized civilization versus an old Bayou way of life being washed away on the other side of the Louisiana levees, aptly named The Bathtub. The film's brilliance lies in choosing to see our post-Katrina country not through the eyes of a heavy-handed liberal, but a six-year-old girl named Hushpuppy. It is through her that Beasts of the Southern Wild is the closest thing we have to a live-action Miyazaki film, where commentary, artful expression, and human empathy render the surreal and real worlds into something perfectly believable. Quvenzhane Wallis may only be six-years-old, but the strength she channels and communicates through Hushpuppy might just be the best performance by an actress in 2012. This heart-breaking, magical realist tale about a girl learning to survive from her father is an experience not to be missed, an optimistic viewpoint worth seeking out in the middle of any storm.
5. Life of Pi
How is it that the simple story of a boy, a boat, and a tiger can change a person's life forever? With its PG rating and animals from the Jungle Book cast, Ang Lee's adaptation of the Yann Martel novel may seem like a children's film, but beneath the surface are important life questions about faith and spirituality. The genius of Life of Pi's ending, one of the best and most honest endings I've ever experienced period, can be attributed to author Yann Martel, but Ang Lee deserves praise for bringing Pi's journey so beautifully to the screen. Edging out Martin Scorsese's Hugo and second only to James Cameron's Avatar, master storyteller Ang Lee also proves he is an innovator of the form with his use of 3D. The extra dimension is used poetically to service the story so not only is the audience transported to a boat in the middle of the ocean, they are also floating atop a night sea of jellyfish and stars. The director who made martial arts look like ballet in Crouching Tiger, Hidden Dragon and revolutionized the western into a tragic homosexual love story with Brokeback Mountain, has now used 3D for paintings rather than explosions. Even if one begins to feel the slowness of pace toward the end of the film, the abundance of soulful imagery is well worth the wait and pays off as Life of Pi resonates long after leaving the movie theater. I'm still on the fence with God, but what I can believe in is Ang Lee, film as art, and the powerful tradition of telling a story.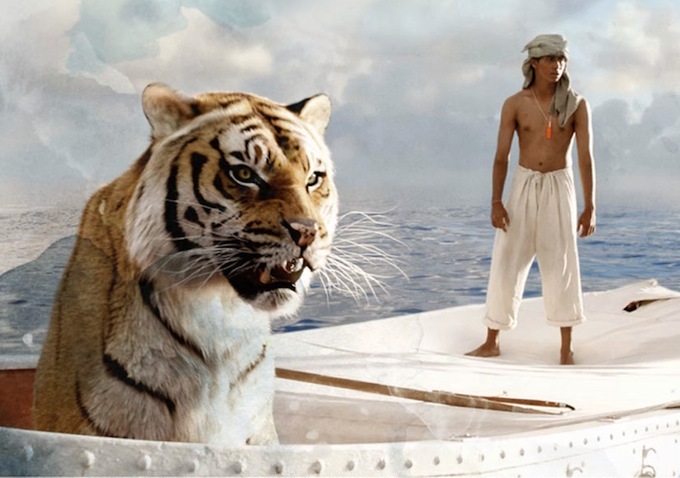 6. Silver Linings Playbook
In most cases, romantic-comedies, with the world filtered through a sugar coated lens make me want to blow my brains out. It makes sense then that a film involving bi-polar disorder, depression, intense therapy, screwed up parents, and reckless gambling in the world of football is the best romantic-comedy I've seen in years. Director David O. Russell is impressive by somehow managing to stay within the confines of classic screwball romance without softening the blow of life's unbearable pain. And like his last film, The Fighter, the dynamics of a dysfunctional family are under the microscope just as much as the romance at the center of the story. Although Russell fully deserves any recognition that may come his way, what makes the movie feel grounded in reality are the actors and their full embrace of their characters. Robert De Niro delivers his most vulnerable performance in years, Bradley Cooper proves that he's more than just People Magazine's sexiest man alive, and if Jennifer Lawrence still hasn't captured your attention, even after her Oscar nomination for Winter's Bone or her elevation of the YA series The Hunger Games, then the gift she gives to Silver Linings Playbook will make you a believer. Life is messy, people are beyond screwed up, but the hope that everyone deserves a chance at happiness makes Silver Linings Playbook the feel-good crowd pleaser of the year.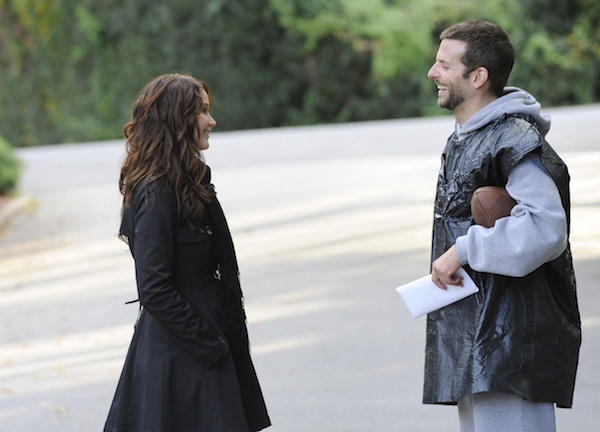 7. The Dark Knight Rises
2008's The Dark Knight with its crooked reflection of post-9/11 America, Heath Ledger's Oscar-winning performance, its still unsurpassed elevation of the comic book genre, and even its impact of current Academy Award practice, was a landmark film. The third and final film in Christopher Nolan's brilliant Dark Knight trilogy does not quite reach its predecessor's status, but it is without a doubt masterful filmmaking of epic proportions. Complete immersion and escape into Gotham City was made possible for those fortunate enough to experience the scale of Nolan's vision on the intended IMAX canvas. Assisting the large film format were even larger set pieces, unbelievable special effects and stunts, and more extras than any film in recent memory. But of course, like all Nolan blockbusters, the movie is more than explosions and noise. With Wall Street, a tough economy, and stealing from the elite, social commentary is present, but this time around it plays a minor role in what is ultimately the emotional story of Bruce Wayne's redemption. Responsible for bringing that story to life successfully is an incredibly talented ensemble of actors including both returning and new cast members Christian Bale, Morgan Freeman, Michael Caine, Gary Oldman, Tom Hardy, Marion Cotillard, Joseph Gordon-Levitt and a stunning Anne Hathaway as Selina Kyle, aka Catwoman. Regardless of whether or not Bane's voice or a more typical comic book plot device may have turned some viewers away, The Dark Knight Rises' combination of pure spectacle, well-respected actors, and a fantastic overall story brings the series to a satisfying conclusion, firmly solidifying Christopher Nolan's completely re-imagined Gotham saga as one of the best film trilogies of all time.
8. Django Unchained
I cannot imagine nor accept a world where there are poor souls in existence who have never experienced at least one Quentin Tarantino film. If you are one of these unfortunately sheltered individuals then stop reading this and get your ass to a theater right fu*k@$! now! Even if you happen to be someone who hates all of his work, who believes he simply steals everything from classic filmmakers, there is no denying what viewers have come to expect of any Tarantino movie. Django Unchained is the perfect introduction for the uninitiated in that it is Quentin Tarantino in pure form: a pastiche of a genre saturated with movie references, a bold and unconventional soundtrack (a Tupac/James Brown track anyone?), a lot of talking accompanied by fantastic acting, hilarious moment after hilarious moment, and of course bullets soaked in buckets of blood. Is the latest in the Tarantino canon, a spaghetti-western set in the antebellum south, controversial? Do you remember the part in Inglourious Basterds where Hitler gets his face machine-gunned away? Of course it's controversial! Acknowledged sometimes more for his writing, Tarantino does not hold back on the "N word" either, using language to really hammer in an atmosphere of brutal racism. Maybe his work is adolescent, over-the-top cartoons rewriting history for the sake of entertainment, but what a grand entertainment it is, yet again leaving fans in anticipation of the next adrenaline shot to the heart.
9. Argo
Once you can force yourself to stop thinking about The Beastie Boys' "Sabotage" music video, get passed the '70s aviator glasses and porn mustaches, then Argo will reveal its self as nothing less than an expertly crafted film. The 1979 Iran hostage situation is stone-cold serious subject matter echoing into today's world with complete relevance considering all of the controversy surrounding the September 11 Benghazi attacks. But what Argo really succeeds at being is a fun, terrifically paced, suspenseful political thriller. Director Ben Affleck, yes Ben Affleck, chooses to forego Sidney Lumet '70s realism and shoot his movie in a more traditional style. The details of the period from the costume design to the CIA headquarters are completely authentic, but each frame shines more with gloss rather than grit. It's a fitting choice since the true story of using a fake movie production to extract American embassy workers from enemy territory sounds just as unbelievable as the most high-concept plot Hollywood has to offer. Making light of any dark moment in U.S. history is a daunting challenge, but Affleck makes life endangerment feel like the best ride at the park. Sure he may have had the luck of casting A-list actors such as Alan Arkin and John Goodman, but whether you like it or not, with three consecutive quality films Ben Affleck's talent as a director is undeniable.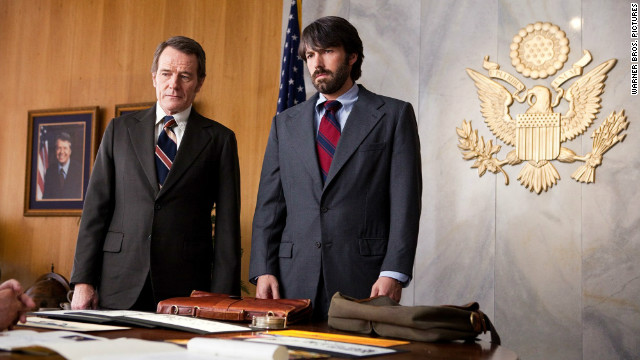 10. Moonrise Kingdom
Long before hipsters became the butt of jokes and quirky characters infiltrated mainstream Hollywood (see Juno and Fox's "New Girl"), Wes Anderson, a director often associated with the world of the off-beat, is an artist who had already made his mark with movies such as Rushmore and The Royal Tenenbaums. When these stylistic trends have long faded away, his work will continue to endure because his style is truthful to his voice, which is adult melancholia trapped in a coloring book. Moonrise Kingdom has everything the fan has come to expect from the director including bright pastels, Bill Murray, and meticulous tracking shots full of detail and perfectly timed humor. However, in addition to technical mastery, what makes the movie resonate is the tender romance between young Sam and Suzy. Their story is incredibly simple; they want to be together for the rest of their lives despite being only twelve years old. It would be easy to dismiss their relationship as "adorable" if the awkwardness, beauty, and pain of young love were not captured so well. If the adults (played wonderfully by Bruce Willis, Edward Norton, Bill Murray, and Frances McDormand) surrounding Sam and Suzy are supposedly wiser and more mature why then are they just as sad, if not more so? There's something special happening when two twelve year olds have the ability to make us ponder over the disappointment of aging and yet smile at the simplicity of innocence.
The Rest of the Best: Flight – Looper – The Sessions – The Avengers – Skyfall – Killing Them Softly – The Cabin in the Woods – Magic Mike – Chronicle – Cloud Atlas
Disclaimer: Mostly because of limited access I was unable to catch screenings of some critically acclaimed films, most notably Amour, Holy Motors, Middle of Nowhere, and Perks of Being a Wallflower.