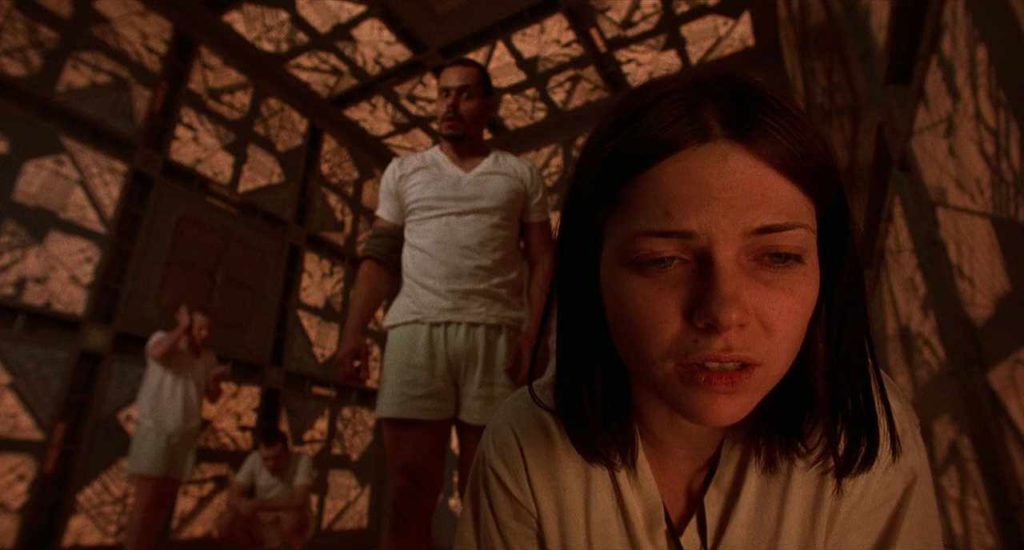 Cinema Fearité presents 'Cube'
Before 'Saw' and after 'The Twilight Zone,' there was 'Cube.'
In 2004, the first Saw movie was released, and along with some help from Hostel the next year, the torture porn subgenre of horror was born. The Saw movies, or at least the first few of them, featured ordinary people who would wake up in boobytrapped buildings, forced to use their wits to find a way out – or die. But, to paraphrase The Matrix (or at least the Mandela Effect of it), what if I told you that the Saw concept had been done years before, in 1997? Because that's pretty much what Cube did.
Cube is about a handful of people who find themselves in a cubic room with no idea how they got there. There's Quentin (Maurice Dean Wint from "Haven"), who is a police officer. Holloway (Crash's Nicky Guadagni) is a doctor. Rennes (Wrong Turn's Wayne Robson) is a convict who also happens to be an escape artist. Leaven (Nicole de Boer from Prom Night IV: Deliver Us From Evil) is a mathematics student. And Worth (The Shape of Water's David Hewlett) is a mechanical engineer.
Each cube has six doors, one on each wall/ceiling/floor, and the group finds that they can move from one cube to the next, as if the smaller cubes are all part of a bigger cube. They also learn that some of the cubes are boobytrapped with nefarious things like flamethrowers or razor wire. While trying to get to a cube that will let them out, they come across another young man who is lost in the cubes, a developmentally challenged fellow named Kazan (Andrew Miller from Nothing). It is then that they realize that each of them has some skill or talent that can help them escape the cube – unless they kill each other first.
Cube was directed by Vincenzo Natali (Splice, Haunter), who wrote the script with Graeme Manson ("Orphan Black") and Andre Bijelic (his only produced screenplay). It's a fairly straightforward mystery in which the participants of the "game" are tested, both physically and mentally, just like the characters in the Saw movies. Except for the fact that, in the Saw movies, there always seems to be a way out, as long as the subject is willing to bleed a little (or a lot) for it. Bleeding doesn't help in Cube. Some of Cube's plot points are contrived and convenient, but hey, every one of the people is there for a specific reason, aren't they?
Although Cube may have influenced the Saw franchise, the movie itself seems to have drawn some inspiration of its own from a legendary television show. The concept is very similar to the classic episode of "The Twilight Zone" entitled "Five Characters in Search of an Exit." The trapped strangers motif is the same, as is the desperate search for a way out. Cube adds the traps and additional rooms, but "Five Characters in Search of an Exit" has a much better concluding payoff. Because of course it does – it was "The Twilight Zone," after all.
For such a head-trippy experience, Cube is a fairly simple movie, at least from a production standpoint. Only one actual cube was built for shooting, and different colored lighting gels were used to simulate the group's movement through the multi-colored cubes. Cinematographer Derek Rogers (Resident Evil: Apocalypse) made the most of the minimalistic approach to shooting, coupling creative camera angles and selective focus to give the movie a constrained look and feel. Rogers embraced the claustrophobic aspects of the plot, so the audience basically feels as if it is trapped in the cube with the characters. The modest production design turned out to be a blessing, letting Rogers use the different colored cubes to easily create a visually minimal sci-fi world that still winds up being vastly complicated, and all within the confines of basically a single room.
Those minimalistic cubes and their traps lead to a handful of cool gore gags. Some of the special effects are done practically with makeup by Russell Cate (Body Parts, Jacob's Ladder), Louise Mackintosh (Wrong Turn, "Hemlock Grove"), and Raymond Mackintosh (A Christmas Horror Story, Stage Fright), such as when one of the characters stumbles into a room that is set up with acid spray traps. And some of the effects are digital, like the opening scene in which a man is cut to ribbons Ghost Ship-style and seems to watch in horror as his own body slides apart. There aren't nearly as many horrific scenes in Cube as there are in any of the Saw movies, but the few that are there are brutal.
Because the sets are so repetitive, Cube relies on the sound design of Steve Barden (Pompeii, Halloween: Resurrection), Craig Henighan (Mother!, "Stranger Things"), and Jill Purdy (Molly's Game, "The Strain") for texture and atmosphere. There is a constant industrial hum or buzz throughout the film, but one that changes pitch and volume depending upon which cube the characters are in. The score, composed by Mark Korven (The Witch), is mechanical and droning as well, so the entire soundtrack pulls together with the visuals to create one impenetrable world.
Cube is basically Saw without the sadistic torture aspects, and those are what make the Saw movies Saw movies. And Saw spawned seven sequels, so it did (and continues to do) something right. But that doesn't mean Cube did it wrong. And, right or wrong, Cube did it first.