By
James Jay Edwards
August 24, 2017
Here at FilmFracture, David Cronenberg's movies have been so well-covered that his last name has actually found its way into our Microsoft Word dictionary. From his first feature film Stereo to his experimental Cosmopolis, you could say that we are fans, at least of writing about his work if not of the work itself. And this edition of Cinema Fearité adds one more title to the list; this week, we're taking a look at Cronenberg's most controversial film, his 1996 fetish thriller Crash.
Not to be confused with Paul Haggis' Oscar winner of the same name from a year years later, Crash is about a film executive named James Ballard (James Spader from Jack's Back and The New Kids) who gets into a car accident one night. The other driver is killed, but the driver's wife, a doctor named Helen Remington (Holly Hunter from The Burning and Manglehorn), who was also in the car, is not. James and Helen meet at the hospital where James is recuperating, and she introduces him to a group of people led by an enigmatic man named Vaughan (Dream House's Elias Koteas) that studies and re-creates car accidents, becoming sexually aroused by their observations. As James and his wife, Catherine (Silent Hill's Deborah Kara Unger), become more and more involved with the cult, the stakes are raised and they realize there is real danger to their new hobby.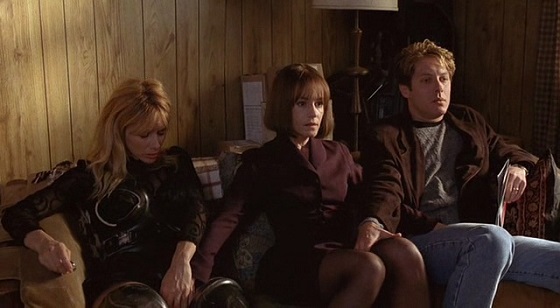 Crash fits into that area of David Cronenberg's filmography that falls in between the early body horror schlock of Scanners, Videodrome, and The Brood, and his Oscar-bait "grown up" movies like A History of Violence, Eastern Promises, and A Dangerous Method. The screenplay, adapted by Cronenberg himself from the novel by J.G. Ballard (who also wrote the book that became High-Rise), is a fascinating study of an underground subculture that, while fictional, probably mirrors a lot of real-life weird fetish movements. Crash isn't as outwardly horrifying as, say, The Fly or The Dead Zone, but its ideas are pretty disturbing, and Cronenberg plays the content for its shock value. Think of it as a reality-based eXistenZ.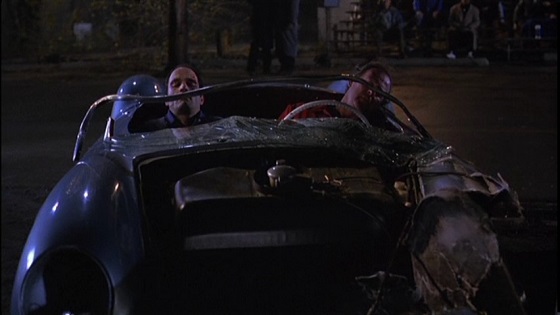 Because the content is so shocking, Crash can be a tough movie to watch. Full of gratuitous sex and over-the-top brutality, it's the type of movie that makes the audience want to shower afterwards. It's difficult in the same way as movies like Fight Club, Requiem for a Dream, We Need to Talk About Kevin, maybe even Compliance or Elle. Add in the fact that there is not a single likeable character in the film, not even a solitary redeeming factor about any of them, and Crash becomes the kind of movie that people wonder how it ever got made, much less why they've watched it. But they don't stop thinking about it, long after the credits have rolled and the curtains have come down.
There are two versions of Crash, one that's rated R and another that's rated NC-17. The difference between the two is generally all sexual content. Anytime a movie is overtly sexual, there's bound to be controversy and backlash, but the sex in Crash is different. There's very little about it that's actually sexy. The characters are so detached from each other and so focused on their violent fetishes that the sex acts are devoid of any real feelings – partners are using each other to fulfill their individual fantasies, basically performing mutual masturbation instead of forming any real connections. Even the sex scenes between James and Catherine, who are married, are sterile and passionless. The extra ten minutes or so in the NC-17 version are explicit, but it's all sex for sex's sake. The characters turn into emotionless robots when they engage in lovemaking. But, at least they are honest about it – with both each other, and with the audience.
The other half of the story in Crash (besides the sex) is the car accidents. Cronenberg pulls no punches with the stunts in Crash, but this is not The Fast and the Furious or Baby Driver. The stunt driving, although well-choreographed, is dirty and visceral, like just like real car crashes. The character's motivations in Crash are not to escape, but to actually wreck, so the stunts resemble a demolition derby of sorts. There are plenty of cars that are destroyed in Crash, many of them nice and expensive, and the joy that the viewer feels while watching the destruction gives them a little taste of the fetish that he characters share. It may not turn the audience on like it does the characters, but there's no denying that watching pricy cars get wrecked is kind of fun.
Crash is not one of David Cronenberg's finest hours, but even a mediocre Cronenberg film has plenty of merits. As stated before, it occupies the middle ground between his early gory schlock and his later "legitimate" art movies. But he did something right, because it rubbed a lot of people the wrong way upon its release, and it continues to make waves to this day. It's a Crash from which people cannot look away.