Elton John Biopic Rocketman Review
Although it includes all of the warts, biopic Rocketman still feels like a self-serving celebration of Elton John.
Release Date: May 31, 2019
Elton John biopic Rocketman is a musical fantasy about the fantastical human story of musician Elton John's breakthrough years.
Director: Dexter Fletcher
Screenwriter: Lee Hall
Producers: Adam Bohling, David Furnish, David Reid, Matthew Vaughn 
Cast: Taron Egerton (Elton John), Jamie Bell (Bernie Taupin), Richard Madden (John Reid), Bryce Dallas Howard (Sheila), Gemma Jones (Ivy), Steven Mackintosh (Stanley), Tom Bennett (Fred), Charlie Rowe (Ray Williams), Stephen Graham (Dick James)
Editor: Chris Dickens
Cinematographer: George Richmond
Production Designer: Marcus Rowland 
Casting Directors: Pippa Ailion, Reg Poerscout-Edgerton
Music Score: Matthew Margeson 
When embattled director Bryan Singer was ousted from Bohemian Rhapsody, one of the film's producers, Dexter Fletcher, stepped in to finish the film. Bohemian Rhapsody was the dress rehearsal for Fletcher's first actual credited rock & roll movie, the Elton John biopic Rocketman.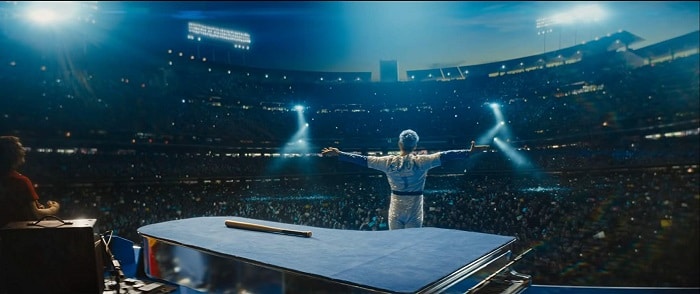 Rocketman begins with Elton John (Taron Egerton from the Kingsman movies) strutting into a Narcotics Anonymous meeting in full stage devil costume. He takes over the meeting and tells his life story, from his days as child musical prodigy Reginald Dwight to meeting his lifetime lyricist Bernie Taupin (Film Stars Don't Die in Liverpool's Jamie Bell), from his meteoric rock star rise to his drug-fueled fall. He goes through his relationships with his mother (Jurassic World's Bryce Dallas Howard) and his manager/lover Jim Reid (Richard Madden, best known as Robb Stark from "Game of Thrones"). And he tells it all with a song.
No, really. Rocketman isn't just a music biopic like Bohemian Rhapsody. Well, it is, but it's more abstract, with characters breaking into song and dance numbers mid-scene like everything is occurring in Elton John's head, so it comes off as more La La Land than Love & Mercy. The screenplay, written by Lee Hall (War Horse, Toast), follows the events of Elton John's life fairly closely (sans the song and dance numbers, most likely). In fact, Elton John himself served as an executive producer on the project, so if would seem as if the depictions bear his stamp of approval.
And to its credit (and John's), Rocketman doesn't come across as a cleaned-up version of rock history like Bohemian Rhapsody does. Rocketman shows all of the lines of coke, the fistfuls of pills, and the romps in the sack that Elton John experienced in his heyday. Nothing is sugar-coated in this Elton John biopic.
And, for much of the movie, Elton John comes off as the antagonist, acting as both his own worst enemy and that of the people closest to him. But the rest of the characters are kind of slimy and despicable, too. The only likeable character is Bernie Taupin, and the audience mostly feels sorry for him because of how Elton John treats him once the fame and fortune have gone to his head.
For all of the warts that Rocketman displays, the movie seems very self-serving. Elton John is shown first blaming, then forgiving, his mother, former manager/lover, and Bernie for things that are actually his fault. But maybe that's just another wart – Elton John showing how he was unreasonable during his times of addiction and depression. Justification aside, the whole movie comes off as kind of a victory lap for Elton John, like he's pointing out how he weathered his own storm and came out smelling like a rose.
Rocketman is a prime example of why I sometimes hate review ratings. Because it's a fine movie, and probably deserves three clocks, but the strange tonal shifts between heavy drama and musical theater drag it down a bit. And the fact that it leaves a weird patting-Elton-on-the-back aftertaste just pulls it down more. Rocketman is better than a two clock movie, but for those reasons, that's what it's getting here for production.

Costume designer Julian Day (Bohemian Rhapsody, Pride and Prejudice and Zombies) must have had a blast with Rocketman. Elton John is known for his flamboyant stage costumes, and Day nails each and every era and look. The costumes start simple, with just a star-emblazoned T-shirt under denim overalls or a pair of elevator shoes, but by the time Elton John hits super-stardom, he's donning sequined baseball uniforms for shows at Dodger Stadium or Marie Antoinette dresses for concerts in London.
The end credits sequence features photos of Elton John side-by-side with Taron Egerton in the same outfits, and Day's replication of Elton John's outfits is impeccable. Some additions or modifications were made to make the costumes more cinematic, but for the most part, Julian Day has captured every high heel, wide-brimmed hat, and pair of sunglasses in Elton John's collection.

Rocketman is one of those movies where the viewer may not own a single Elton John album, but they will recognize every song. The soundtrack for this Elton John biopic contains a nice mix of huge hits like "Tiny Dancer," "Bennie & the Jets," and, of course, "Rocket Man," but also features a few deeper cuts like "Amoreena" and "Take Me to the Pilot."
All of the songs are re-recordings, brought up to speed and edited for the movie, with Taron Egerton handling all of his own vocals (and eerily channeling Elton John's voice in the process). Also, because you can't keep Elton John off of his own soundtrack, there's a new John/Taupin song called "(I'm Gonna) Love Me Again" performed by Taron Egerton and Elton John together.
The songs are great, and the fact that big hits like "Candle in the Wind" and "I Guess That's Why They Call It the Blues" are relegated to little background pieces and throwaway snippets just exposes how many great songs Elton John and Bernie Taupin have written. The songs being presented in non-chronological order isn't bothersome, either, as the whole fantastical vibe of the movie allows for it.
The weird thing about the music is how awkward the musical theater-esque numbers are. They're well-choreographed and performed, but they simply seem out of place in the context of the movie. A bunch of people randomly dancing around a carnival to "Saturday Night's Alright For Fighting" just comes out of nowhere, and leaves the audience wondering what the hell it is that they just watched.  
Not all of the musical performance numbers are weird like that, though. Elton John's first American performance at the Troubadour in Los Angeles is a memorable highlight scene, with he and his band arcing their way through "Crocodile Rock" until they reach a magical moment for both the musicians and the spectators. And there's a frame-by-frame re-enactment of the "I'm Still Standing" video with Taron Egerton replacing Elton John that is too cool for words. But Elton John wandering around a party while no one notices him crooning "Tiny Dancer" seems a bit incongruous. Again, the songs are great, but the random insertion of some of them is a bit odd.