Cinema Fearité presents 'Party Line'
Remember party lines? Cinema Fearité takes you back to those pre-internet days with the aptly titled 'Party Line.'
A few years ago, Cinema Fearité explored the dated beauty of the landline telephone scam with 976-EVIL. But that's not the only movie from the eighties about the pay-per-call culture. There's also 1988's appropriately named Party Line.
Party Line is about a woman named Angelina (Greta Blackburn from 48 Hrs.) who frequents telephone party line chat rooms and meets men. When she sets up dates with them, her brother, Seth (Leif Garrett from The Outsiders), steps in and kills the unsuspecting victim, making the pair a lethal brother-sister serial killing team. Troubled police officer Dan (Richard Hatch from "Battlestar Galactica") and deputy district attorney Stacy (Amityville 1992: It's About Time's Shawn Weatherly) are assigned the case, and the race against time is on to catch the killers before they strike again.
Directed by William Webb (Dirty Laundry, Target) from a script written by Richard Brandes (Devil in the Flesh, Dead Cold) and based on a story by Tom Byrnes (his only writing credit), Party Line is essentially a police procedural that quickly turns into a weirdly sexy slasher movie. It's Hitchcock by way of De Palma, although it doesn't really do justice to either influence. It's just way too goofy to be taken seriously as anything but a lightweight horror movie. But, as is the case with most late-to-the-game slashers, the goofiness is a big part of why Party Line is so much fun to watch.
Also like those other late eighties slashers, Party Line is a charmingly hilarious time capsule of how things used to be, and not just because it's based around a telephone party line (the eighties equivalent of an AOL chat room, which is the nineties equivalent of MySpace, which is the aughts equivalent of Facebook). Everything about Party Line is dated, from the "Miami Vice"-like cars to the Aqua Net hairstyles, from the bomber jacket fashion choices to the trendy new wave nightclubs. For those who lived through the era, it's a cool little retro trip down memory lane.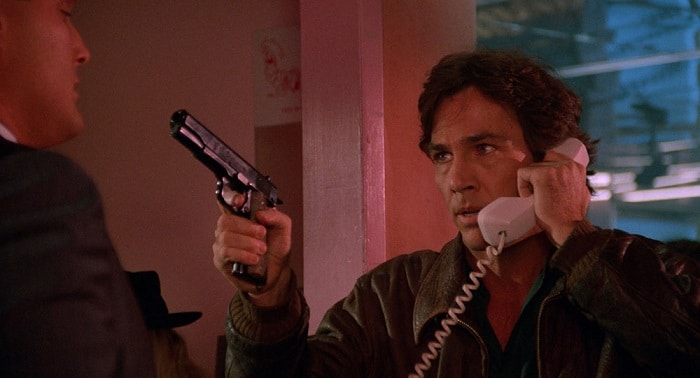 The two male leads in Party Line are all too familiar to pop culture fans of the period, too. Richard Hatch, or Captain Apollo as he is better known, plays the stereotypical unconventional cop, the kind with a history of harassment complaints, brutality accusations, and illegal search grievances filed against him. He's hysterical in the archetype, too; at one point, he hops into the passenger side of a civilian's automobile shouting "police! I need the car!" only to find that the car owner's throat has already been sliced open (to which he replies with an angry curse word).
And then there's Leif Garrett. Party Line was made after Garrett's teen pop star had faded, but well before he was a regular on "Celebrity Rehab with Dr. Drew," so he was a recognizable face that had not yet resurfaced in nostalgia roles. Although he takes the role very seriously, Garrett looks to be having a good time in Party Line, playing his psychopathic character with just a nod and a wink towards Norman Bates, only with a sister fetish instead of mommy issues. Garrett really shines when Party Line delves into Dressed to Kill territory, but saying any more would spoil some of the fun bits of the movie.
For a slasher movie, the effects in Party Line are cheap and dirty. Most of the kills are old fashioned throat cuts (courtesy of Seth and his straight-razor), and the special makeup effects are sparse and tame, with most of the real messy stuff camouflaged by the selective and slick editing of Paul Koval (who also directed The Psychic and Back Stab). For hardcore horror fans, Party Line can be frustrating, because it purposely cuts away before any of the gore happens, but this editorial choice leaves the real bloody stuff to the viewer's imagination. Which is good, because the few effects that do show up on screen look kind of silly.
Of course, no discussion of a retro eighties horror movie is complete without talking about the music. The soundtrack to Party Line is a curious one, full of period accurate new wave dance music that is just generic enough to sound familiar (one song sounds suspiciously like an electronic cover of Frankie Valli's "Can't Take My Eyes Off You"). The cinematic score, written by first-and-only-time composer Sam Sorenson, is little more inventive, with biting staccato stinging and cacophonous piano bashing, but it still seems more of a tribute to the music from older movies like Psycho or Suspiria. The music in Party Line sounds like it was done in the late eighties. And it works. Mainly because it WAS done in the late eighties.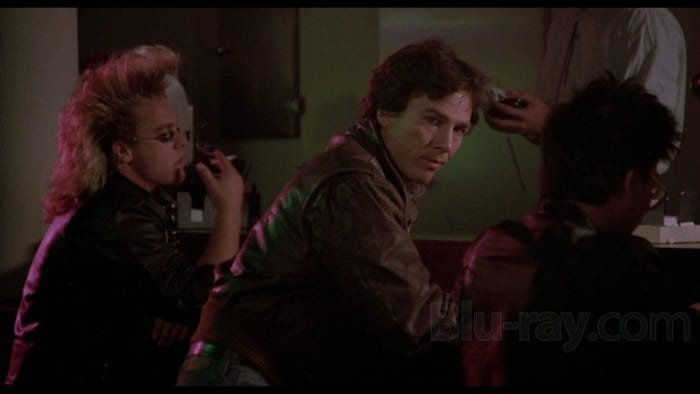 When post-golden age slashers are remembered, Party Line rarely winds up being mentioned. It's not a legendary movie at all. But it's not exactly lost to time, either. It's more of a snapshot of days gone by. And that both favors and hinders the movie. It's dated to the point of being comical, but the nostalgia factor is high enough for horror fans to forgive the princess phones and hanging earrings.