In the nineteen eighties, every new cultural fad or trend seemed to inspire a horror movie. Cinema Fearité has already pointed out the horror world's reactions to cable television (TerrorVision) and the home video revolution (The Video Dead), but it hardly stopped there. In the pre-internet days, people could call pay-telephone numbers that began with the prefix 976 in order to be connected with party lines or to be read their horoscopes. Of course, a movie was made about the growing-yet-doomed premium-rate phone craze in 1988, and it was predictably called 976-EVIL.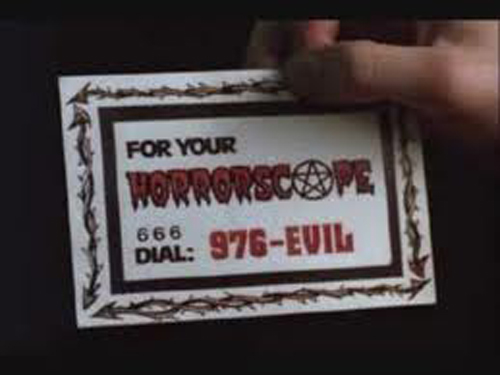 976-EVIL is the story of two cousins named Spike (No Holds Barred's Patrick O'Bryan) and Hoax (Stephen Geoffreys, better known as Evil Ed from Fright Night) who live with Hoax's highly religious mom, Lucy (Sandy Dennis from Who's Afraid of Virginia Woolf?). Spike misspends his time playing poker with a group of thugs lead by a jerk named Marcus (J.J. Cohen from Almost Famous) while Hoax lives vicariously through his cousin. One night, after one particularly taxing game, Spike finds an advertisement card for a "horrorscope" phone line. He calls the number and hears a voice on the other end saying "push 666 for your horrorscope." Amused, he goes to bed. Hoax finds the card and calls the number too, but he doesn't dismiss it as easily; he is possessed by the voice on the line and ends up putting on a satanic ritual in his room that accidentally kills Spike's girlfriend, Susie (Lezlie Deane from Freddy's Dead: The Final Nightmare). Hoax continues to call the line, becoming more and more possessed with each call. With the help of a reporter named Marty (Waxwork II: Lost in Time's Jim Metzler), Spike has to figure out the secret of the horrorscope line in time to save Hoax from doing any more harm.
After a decade and a half of acting, during which time he became a horror icon as Freddy Krueger in Wes Craven's A Nightmare on Elm Street movies, Robert Englund finally decided to try his hand at working from the other side of the camera, choosing 976-EVIL as his directorial debut. The screenplay was written by the horror-experienced pair of Brian Helgeland (A Nightmare on Elm Street 4: The Dream Master) and Rhet Topham (Trick or Treat), and it was unique enough to generate interest with audiences that had grown weary of the same slice-and-dice films of the golden age of the slasher. In addition to gaining experience by being directed by Craven, England learned well from working with directors like Tobe Hooper (Eaten Alive), Gary Sherman (Dead & Buried), and Jack Sholder (A Nightmare on Elm Street 2: Freddy's Revenge), so when the time came to make 976-EVIL, he was ready for his shot.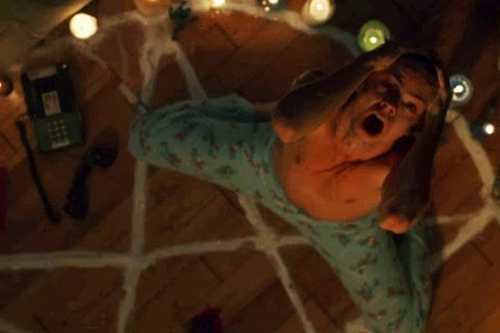 Most films from the eighties don't age well in terms of the technology that is presented, but 976-EVIL looks particularly dated. Because the main concept in the film revolves around a telephone number, there are dozens of phones that are shown onscreen and, although the film is only about 25 years old, the props look like antiques. Even the touchtone phones look out of place, but 976-EVIL manages to top that by sneaking in a few rotaries. But that's not all; there is an actual phone booth, and the characters put actual money into it to make a call. A mounted car phone is shown in another scene, number pad glowing red as it charges in its cradle. The pièce de résistance comes when a woman is killed by a novelty phone that is shaped like a high heel shoe. The film looks like a snapshot of a simpler time, or possibly a time capsule; it may have been what was used back in the eighties, but a modern viewing of the phones in 976-EVIL is a hilarious bit of retro-hokey.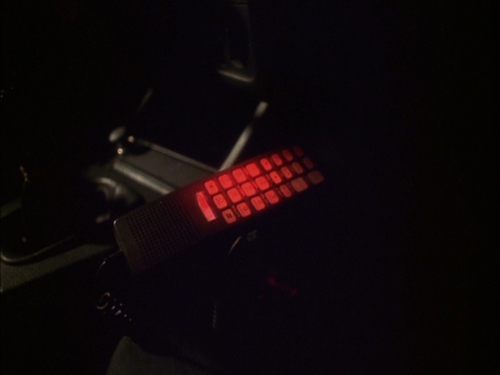 Like its contemporaries, 976-EVIL is full of classic practical visual effects. The special effects makeup was done by Kevin Yagher and his team (who did many of the A Nightmare on Elm Street movies, as well as Friday the 13th: The Final Chapter), and they combine the blood and guts of the typical slasher movie with the bodily transformations of a werewolf movie. As Hoax becomes possessed by the voice from the phone, he slowly turns into a demonic presence, and both his face and body reflect the change. Some of the visuals are animatronics done by the legendary Hal Miles (Leviathan, The Abyss); not only do Hoax's hands turn into claws, but many of the loose props are living, breathing arms, limbs, and hearts. There are a lot of clever gory effects in 976-EVIL; one should expect nothing less from a movie that is directed by the man who played Freddy Krueger.
While the special effects are cool and all, some of the best segments in 976-EVIL involve moments that are not seen, and that's where the work of supervising sound editor John Post (The Legend of Boggy Creek, The Brotherhood of Satan) is critical. In one scene, a character is killed in a bathroom stall, and the camera moves away from the act before it happens, leaving the splattering and gurgling sound effects to tell the story. Another death occurs when a character is impaled on a sharp trident that is part of a neon sign and, again, the actual violence is implied instead of shown onscreen, with buzzing electrical explosions and screams piercing the air. Post and his sound design team do much more with the audio than just adding ringing phones and altering Hoax's voice when he's possessed. Well, they do that, too, but the sound design in 976-EVIL takes it a step further; it tells the story in places without the aid of the pictures.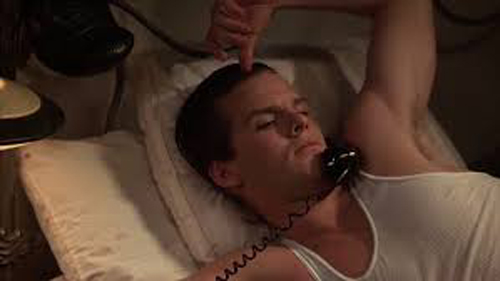 It's hard to tell if they were part of the script or if they were on-set calls made by Robert Englund, but 976-EVIL boasts its fair share of Freddy Krueger-esque puns and double entendres delivered to perfection by Stephen Geoffreys' Hoax. At one point, Hoax busts into the room where the gang plays poker with the hearts of two of Marcus' goons in his hands asking if he can "get into the game with a pair of hearts." Later, after severing another goons hand and holding it up for all to see, Hoax says "that's a dead man's hand." Still another clever quip comes when Hoax sees a victim killed by cats: "cat got your tongue?" The witty one-liners are predictable and typical, but they add the kind of humor to 976-EVIL that was common in eighties horror.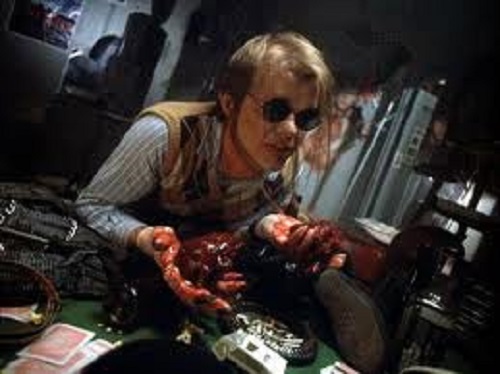 Premium-rate phone services are all but extinct these days, making 976-EVIL about as relevant as Sandra Bullock's The Net. It's still a nostalgic trip back to eighties culture; the blood and guts is just icing on the cake.