On March 10th, 2016, influential keyboardist/composer Keith Emerson died of an apparent suicide. Emerson was best known as a founding member of the prog-rock group Emerson, Lake and Palmer (or ELP for short), but the maestro also dabbled in film scoring. Arguably, his most famous score was the soundtrack to legendary Italian filmmaker Dario Argento's 1980 classic Inferno.
Inferno begins with a young New York poet named Rose Elliot (Irene Miracle from Puppetmaster and Midnight Express) finding a book in an old antique store called The Three Mothers which documents the existence of three witches who live inside three separate dwellings. Rose believes that she may live in one of the buildings and decides to investigate the matter further, but not before writing a letter to her brother Mark (soap opera star Leigh McCloskey from "Santa Barbara"), a musicology student living in Rome, about her suspicions. Upon reading the alarming contents of her letter, Mark senses that Rose is in trouble and travels to New York to track her down, but he gets caught up in a supernatural web of mayhem and terror when he gets to her building, forcing him to believe that she may be right about the dark history of her residence.
Although the movies are only thematically related, Inferno is the second part of what Dario Argento calls his "Three Mothers" trilogy, bookended by 1977's Suspiria and 2007's Mother of Tears. Inferno itself is strangely paced, with an almost episodic quality to it; it will follow Rose for a while, then switch off to Mark, then Mark's friend Sara (Borotalco's Eleonora Giorgi), then Mark again, then Rose's rich housemate Elise Stallone Van Adler (Argento muse Daria Nicolodi, who was also in Deep Red, Tenebre, Opera, and Phenomena for the director), then Carol the house caretaker (Alida Valli from Eyes Without a Face and Lisa and the Devil), and so on for the length of the movie. Although Mark is the central figure that ties the film together, it almost seems as if Inferno doesn't have a singular protagonist – just a bunch of minor heroes running around in a supernatural-slasher-whodunit.
Dario Argento wanted a score for Inferno that had a different sound from that of Suspiria, so he tapped Keith Emerson instead of his usual accomplices in Goblin, and different is what he got. Emerson's score for Inferno has more classical influence than industrial, but is full of groovy effected synthesizers as well. Inferno's music lacks the modern punch of the full-band Goblin soundtracks, instead opting for a more orchestral and pianistic sound. Emerson's score goes from sparse and haunting to thundering and cacophonous at the drop of a hat, sometimes within the same scene. Walking the line between faux-religious chorales and blasting moog synthesis, the soundtrack for Inferno shows off Keith Emerson's musical versatility, and like the Goblin scores, it is an essential ingredient of the movie.
Photographically, Dario Argento knows what he wants to see – even though he's not a cinematographer by trade, Inferno looks like an Argento movie. Shot by Romano Albani (who not only also shot Phenomenon for Argento, but did other horror classics like Troll and TerrorVision as well), Inferno is drenched in primary colored light, bright reds and blues that give the film an almost comic book vibe. Albani also uses plenty of creative camera angles and tricks, whether it's putting a camera inside a closet so as to only show the action through the slats in the door or flying the camera through the air like it's a leaf in the wind. Romano Albani's cinematography keeps Inferno looking surreal and artificial while still keeping it authentic enough to be scary – in short, he makes it look like an Argento movie.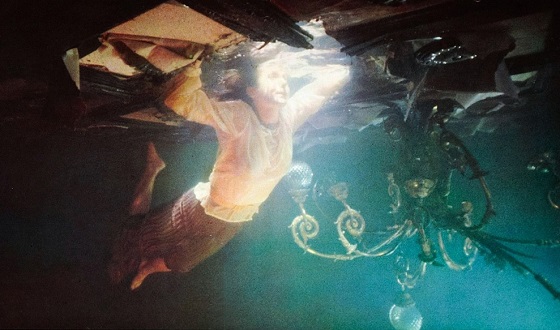 Another thing that makes Inferno look very much like an Argento movie is the simultaneously beautiful and gruesome set pieces. For example, in an early scene, Rose drops her keys into a flooded room under the ground floor of her building and ventures in to retrieve them. What she finds there is an old ballroom, ominously decayed yet eerily preserved by the water. Of course, as she swims around looking for her keys, she also comes across rotten corpses that seem to be reaching and grabbing for her. The kill scenes in Inferno are spectacular as well, with one character meeting her demise by being guillotined by a not-so-sharp window pane, and a couple of others being dispatched by a cat attack and a rat attack. Finally, Inferno earns its name by including lots of fire and brimstone scenes, particularly as it makes its way towards its over-the-top cheesy climactic scene. No one makes death and despair look quite as pretty as Dario Argento, and Inferno is a textbook example of that fact.
Although his name is on it and it looks like an Argento movie, there is evidence that suggests that Inferno was not the sole vision of Argento alone. Argento was reportedly ill for much of the production, and his mentor, Mario Bava (a horror icon in his own right with credits that include A Bay of Blood, Hatchet for the Honeymoon, and Kill Baby, Kill), stepped in to assist. Although he is only given a "special thanks" in the credits, rumors have been spread that Bava served as a camera operator, an effects artist, a lighting technician, a second unit director – there's even talk that he directed some of the scenes himself. In other uncredited news, William Lustig (Maniac, Maniac Cop) served as the production coordinator for the New York-shot scenes. Mario Bava's son, Lamberto (Demons), also worked as an assistant director on the film, but unlike his father and Lustig, he was credited. When it came to making Inferno, it looks like Dario Argento may have gotten by with a little help from his friends.
Including his friend Keith Emerson. Emerson would score a handful of other movies over the years such as Nighthawks and Godzilla: Final Wars, and ELP's music would be licensed for use in countless other films, but Inferno was the virtuoso keyboardist's first film score, and it's probably his best. The world has lost a true legend. May he rest in peace.