'Aquaman' Review
A fun-filled adventure on land and underwater, Aquaman gives DC comic book movies more credibility and will make moviegoers want to visit Atlantis as much as possible.

Release Date: December 21, 2018
From Warner Bros. Pictures and director James Wan (The Conjuring) comes an action-packed adventure that spans the vast, visually breathtaking underwater world of the seven seas, Aquaman, starring Jason Momoa in the title role.  The film reveals the origin story of half-human, half-Atlantean Arthur Curry and takes him on the journey of his lifetime—one that will not only force him to face who he really is, but to discover if he is worthy of who he was born to be…a king.
Director: James Wan
Screenwriter(s): David Leslie Johnson-McGoldrick, Will Beall
Producer(s): Rob Cowan, Peter Safran
Cast: Jason Momoa (Arthur/Aquaman), Amber Heard (Mera), Willem Dafoe (Vulko), Patrick Wilson (King Orm), Nicole Kidman (Atlanna), Dolph Lundgren (King Nereus), Yahya Abdul-Mateen II (Manta), Graham McTavish (King Atlan)
Editor: Kirk M. Morri
Cinematographer: Don Burgess
Production Designer: Bill Brzeski
Casting Director(s): Anne McCarthy, Kellie Roy
Music Score: Rupert Gregson-Williams
The DC Cinematic Universe isn't known for producing top-notch movies. Tim Burton and Christopher Nolan were successful with Batman, and Patty Jenkins wowed us all with Wonder Woman. But the bad taste Suicide Squad and Justice League left in our mouths is hard to wash out, even with the strongest soap. Aquaman, featuring quite possibly the most difficult superhero to make a movie about, is a shining ray of hope that Wonder Woman wasn't a fluke. James Wan's Aquaman is visually stunning with a solid story and, with Jason Momoa as Aquaman, playfully humorous and grounded.
On Land and Under the Sea, Aquaman Gets His Moment to Shine
I'm never first in line for any comic book movie — call it comic book movie fatigue if you like. Or, a general disinterest. But, Aquaman does interest me because of my nerd love for all things Atlantis and Poseidon (everyone should own a trident).
Arthur, aka Aquaman, (Jason Momoa) is a demi-god of sorts, conceived from a human father and Atlantean queen (The Killing of a Sacred Deer's Nicole Kidman). The Atlanteans are far superior to humans, so he has nifty attributes that go much deeper than being able to breathe underwater, like nearly impenetrable skin. You can set off a grenade on Aquaman and he'll still get up afterward, although it may sting a little.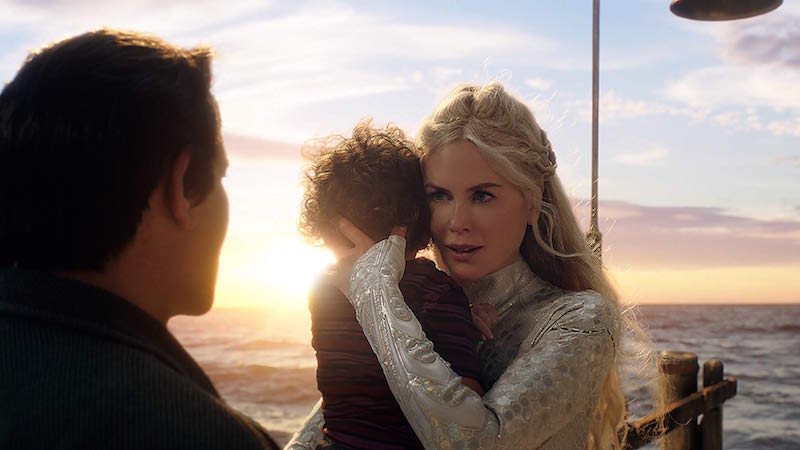 Aquaman spends his time protecting sea-faring humans and in Aquaman, pirates are the first nemesis; one, in particular, will seek vengeance against Aquaman later on. It's Black Manta in case you haven't been paying attention to the massive amount of marketing for the film. Black Manta may be a threat but he's nothing compared to Atlantis' King Orm (Patrick Wilson) who wants to destroy land dwellers because of the damage they've done to the seven seas.
When all of the rubbish in the oceans appears suddenly on land it's quite a statement and will make you rethink just what you do with your garbage. I'm not going to preach, but it won't hurt if Aquaman elicits change.
And in terms of the plot of Aquaman, change is just what he ushers in, reluctantly. Aquaman is not a fan of Atlanteans, they killed his mother after all. So when the time comes for him to stop the war King Orm is planning against land-walkers and unite the two worlds, Atlantean Mera (The Danish Girl's Amber Heard) has a tough time convincing Aquaman to help.
It all works out of course, with an epic underwater battle and a plentiful amount of "I am a hero and king" moments of silent proclamation. Final battle aside, Aquaman involves a fun, comedy-filled adventure that moviegoers who enjoy a great treasure hunt and ancient myths will get behind without any effort. And tourism for Atlantis is sure to increase.
Aquaman Makes All Your Atlantis Dreams Come True
The fabled Atlantis has been a constant source of movie material and it keeps historians busy, too. Whether Atlantis ever existed is a talking point for land-walkers in Aquaman but we're privy to the knowledge that it did and does — now underwater after technology caused its land downfall. Atlantis, as it exists in Aquaman, is a remarkable, light fantastic hyperbolic color wonderland.
Since Aquaman is not a Disney movie, though, it has a technological look to it. Think Tron Legacy but better and more intricate and awe-inspiring. Atlantis isn't meant to look like a fairy kingdom that can't be taken seriously. The only downside is that the establishing shot of Atlantis ends far too quickly — you want to see more and swim in the tiny details.
Aquaman may take place on land and under the sea, but nothing compares to the time spent in Atlantis. The trip to The Hidden Sea tries to best it, and this prehistoric Garden of Eden may look like a Jules Verne destination of choice, but Atlantis still wins because the FX succeed so well.
Yes, an Underwater Live-Action Movie Can Be a Success
A very big question that has lingered over Aquaman comics being adapted for the screen is "How do you make a live-action movie underwater?" Think about scenes in movies that take place underwater for a moment. The bubbles coming out of everyone's noses is likely your first thought. Then there's the constant bounce of the body. Air can cause quite a problem.
The FX masters behind Aquaman figured out how to bring the live-action to life underwater without making it look like the characters are in fact underwater. Except for the floating hair, a nice touch that actually makes sense because hair will do what it wants underwater. It's no surprise that many of the characters tie their hair back — but don't worry, it's not a man-bun overload.
The success of the underwater effects in Aquaman can easily be explained by the characters themselves — Atlanteans don't breathe like normal humans. They do swim like us, though, and have the ability to rocket forward at miraculous speeds. It's a skill every normal human will desire after watching Aquaman, and the ability to ride a great white shark or seadragon (my first choice).
Aquaman may have superior special effects with few hiccups throughout but it's not perfect. For example, Rupert Gregson-Williams made some very poor choices for the score. The worst being the inclusion of "dun, dun, dun" during high-drama moments. These scenes aren't meant to be funny but the addition of "dun, dun, dun" elicits laughter (I'm laughing right now). It's like being thrown back into Batman Forever and we all know that's not a good thing.
When you encounter moments that don't quite work in Aquaman, be it a specific line falling flat, melodrama that should have been thrown overboard, or the occasional fish that's not rendered perfectly, accept it and move on. The pros in Aquaman far outweigh the negatives, and if all else fails, just stare in wonder at the codpieces on display. DC comic book movies are famous for epic codpieces and Aquaman is surely going to provide a few favorites for fans.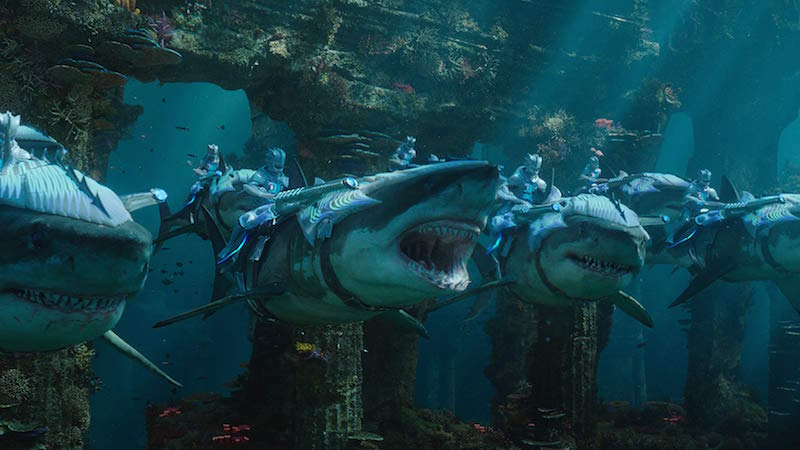 There's also the most amazing shot of a school of fish swimming, in bright red, that even managed to make me forget that Aquaman swims in jeans, a heavy belt buckle, and boots. Nonsensical, yes. Forgivable when he yields the trident and commands the underwater world, for sure.
With Aquaman and Wonder Woman before it, we now know that successful DC comic book movie adaptations are possible. There may be disappointments in the future — like the Jared Leto Joker movie or Suicide Squad sequel — but Wonder Woman 1984 is coming to theaters in 2020. Plus, an Aquaman sequel is inevitable once the masses start demanding a return trip to Atlantis — keep your eyes peeled for a theme park ride arriving in the near future.