When people think of horror movie villains, the first names that usually come to mind are Jason, Freddy, and Michael – a real boy's club. Likewise, the last survivors tend to be women – Final Girls. When a skillful and innovative director flips the script and reverses the roles, the results can be especially creepy, as evidenced by films such as Misery and Fatal Attraction. And when a movie doubles down and uses not one, but two female antagonists to torment its male victim, those results can be extremely effective. Suspended Animation is just such a film.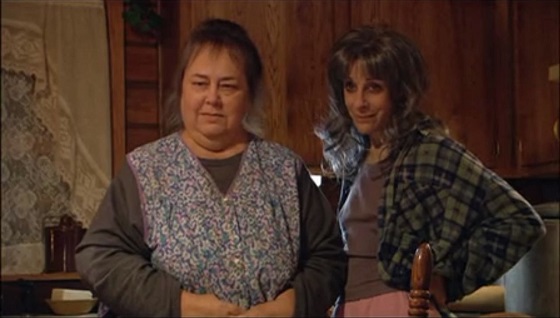 Suspended Animation begins with a Hollywood animator named Tom Kempton (Rampage's Alex McArthur) on a snowmobiling trip with a couple of buddies. Tom wrecks his snowmobile and makes his way to the nearest house for help. Unfortunately for him, the house belongs to a woman named Vanessa Boulette (Laura Eastman from Addams Family Values and Alone in the Dark) and her sister, Ann (Sage Allen from Puppet Master II), who both happen to be cannibalistic psychopaths. During Tom's daring escape, Ann is killed but Vanessa escapes. When Tom gets back to Los Angeles, he decides that the whole experience would make a great movie. He sets about designing his characters, and tracks down Vanessa's estranged daughter, a young woman named Clara Hansen (Dog Story's Maria Cina), to model for his sketches. Tom also meets Clara's son, Sandor (Fred Meyers from Dirty Deeds), a young man who seems to have inherited some of his grandmother's psychotic tendencies. To top it all off, once Tom's movie is finished, Vanessa pops back into the picture to claim her share of the credit.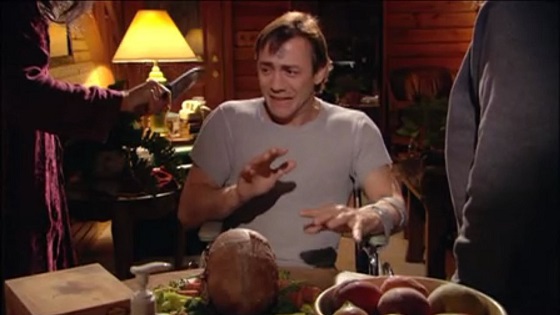 Even though it was made in 2001, Suspended Animation has the feel of a much older film. Director John D. Hancock had a cult hit with his first movie, the psychological horror film Let's Scare Jessica to Death, but then slipped into making more dramatic fare like Bang the Drum Slowly and Baby Blue Marine. After spending most of the eighties doing television, Hancock came back to the movie world with Suspended Animation, and it feels like he hasn't missed a beat – meaning, the movie has a style that is reminiscent of his seventies movies. The Dorothy Tristan (Swan Song) screenplay contains its share of convenient coincidences and on-the-nose dialogue, but it is a tense and disturbing tale of survival and revenge which fits in well with the retro vibe of Hancock's visuals. Between the script and the direction, it would be easy to mistake Suspended Animation for a much older film.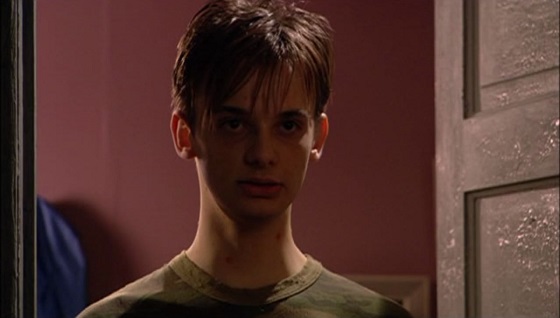 The structure of Suspended Animation is interesting. Like most movies, it's set up according to the three-act formula of beginning, middle, and end. However, each act in Suspended Animation feels like its own movie, giving an episodic feel to the film. The first act, which deals with Tom's encounter with the sisters, has an abduction storyline to it that is not unlike that of Misery or Tusk. The second act, the one in which Tom befriends Clara and discovers the horrifying secrets about Sandor, is almost like a shocking crime thriller along the lines of The Silence of the Lambs or Se7en. Finally, the third act, where Vanessa reappears, takes the form of a home invasion movie like The Strangers or Funny Games. Each act is its own contained story, but also functions as a chapter in the bigger picture. Suspended Animation works as an anthology and a standalone film.
Suspended Animation has its corny moments, not the least being the pun-y title, but viewers should make no mistake; it's also pretty scary. There is an underlying feeling of dread throughout the entire movie, attributed to the actions and attitudes of the two cannibalistic sisters as well as the mere presence of the creepy grandson, Sandor. The eerie atmosphere pays off with a handful of good jump scares, but also with some amazingly well-crafted scenes of suspense, one of which occurs just before Tom's escape from the sisters and involves duct tape and a power drill. These aren't just your run-of-the-mill jumping cat scares, these are powerfully moving, nightmare-inducing, horrifying images that will haunt the view long after the credits have rolled. For as campy as some of the scenes are, Suspended Animation also ventures well into the areas of pure terror.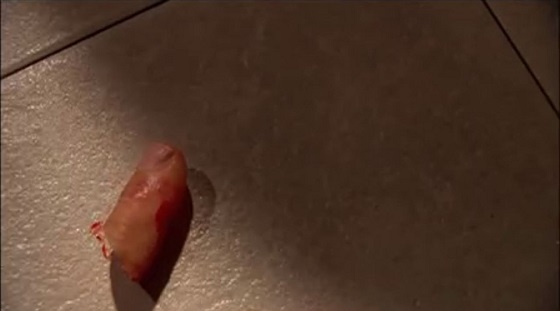 Keeping with the classic retro vibe of the film, Suspended Animation utilizes some fun special effects makeup which are both slasher-ific and splat-tastic. The all-practical visual effects betray the film's 21st century production year, all throwing back to a time in the cinematic universe when limbs would fly and blood would splatter. Highlights include the cannibal sisters chopping off one of Tom's fingers in a classic display of hacked-up latex body parts, and a squirting neck wound which soaks an entire kitchen in puddles of red karo syrup. Suspended Animation may not be a slasher movie in and of itself, but don't tell the effects crew; they earn their money on this one with the handful of select scenes that feature blood and carnage.
Horror movies are built on stereotypes, and one of those stereotypes is that a scary man must hunt a frightened woman. When a film breaks the mold and flips the roles, it can be a lot of fun. Suspended Animation is a lot of fun.