Synopsis: In The Judge, Downey stars as big city lawyer Hank Palmer, who returns to his childhood home where his estranged father, the town's judge (Duvall), is suspected of murder. He sets out to discover the truth and along the way reconnects with the family he walked away from years before.
Release Date: October 10, 2014     MPAA Rating: PG-13
Genre(s): Drama, Thriller
Film Review

Long before Robert Downey Jr. donned the elaborate facial hair of Tony Stark in Iron Man, he was a dramatic actor with a bright future. Known for portraying deeply challenging, but undeniably charming characters, Downey had become an Oscar contender right out of the gate. Then, life got in the way.
Now that Downey has reclaimed his stardom, he has once again drawn accolades, but mostly in the blockbuster space. Very rarely has Robert Downey Jr. touched serious drama since his return, which made The Judge a movie to keep an eye on almost out of the gate. Add to that major players like Robert Duvall and Billy Bob Thornton, and you have a recipe for a surefire Oscar contender.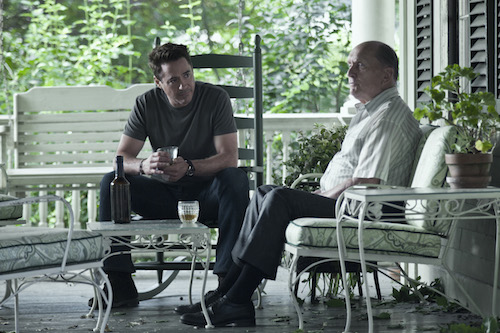 Unfortunately, while The Judge makes strong plays for the awards season gold, it does so with a film that feels too on-the-nose. The plot, which centers on a lawyer named Hank (Downey) and his troubled relationship with his father, Judge Joseph Palmer (Robert Duvall from Jack Reacher), is heavy material overwrought with tearjerking scene after tearjerking scene. It's the type of movie where the son returns home and reconnects with all his siblings and old flames, before eventually coming to terms with his father, but to its credit The Judge does try to put a unique spin on those familiar ideas. There's a bit about the elder Palmer being sick, and Hank's brother (Vincent D'Onofrio) losing his baseball scholarship, but the story is put forward in such a shamelessly melodramatic way that it's hard to take it seriously.
Make no mistake, though, director David Dobkin (The Change-Up) has put together a handsome film with stellar performances and a genuinely tough subject matter. But the film's ability to be entertaining or moving is mostly overshadowed by its obvious play for the lowest common denominator. Instead of tugging at your heart strings with the delicate digits of a master puppeteer, The Judge yanks at them as if our tears are rotten teeth just begging to be let free. Plenty will be moved by the movie, and they have every right to be moved; this is a calculated tearjerker and that's fine. It just would have been nice if every scene didn't feel like a "For Your Consideration" reel.
It may falter under the critical eye, but The Judge is a fine film with great performances and a story that avoids the expected beats. It's by no means a movie wherein the father and son have some revelatory moment and end up becoming best of friends. Instead, the film features some truly challenging material that only works because each cast member is so spot on. Circumventing those expectations, however, also results in a film that feels like a pointless downer – an endless barrage of either hazy homecoming moments with an overly nostalgic sheen or heavy drama that punches you right in the gut. There's no in-between and at almost 2 hours and 30 minutes there's little reprieve. From the acting to the script to the direction, everything about The Judge screams Oscar bait. It's really well put together Oscar bait, but its aims are undeniable.

Even if The Judge may be a shameless play for as many acting ballots as possible, it still boasts some top-flight performances. Robert Downey Jr. is endlessly charismatic in the film, and anchors it in such a way that the fluctuating tones all feel appropriate. He can make you laugh one minute and cry the next, and it all feels effortless on his part. Robert Duvall is equally as stellar, with a hard-nosed turn as the eponymous Judge. Joseph Palmer is rarely vulnerable in the film, but when the scene calls for it, Duvall is more than up to the task. It's legitimately heartbreaking to watch someone so otherwise put together lose control from time to time, and it's a credit to Duvall's skill that he can make Joseph so dynamic.
Similar credit is due the supporting cast who fill out the Podunk Iowa town with plenty of personalities. Vera Farmiga (Up In The Air) makes an otherwise throwaway role her own, and she is plenty prepared when it comes time to go toe-to-toe with Downey. Even Billy Bob Thornton is suitably callous as the prosecuting lawyer. Credit where credit is due – The Judge is an actors' showpiece.
Cast and Crew
Director(s): David Dobkin
Producer(s):
Screenwriter(s): Nick SchenkBill Dubuque
Story: 
Cast: Robert Downey Jr. (Hank Palmer)Robert Duval (Joseph Palmer)Vera Farmiga (Samantha Powell) Billy Bob Thornton (Dwight Dickham)Vincent D'Onofrio (Glen Palmer)Jeremy Strong (Dale Palmer)Dax Shepard (C.P. Kennedy)Leighton Meester (Carla Powell)Balthazar Getty (Deputy Hanson)
Editor(s): Mark Livolsi
Cinematographer: Janusz Kaminski
Production Designer(s):
Costume Designer: 
Casting Director(s): 
Music Score: Thomas Newman
Music Performed By: 
Country Of Origin: USA