From Unbreakable to Split to Glass, the Eastrail 177 Trilogy's existence is M. Night Shyamalan's greatest twist to date.
As the release of Glass approaches, it's the perfect time to find the connections in Unbreakable and Split and predict what Shyamalan twist is in store to end the Eastrail 177 Trilogy.
M. Night Shyamalan brings his hidden superhero series, affectionately referred to as the Eastrail 177 Trilogy, to a close on January 18, 2019, with Glass. Before Glass, the Eastrail 177 Trilogy had two stellar entries that appeared to be their own standalone films, 2000's Unbreakable and 2017's Split. Both movies were a success for Shyamalan and do not shy away from his typical storytelling style, specifically the use of a classic Shyamalan twist. The largest twist, though, is not only are they secret superhero movies but the two films are directly related, existing in the same universe as each other; a universe that Glass completes.
Please be warned that there are spoilers ahead, but if you haven't seen these films you really should.
Unbreakable Begins The Eastrail 177 Trilogy
Unbreakable began this trilogy 18 years ago, opening with the crash of the Eastrail 177 train (not just a clever trilogy title) leaving only one survivor who is miraculously unharmed, David Dunn (Bruce Willis). This leads the enigmatic Elijah Price (Samuel L. Jackson), nicknamed Mr. Glass because of his incredibly brittle bones, to seek out Dunn. Price believes that Dunn is a superhuman like specimen who cannot be injured, as he has never taken ill in his life and seems to walk away from any incident unscathed, which brings one of the main elements of the film to light: Hope.
This theme is the backbone of Unbreakable, and it is the motivation of every major character. We see Price hoping for the existence of Dunn, a man who is his opposite in every way; Dunn hoping to find meaning in his life during his separation from his wife, Audrey Dunn (Robin Wright); his son Joseph Dunn (Spencer Treat Clark) hoping for his father to be the hero he needs in his life; and Audrey hoping for a new start with David after his accident.
These threads weave through a tense narrative until we see Dunn dawn his signature dark green poncho and liberate two children from their kidnapper and parent's murderer, revealing he is, in fact, as Price believes, more than he seems. And there is the Shyamalan twist in Unbreakable when Price reveals he is actually behind several major terrorist attacks in an effort to find someone like Dunn.
Shyamalan's Eastrail 177 Trilogy Goes Dark With Split
Split has a much darker overall tone than Unbreakable and takes no time to usher us into the hostile world of Kevin Wendell Crumb (James McAvoy), also known as The Hoard. In the second installment of the Eastrail 177 trilogy, we see Crumb, who suffers from dissociative identity disorder or DID, kidnap three girls and hold them prisoner as "sacred food" for a mysterious character known as The Beast.
Casey (Anya Taylor-Joy), a reserved teenage girl with a troubled past, attempts to escape after seeing different personalities in Kevin's body take away two of her friends. The personalities all refer to this monster known as The Beast, insisting he is coming and that he will punish those who are not pure. Eventually, we see the many personalities' warnings to Casey come to fruition and we meet The Beast, and the Shyamalan twist is revealed: The Beast is real, and he is oh so powerful.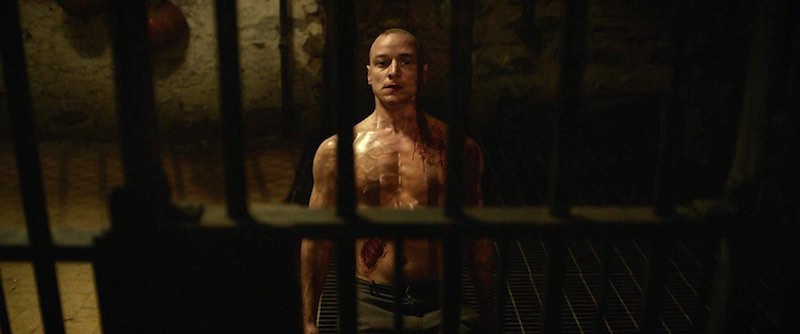 Almost animalistic, The Beast climbs walls like a spider, pulls apart metal bars, and shrugs off the shots of a shotgun with almost no repercussion. What we believed to be false the whole movie comes to light in a fantastic, and horrifying, way. Throughout Split, the mystery of Kevin's affliction captures our attention, and then we get the satisfaction of watching him come to his full monstrous potential.
However, the biggest twist in Split is at the end when Unbreakable's Dunn is revealed to be sitting in a diner watching the news before uttering the line "Mr. Glass," in response to another patron.
The Unbreakable-Split Connection
So what of the connection between Unbreakable and Split? These two films were connected from the beginning unbeknownst to the viewer, and that made the reveal pay off even better, as we got to enjoy both films as separate entities and then enjoy them even more as a series.
The narrative tones show a connection between Unbreakable and Split as well. Through both films we see a parallel theme of disbelief; in Unbreakable Dunn not believing Price that he is a superhero, and in Split people and colleagues not believing that Kevin has this affliction or that DID even exists, as well as Kevin's personalities not believing The Beast has superhuman strength. This theme, when known to the audience, provides an incredible tonal through line in the films, giving the same mysterious feel to both.
Even more tangible than the tonal connection between the films, the connection between Split and Unbreakable is seen even in the setting. Both films take place in Philadelphia, the only difference being that they are set 17 years apart. We see the true link between them come in Split when Kevin visits a train station and leaves flowers for his father, who left him and his family by way of train and never returned. This is also the scene where he finally makes his transformation into The Beast, and we get our first glimpse at his power.
The most prevalent (and likely accurate) theory is that the train his father left on is none other than Eastrail 177, the train which derailed and left only Dunn alive. Does this mean that the films are coming to a head in a showdown between The Beast and David Dunn in Glass? Certainly, that would be a fitting and compelling end to a series that is built around the powers of these two characters.
With the clout of Unbreakable and Split in tow, what can we expect in Glass? There are themes to keep in mind as the film unfolds, one prime example being color. Throughout Unbreakable, we saw heavy use of character-specific color, Dunn with green, Price with purple. Both characters are clad in their specific color in the movie, but we also see the lights in the comic book shop representing this as well.
In the shop, a green neon sign lights the"heroes" section, and a purple neon sign in the "villains" section, representing Dunn and Price, respectively, to the audience ever so subtly. In the trailer for Glass, color clearly represents the characters again (Dunn's signature green poncho has survived the 19 years!), and yellow is The Hoard's signature color. This addition allows for striking differentiation between the characters and allows us to see The Hoard may not just be another villain like Price, but a significant piece all his own.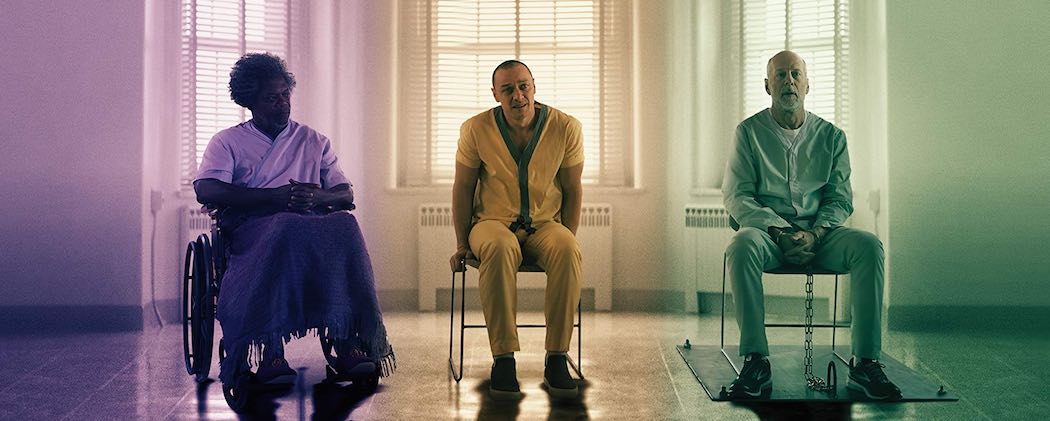 There's also the introduction of a new character in the trailer, Dr. Ellie Staple (Sarah Paulson), who is a doctor seemingly assigned to study the patients Dunn, Price, and Crumb, and investigate their so-called superhuman belief, which based on her presence in the trailer it is clear she does not believe their claims. In the trailer, Dr. Staple is associated heavily with the color pink. Could this be a sign that she is of super-potential as well?
The Shyamalan Twist in Glass
With a lot to live up to, every fan will be wondering what the Shyamalan twist in Glass will be. Shyamalan is known for his style of writing and directing that allow for large payoffs when all is revealed at the end of a film, but with the subject matter of Glass, what could the twist be?
With the first two entries into the Eastrail 177 trilogy focusing on superhumans being real, could the twist in Glass be that they are not? What if the twist is that we are watching a doctor truly deal with the amazing coincidences of the lives of three mentally unstable people? Could it be that all along they merely believed themselves to be more and now it's the doctor's mission to reign them in and find them the help they need?
There is great possibility in Glass to outdo every Shyamalan twist to date as it concludes the Eastrail 177 trilogy. On January 18, 2019, all will be revealed.