Jean Renoir is often cited as one of the best filmmakers of all time. His most memorable films provided erudite commentary on modern society and influenced generations of filmmakers. His least well-known sound film is quite possibly La Nuit du carrefour, an adaptation of one of Georges Simenon's Inspector Maigret novels. Maigret, like Agatha Christie's Miss Marple or Hercule Poirot, investigated numerous murder cases, but La Nuit du carrefour provides Renoir with the perfect opportunity to create a haunting atmosphere that visually traps his characters at a dark and foreboding crossroads. While the plot is convoluted and, at times, hard to follow, this overwhelming tone is utterly captivating and makes up for plot holes rumored to be the result of either a diminished budget or missing reels of film. Godard described La Nuit du carrefour as Renoir's "most mysterious film," and it is easy to see the strands of influence that connect this early Renoir mystery to the poetic realism of the 1930s and, ultimately, film noir.
The complex mystery of La Nuit du carrefour plays out like a typical whodunit. Renoir introduces us to a cast of characters who live at a lonesome crossroads in the countryside: the insurance agent, Émile Michonnet; Oscar, the service station owner, and his wife; and the quiet Dane Carl Andersen and his flirtatious sister, Else (Winna Winifried). Beginning with the theft of Michonnet's car, police – led by the illustrious Inspector Maigret (Renoir's brother, Pierre) – arrive at the crossroads and discover the missing car in Carl Andersen's garage. Inside the car, they find the corpse of a diamond merchant named Goldberg, turning this minor investigation into a murder case. Carl Andersen is the logical (albeit xenophobic logic) suspect and is arrested and taken into town for questioning. Maigret then places each of the three houses at the crossroads under surveillance. Despite this heavy police presence, a woman is mysteriously shot and killed, Carl is also seriously wounded by this shooter, and someone attempts to poison Else. Maigret must use his powers of deduction to determine who is behind these nefarious events.
In this cast of characters, no one stands out as much as Else Andersen. In her turn as the flighty yet manipulative secret wife and pretend sister of the main suspect, Winna Winifried absolutely steals the film, and her performance is a clear precursor to the femme fatales of later noir. Her character is all outward innocence, yet she makes a point of attempting to seduce Inspector Maigret. This dichotomy between innocence and sensuality paints Else as a strangely sexualized virgin figure. And if this was lost on the viewer, Renoir includes blatant symbolism in Else's shadowy room where she attempts her seduction of Maigret. With her childlike squeaking voice and clumsy overtures, she makes advances to Maigret as a none too subtly off-kilter portrait of the Virgin Mary looms in the background on Else's wall. Granted, Maigret will have nothing to do with her outside of his investigation, but he is content to let her continue her charade as he sifts through her sleeping pills and rescues her from an attempted poisoning. Poised to entrap Maigret with her lies and deceit from the very beginning, Else is the perfect complement to her dark, claustrophobic house at the crossroads.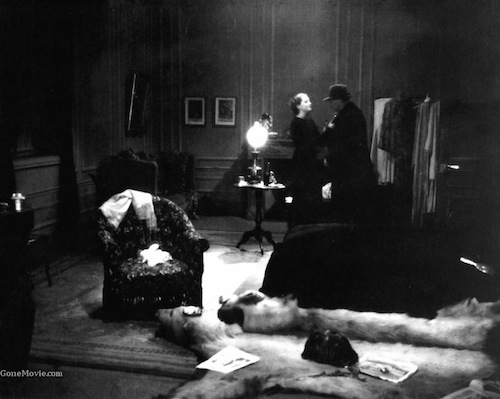 La Nuit du carrefour puts so much emphasis on creating a dark and foreboding atmosphere. The crossroads setting provides the ideal location for such a bleak story and even in daylight seems a forsaken, desolate place. Thanks to the cinematography of Georges Asselin and Marcel Lucien, the entire film takes on this sense of brooding darkness. From the streets at the crossroads to the service station, La Nuit du carrefour is all shadow and fog. The black on black effect – shooting in black and white at night – and its resulting opacity lends the film a dreaminess that only enhances the mystery at hand. There are touches here and there that inform Renoir's later style in La Grande illusion and La Règle du jeu. Most interestingly, the way in which lower class characters in La Nuit du carrefour move in distinct groups and the film's subtle societal commentary recall Renoir's satire of the bourgeois in La Règle du jeu. Renoir also uses dreamy close ups and sometimes jarring zooms as Maigret embarks on his investigation.
Yet even as Renoir provides uncharacteristic subjective point-of-view shots of each clue Maigret comes across – a pack of cigarettes, sleeping pills, etc – there are still noticeable gaps in this whodunit and things we never see. The result is a more confusing narrative than is typical of most mysteries. At times, you wouldn't be wrong to think of Howard Hawks' The Big Sleep (an infamously incomprehensible noir mystery) when trying to decipher the events of La Nuit du carrefour. Plot holes pepper the film. We clearly see a man placing poisoned beer bottles in Else's room, but his identity is never revealed. Carl's later movements are largely unknown. This is all generally attributed to missing footage or, more interestingly, a choice – financial or stylistic – made by Renoir not to shoot certain scenes. It's a question of discontinuity or purposeful ambiguity. The support for the latter theory is most easily found in the overall style of the film. Yes, there are distinct "gaps" in information, but there are gaps throughout the film. From start to finish, the film is riddled with little hiccups, and their persistence would suggest that discontinuity is, in fact, the specific nature of the film. Its very elliptical style makes the film that much more entrancing to an audience who loves to fill in the blanks with theories of events that went unanswered.
La Nuit du carrefour may not be a towering classic like Renoir's other works, but it is an early example of a innovative filmmaker at work and a precursor to films that would aspire to the darkness that engulfs this Maigret mystery. Like his other films, La Nuit du carrefour doesn't follow any rules and instead creates a wholly fantastical cinematic experience in its use of symbolism, unusual shots, and overall ambiguous tone. The devious nature of Renoir's femme fatale and the thrilling car chase at the end of the film laid the foundation for the cynicism and overwhelming sense of danger evident in later poetic realism and film noir.