Synopsis: Debbie Ocean gathers an all-female crew to attempt an impossible heist at New York City's yearly Met Gala.
Release Date: June 8, 2018     MPAA Rating: PG-13
Genre(s): Action, Comedy
Film Review
Production
The 1960 heist film Ocean's 11 has gotten a hip 2001 remake, which has itself gotten not one, but two sequels. So, what's next? A gender-flipping rehash? Enter Ocean's 8.
Ocean's 8 stars Sandra Bullock (Gravity) as Debbie Ocean (Danny's sister.ooh!), a thief who is released from prison and immediately sets in motion another con, one which she has been planning for her entire prison stay. The new job involves stealing a $150 million diamond necklace from the neck of an unwitting starlet named Daphne Kluger (Colossal's Anne Hathaway). Oh, and the caper is set to take place at New York's annual Met Gala.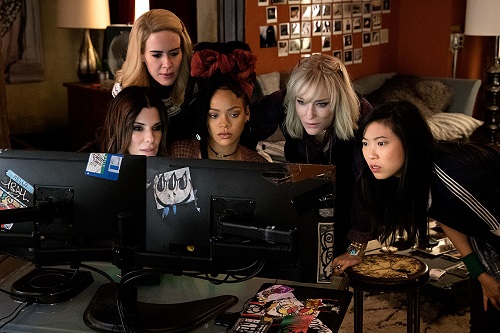 To pull off the impossible job, Debbie assembles a crack team consisting of fashion designer Rose Weil (Helena Bonham Carter from
Dark Shadows
), jewelry maker Amita (
A Wrinkle in Time
's Mindy Kaling), hacker Nine Ball (
Battleship
's Rihanna), quick-handed grifter Constance (Awkwafina from
Neighbors: Sorority Rising
), stolen property fencer Tammy (Sarah Paulson from
12 Years a Slave
), and the person whom Debbie trusts more than anyone, girlfriend Lou (
Carol
's Cate Blanchett). Her dream team in place, Debbie sets the plan in action that should lead to the score of a lifetime.
So, for the most part, it's a remake of the 2001 Ocean's Eleven. Director Gary Ross (The Hunger Games), who co-wrote the screenplay with Olivia Milch (Dude), has his heart in the right place with Ocean's 8, but the reality of it is that it feels like a cash grab that is designed to cater to the girl-power, MeToo movement of recent months. Although the heists in the Ocean's movies are never particularly believable, this one is especially far-fetched, and there are at least a half-dozen places where the women could – and probably should – be caught in the middle of their supposedly seamless plot.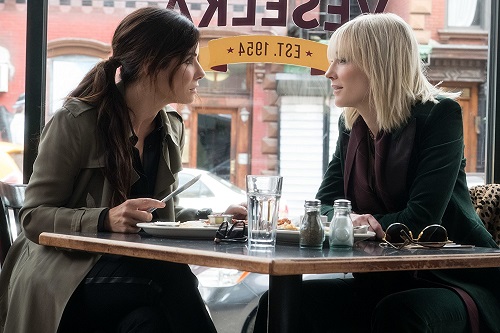 And, as far as the movie is concerned, the plot goes off with very few hitches, so the holes are all part of Debbie's initial plan. So, for a heist that she has been dreaming up for five years, eight months, and twelve days, the plan is extremely flawed, and the design relies heavily on luck and convenience and is even aided in real time by a few deus ex machina moments. Which all play into Debbie's favor. It's pretty ridiculous.
But again, airtight schemes are not the hallmark of the Ocean's movies, so that's nothing new. And that's the problem with Ocean's 8; it's nothing new. It just panders to the fans of the pre-sold Ocean's Eleven property. And, aside from a few flippant comments here and there ("can't we just go to this? Do we have to steal stuff?"), which actually detract from the outward feminist message of the movie, the characters may as well be male. Sure, the ladies of Ocean's 8 are strong, but they're not exactly positive role models.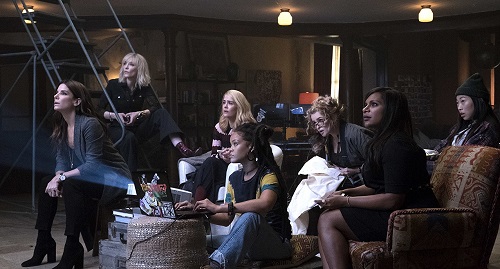 Ocean's 8
is by no means a boring movie. It's well-paced and slickly edited, with an incredible score, so it holds the viewer's attention just fine. And, as silly as the con job is, those who enjoy heist movies will probably find something to like about it. Those who approach it with a grain of logic, however, will be driven mad. And those looking for empowered female characters should go see
Annihilation
. It's not any more logical, but it's also not supposed to be. And those ladies kick butt.
Score and Soundtrack
To be honest, the score for Ocean's 8 saves the movie. It was composed by Daniel Pemberton (The Man from U.N.C.L.E.), and it's full of the retro jazz and swing that all of his more memorable scores feature. It's mostly drum, bass, organ, and woodwind combo stuff, with snappy grooves and whistle-able melodies. Even the couple of points where Bach themes are present, Pemberton has jazzed them up into hip classic-jazz pieces. The toe-tapping, finger-snapping music is a fun throwback to the other rat-packish, Las Vegas-y movies in the Ocean's series.
The soundtrack is rounded out by pop songs that heavy-handedly help tell the story during montages, classics like Nancy Sinatra's "These Boots are Made for Walkin'" when Debbie is released from prison and Linda Ronstadt's "You're No Good" when she is assembling her criminal team. So, between Pemberton's swinging original music and the tasteful narrative tunes, the soundtrack for
Ocean's 8
is the best reason to see the movie.
Cast and Crew
Director(s): Gary Ross
Producer(s): Susan Ekins, Steven Soderbergh
Screenwriter(s): Gary Ross, Olivia Milch
Cast: Sandra Bullock (Debbie Ocean), Cate Blanchett (Lou), Anne Hathaway (Daphne Kluger), Helena Bonham Carter (Rose Weil), Mindy Kaling (Amita), Sarah Paulson (Tammy), Awkwafina (Constance), Rihanna (Nine Ball)
Editor(s): Juliette Welfling
Cinematographer: Eigil Bryld
Costume Designer: Sarah Edwards
Casting Director(s): Debra Zane
Music Score: Daniel Pemberton
Country Of Origin: USA