In 2013, Cardinal Jorge Mario Bergoglio was elected to the Papacy and took the name Pope Francis, after Saint Francis of Assisi.  Almost immediately, he became a controversial figure because of his progressive views.  A few years later, documentary filmmaker Wim Wenders (Wings of Desire, The Salt of the Earth) was given unprecedented access to the Pope in order to make a movie.  That movie is simply called Pope Francis: A Man of His Word.
Pope Francis: A Man of His Word isn't so much a biography of the pontiff as it is a profile, culled together from conclave speeches, personal appearances, and private interviews (done in a very Errol Morris way, with the Pope looking straight into the camera as he speaks).  There's very little to speak of in the way of the man's history, as the film focuses more on his views and outlooks.  It's a bit like RBG in that there is no opposing viewpoint, so the film feels somewhat like idolatry.  Of course, promising a softball, non-controversial approach is probably how Wenders got his foot in the door to make the movie in the first place.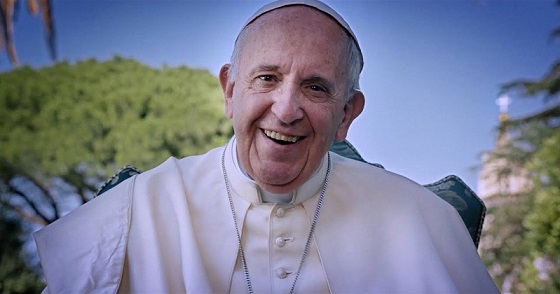 Despite its lack of conflict, Pope Francis: A Man of His Word does give Pope Francis a chance, in his own words, to address some of his more controversial teachings on subjects like homosexuality, wealth inequality, and the environment.  Pope Francis comes off as articulate and convincing, and he is able to defend even his most unorthodox opinions in a way that endears him to both Catholics and non-Catholics alike.  This is a Pope for the modern world, and one does not have to be religious to see it.
In the light of recent events in America, it's difficult to not see Pope Francis: A Man of His Word as a thinly veiled criticism of the current administration.  The film seems to check off every piece of Trump's agenda and lets the Pope give his thoughts on each subject, backing his words up with both biblical scripture and personal philosophy.  The hypocrisy of some of the current administration's platform is explored and exposed in a way that is subtle, but definitely noticeable.  Every single Trump supporter who thinks that they're Christian would do well to check out Pope Francis: A Man of His Word.  It might open some eyes.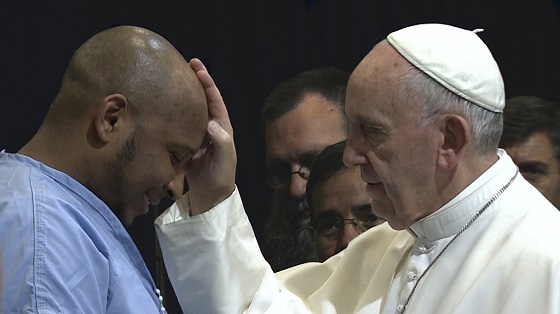 But Pope Francis: A Man of His Word is not a political movie.  Nor is it a religious movie.  It's a personal look at a man who is trying to be the best person he can be.  He just happens to be shaking the world up while he's at it.