This past weekend, Canadian-born actress Margot Kidder passed away at the age of 69.  Although Kidder was known primarily as Lois Lane from the classic Superman series of movies, horror fans remember her as both Barb in Black Christmas and Kathy Lutz in The Amityville Horror.  However, her first fright flick, made two short years before Black Christmas in 1972, was Sisters.
Sisters stars Kidder as Danielle Breton, an actress/model who works as a plant on a Candid Camera-type game show.  Kidder also plays her conjoined twin sister, Dominique Blanchion, who mostly stays hidden in her bedroom ever since she and Danielle were surgically separated.  One morning, a reporter named Grace Collier (Jennifer Salt from Gargoyles) happens to look across the alley into Danielle's window – and witnesses a gruesome murder.
She calls the cops but seeing as how Grace has written unfavorable newspaper articles about police brutality, they are unwilling to help.  So, doing what any respectable reporter would do, Grace pitches a story, and her editor assigns a private detective named Joseph Larch (Charles Durning from When a Stranger Calls) to help her investigate.  Grace and Larch end up going down a rabbit hole of medical asylums, mad doctors, and psychotic sisters while researching the story.
Sisters is one of the early Brian De Palma movies, made right at the beginning of the director's string of seventies films that included hits like Phantom of the Paradise, Carrie, and The Fury.  De Palma came up with the original story himself and co-wrote the screenplay with Louisa Rose (Monique), crafting the half-slasher, half-procedural into a tense and suspenseful psychological thriller.  It's not quite as polished as De Palma's later work, but that fact just gives Sisters a dirty, grindhouse feel, making it that much more effective as a creepy horror flick.
Margot Kidder has a field day pulling double-duty in Sisters, playing both roles along the lines of Bette Davis in Dead Ringer, or even Miranda Richardson in Spider.  Dominique's scenes are limited, and the two sisters share no screen time, so there's very little digital trickery that has to be done.  It's all Kidder putting on a different face to play a different character, tagging in Dominique when Danielle tags out.  It's a challenging pair of roles, and Kidder proves that she is more than up for the task.  She may have become an icon in Superman, but Margot Kidder proved she could act by doing movies like Sisters.
Brian De Palma has the reputation of being a Hitchcock disciple/imitator, and Sisters shows that he earned that reputation very early on.  Sisters feels like an homage to Hitchcock.  It's not quite as blatant of a ripoff as Dressed to Kill, but the film still evokes the Master of Suspense on both a narrative and a visual level.  Story-wise, Sisters channels Hitchcock movies like Rope and Vertigo, and even pulls a main character switch-a-roo à la Psycho when Grace is introduced to take the spotlight away from Danielle/Dominique.
Aesthetically, it feels like a remake of Rear Window at times, with voyeuristic POV shots across the alley coming into play on more than one occasion.  Even though Sisters as a whole feels Hitchcockian, certain scenes evoke the work of David Cronenberg and George Romero as well.  And the brutal murder – it seems as if all De Palma movies have one – seems to have been lifted right out of a Dario Argento Giallo film. But hey, even Hitchcock had his shower scene.
Even as early as 1972, De Palma had his photographic style down.  Sisters was shot by cinematographer Gregory Sandor (Forbidden Zone, Two-Lane Blacktop) with a primarily neutral color palette, making the red blood of the slasherific murder scene really glow when it shows up.  The POV scenes of Grace peeping into Danielle's apartment through binoculars would show up again in De Palma's Body Double.
And, of course, his trademarked simultaneous split-screen technique that shows two different views of the same event was already perfected and ready for its extensive use in just about every De Palma movie since.  Sisters may be one of his earliest movies, but Brian De Palma was already Brian De Palma when he made it.
Keeping in line with his Hitchcock worship, De Palma enlisted legendary composer Bernard Herrmann, who scored the later Hitch classics like North by Northwest and Psycho, for the musical soundtrack to Sisters.  The score is pure Herrmann, with percussive strings and thunderous horns, just melodic enough to be memorable, but still cacophonous enough to stay cinematic.  When put up next to his iconic scores, say Taxi Driver or Citizen Kane, Herrmann's work in Sisters is forgettable, but an average Herrmann score is better than most composers' best scores, and Sisters remains one of the elite composer's underappreciated gems.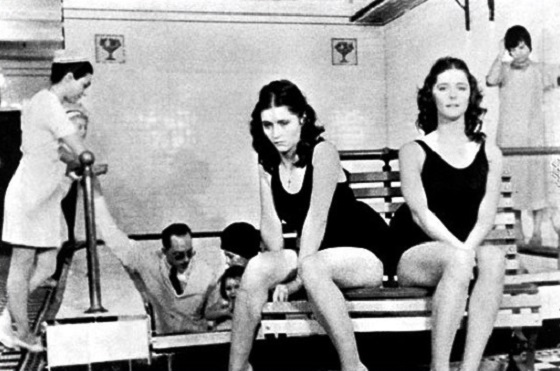 Margot Kidder possessed the rare combination of beauty and talent that allowed her to captivate an entire generation.  She'll be remembered by some as Kathy Lutz and by others as Lois Lane, but the point is that she will be remembered forever.  She may even be remembered by some as Danielle Breton from Sisters.