Synopsis: Four young men mistake their lives for a movie and attempt one of the most audacious heists in U.S. history.
Release Date: June 8, 2018     MPAA Rating: PG-13
Genre(s): Crime, Drama
Film Review

With all the hype surrounding the mediocre Ocean's 8, people have forgotten about the "other" heist movie that is being released this week. And that's a shame, because American Animals is a better movie.
American Animals is about a pair of young college students named Warren Lipka and Spencer Reinhard (Evan Peters from X-Men: Apocalypse and Barry Keoghan from The Killing of a Sacred Deer, respectively) who, wanting more from their lives, decide to steal some rare and valuable art books from the University library. The books are worth more than $12 million, so the guys decide that they can afford to bring on some help. They enlist an economics major named Eric Borsuk (Hello Destroyer's Jared Abrahamson) to help plan and get a fitness fanatic named Chas Allen (Blake Jenner from The Edge of Seventeen) to be their getaway driver. Together, the four boys come up with a complicated plan of disguises, deception, and subterfuge in order to secure the treasured tomes.
Like any good crime movie, American Animals is based on a true story. Writer/director Bart Layton (The Imposter) met with each of the four participants, and even included interviews with them in the film as expanded, between-scene exposition. As the film goes on, it becomes clearer that the four would-be robbers have no idea what they are doing. This disconnect is obvious in the interviews with the guilty parties, as the more they explain what they were thinking at the time, the more the audience understands that they were literally living in a fantasy world where they were a group of criminal masterminds. For their caper, their characters even give themselves Reservoir Dogs-like code names like Mr. Green and Mr. Black. It's like they thought they were living a movie plot. And it does make a good one.
For his part, Layton seems to provide the events of the narrative without comment, keeping to what his interview subjects are saying so that the audience is able to come to their own conclusions about what happened. And that conclusion is that the four criminals are completely inept. Which makes American Animals not exactly a comedy, but hysterical to watch.
American Animals is not a great crime film, but it also doesn't try to be. It's more of an anti-crime film, sort of like a masterclass on what not to do. And in that regard, it succeeds admirably.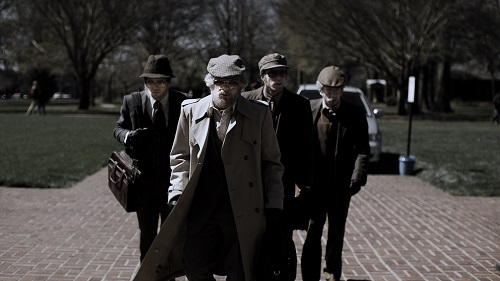 The approach that Bart Layton takes of having the real participants tell their stories alongside the actual narrative of the movie has been done before in movies like Alpha Dog, but it's still not seen enough to be considered commonplace. For this reason, the structure of American Animals is pretty unique. It's more entertaining than a strict documentary, but retains the air of authenticity that a nonfiction film would have, sort of like a more sensationalized Errol Morris movie. And, as The 15:17 to Paris and The Rider have shown us, in most cases, it's better to have the principals tell their story while actors act it out instead of forcing those involved to play themselves. So, Bart Layton has made the correct choice in his method of telling the story of American Animals.
Cast and Crew
Director(s): Bart Layton
Producer(s): Katherine ButlerPoppy DixonDimitri DoganisDerrin SchlesingerMary Jane SkalskiLindsey Hancock WilliamsonSam Williamson
Screenwriter(s): Bart Layton
Story: 
Cast: Evan Peters (Warren Lipka)Barry Keoghan (Spencer Reinhard)Blake Jenner (Chas Allen) Jared Abrahamson (Eric Borsuk)Ann Dowd (Betty Jean Gooch)Udo Kier (Mr. Van Der Hoek)
Editor(s): Nick Fenton
Cinematographer: Ole Bratt Birkeland
Production Designer(s):
Costume Designer: Jenny Eagan
Casting Director(s): 
Music Score: Anne Nikitin
Music Performed By: 
Country Of Origin: USA