Although they're not always considered horror films, there can be little doubt that rape-revenge movies are horrifying. Some of them, like Wes Craven's debut film The Last House on the Left, are well-crafted artsy experiences. Others, like Meir Zarchi's infamous shocker I Spit on Your Grave, are more exploitive in nature. And some, like 1975's Poor Pretty Eddie, are a crazy combination of both.
Poor Pretty Eddie is about a hip young African-American jazz singer named Liz Wetherly (Leslie Uggams from "Roots") who decides to take a road trip to get away from her hectic life of superstardom. As she is passing through a hillbilly Podunk town in the middle of the Georgia backwoods, her car breaks down. While her car is being repaired, Liz rents a cabin at a lodge called Bertha's Oasis. The proprietor, an Elvis-obsessed amateur singer named Eddie Collins (Michael Christian from "Peyton Place"), recognizes her, and convinces the mechanic, Keno (Ted Cassidy, better known as Lurch from "The Addams Family" and the co-writer of Roar), to take his time fixing her car so that she has to stick around. While Eddie essentially has Liz imprisoned in the town, he tries to seduce her. This misbehavior infuriates Eddie's actual girlfriend, Bertha (Shelley Winters from Bloody Mama and Tentacles), the owner and namesake of the lodge. Bertha's concerns aren't baseless, though; after Liz repeatedly rebuffs Eddie's advances, the cocky redneck rapes her. When the rest of the town, including the police, blame Liz for her own assault, she is forced to take the law into her own hands.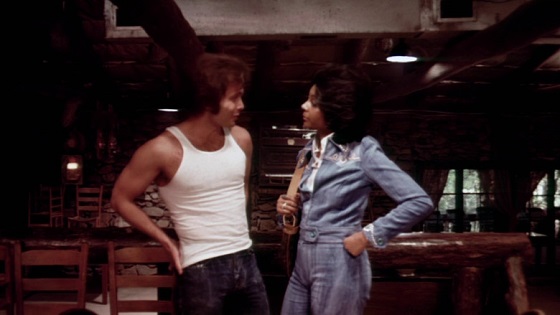 The screenplay for Poor Pretty Eddie was loosely adapted by television screenwriter B.W. Sandefur ("Bonanza," "Charlie's Angels") from a Jean Genet play called "The Balcony." The directing is credited to David Worth and Richard Robinson (who also collaborated on Bloody Trail), with Worth also handling the cinematography and the editing. Most of the crew came from an adult film background, so the risqué subject matter and gratuitous content was nothing new to them. Poor Pretty Eddie has a pretty standard rape-revenge storyline, but it's tamer than many films of the subgenre, and although the revenge part is satisfying, it's only a very small part of the film.
Like many grindhouse movies of the era, Poor Pretty Eddie has gone by several different names, but there's an interesting reason for that; the movie was released under different titles in order to appeal to different audiences. Because Liz is African-American and deals with substantial racism in the film, it was released as a Blaxploitation movie under the name Black Vengeance. On the other side of the fence, Poor Pretty Eddie also spent time as a Hicksploitation flick, hitting theaters as Redneck County, Redneck County Rape, and Massacre at Redneck County. It was even re-cut, replacing the rape and violence with more sensual sex so it could be sold as a soft-core soap opera called Heartbreak Motel. The history of Poor Pretty Eddie is almost as seedy as the movie itself.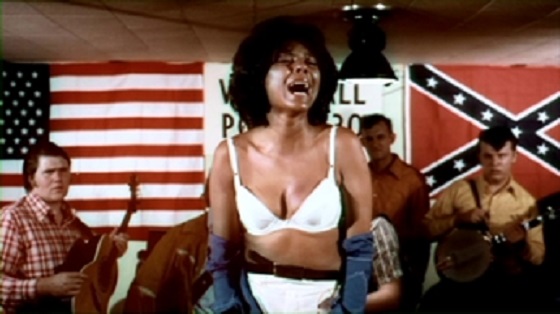 Poor Pretty Eddie is able to successfully exist in so many different forms because it skillfully walks the line between art film and exploitation flick. There are plenty of exploitative moments in the film, such as one scene where Liz is taken to a redneck bar and forced to stand next to a confederate flag, or another where the town sheriff (played by famous cinematic cowboy Slim Pickens from Blazing Saddles) wants her to prove her accusations of rape by showing him the bite marks on her breasts. Still, these shocking scenes are starkly juxtaposed with a few extremely effective and powerful montage sequences: one in which Eddie's manhandling of Liz during her rape is intercut with footage of a farmhand manhandling livestock, and another in which Liz imagines shooting Eddie with a gun while she "shoots" photographs of him with a camera. For a simple rape-revenge flick, Poor Pretty Eddie is a very artistic movie.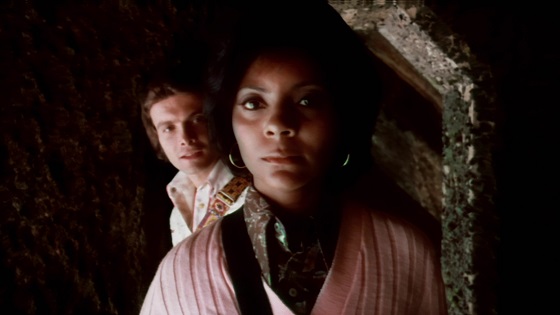 Although there's no shortage of brutal violence in Poor Pretty Eddie, surprisingly little of it shows up onscreen. Most of the violence is implied, occurring just off-camera, either shielded from view or slightly out of frame. It's a very economic use of visual effects – basically, there aren't any. The movie shows the viewer just enough so that they know what's happening without having to make it look gory and realistic. It's low-budget filmmaking at its greatest; the viewer's imagination does most of the work.
Because of the fact that the two main characters are singers, there is no shortage of music in Poor Pretty Eddie. Unfortunately, aside from a stirring rendition of "The Star-Spangled Banner" at the beginning of the film, there isn't a whole lot of Liz's sultry soul in the film. The lion's share of the music is the country-western hoedown stuff that Eddie and the country folk perform. The music for the film was written by Neil Young sideman Grant Boatwright and performed by a group called Red, White & Blue(Grass), which features Grant's wife, Ginger Boatwright. The honky-tonk juke-joint music is note-perfect, even if Eddie's vocal renditions are a little off. The overabundance of redneck music in Poor Pretty Eddie just reinforces the idea that Liz is definitely in the wrong place at the wrong time.
Poor Pretty Eddie may not be a horror movie in the masked killer, ghost-in-the-graveyard kind of way, but it's plenty horrifying. Just ask poor Liz Wetherly, if you can get her to stop screaming.