When it gets to be late October, John Carpenter's Halloween and its many sequels are the go-to movies for both big parties and late-night loners. And it's no surprise; as a pioneer of the slasher genre, the film is not only a masterpiece in its own right, but one of the most influential horror movies of all time. But, as the most famous film of the holiday, it's also been shown and reshown, to the point of oversaturation. For those who want something new this Halloween, here are a handful of alternatives to Michael Myers that are bound to impress:
1. Trick 'r Treat (2007)
Probably the most well-known movie on this list, Trick 'r Treat is an anthology horror film that doesn't feel like one. The separate tales blend together seamlessly, taking you on a Halloween night journey through the dark underside of a typical Midwestern town. Trick 'r Treat has got something for everyone, including psycho parents, ghostly schoolkids, hungry vampires, and a creepy little bag-headed trick-or-treater named Sam. The individual stories are very comic book-esque, making this a sort of modern day Creepshow, but director Michael Dougherty's approach is much less tongue in cheek than Creepshow and its sequels. As the freakiest character in the movie, little Sam's likeness has become the iconic image of the film. You've probably seen him around the internet.
2. The Fear: Halloween Night (1999)
This little hidden gem is actually the sequel to 1995's The Fear, but works perfectly well as a stand-alone movie. A guy invites a group of his friends to a Halloween party at his grandparents' house, asking them to each come dressed as their biggest fear. The idea is for them to confront their fears and, over the course of the party, overcome them. The problem arises when a shape-shifting wooden dummy named Morty shows up at the party and wrecks it for everyone, exploiting their fears to terrorize them. Betsy Palmer (Friday the 13th) is the only real name-star in this, but all of the young actors look familiar. It's just their looks; you've never heard of any of them. Kelly Benson is not Bridgette Wilson, Myc Agnew is not Eric Balfour, and Stacy Grant is not Rose McGowan. This one gets credit for originality, and Morty is a pretty cool horror villain, even if he talks a little too much.
3. The Hollow (2004)
Seeming a bit like a Lifetime Channel horror movie, The Hollow is a loose update of Washington Irving's "The Legend of Sleepy Hollow." A teen named Ian Cranston is the last remaining relative of original story protagonist Ichabod Crane, and when the Headless Horseman is summoned back to life by meddling kids, Ian is the only person in town with the power to stop him. Ian and his school chums are putting on a Haunted Halloween Hay Ride, so what better place for the old Horseman to hunt for heads? The Hollow is a mixture of old-school ghost story and new-school slasher, with plenty of supernatural and otherworldly elements being balanced out by a group of oversexed, brutally murdered teenage victims. This one gets bonus points for starring a Backstreet Boy; dreamboat Nick Carter plays Brody, the bullying football player. It also adds credibility with typical performances by Hollywood veterans Judge Reinhold and Stacy Keach, with Keach's character being the hilariously named Claus Van Ripper.
4. Satan's Little Helper (2004)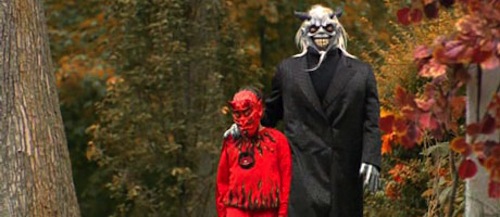 This one is the story of Little Douglas Whooley, the youngest child in a dysfunctional family who is obsessed with a video game called Satan's Little Helper. While wandering about the neighborhood amongst the costumed kids on Halloween, Douglas inadvertently makes friends with a homicidal maniac who is dressed as The Devil. Thinking it is Satan from the video game, and wanting to be Satan's Little Helper, Douglas unknowingly helps The Devil go on a murderous rampage that leads straight to the boy's family. This disturbing little flick is directed by Jeff Lieberman, who made Blue Sunshine and Squirm back in the seventies. Satan's Little Helper is a fun throwback slasher packed with dark comedy that is fed by both the B-movie attitude of the production and the subtle-yet-obvious influence of Halloween. Although it premiered at Tribeca, and had a nice little horror film festival run, Satan's Little Helper has had mostly a home video lifespan, and gathered a pretty nice cult following. Keep an eye out for Amanda Plummer from Pulp Fiction as Douglas' mom.
5. Halloween Night (2006)
You might not recognize The Asylum by name, but you've no doubt come in contact with the studio's work. Not only are they the geniuses behind Sharknado, but they're also the guys who seem to beat Hollywood to the punch on every concept, releasing "mockbusters" with names like Atlantic Rim, Snakes on a Train, and Abraham Lincoln vs. Zombies just days before the big pictures hit theaters. Halloween Night is an Asylum original. It's about a crazy kid who is wrongfully accused of killing his family as a little boy and gets committed to an insane asylum. Years later, as a certifiably insane young man, he escapes from the asylum and returns back home to search for clues that might prove his innocence. Unfortunately, another family is living in his old house, and they just happen to be throwing a Halloween party. The masked lunatic is able to move freely amongst the costumed guests, but soon becomes frustrated and starts to kill partygoers one by one. Given The Asylum's track record, Halloween Night is just as corny as you'd expect it to be, but it's also brutally violent and surprisingly scary. The Halloween influence is apparent in this one, as well, but it's got a few fun twists and turns that keep it fresh.
Whether you want to impress your friends at the party with your encyclopedic knowledge of modern horror movies or just want something new and unfamiliar to watch while being interrupted by trick-or-treaters, these films should all fit the bill nicely. So turn out the lights, turn on the T.V., and get ready to be afraid…be very afraid…