Alfred Hitchcock may be the most recognizable name in suspense, but there is one man who certainly gave Hitchcock a run for his money. Henri-Georges Clouzot was a master of suspense in his own right, and as a contemporary of Hitchcock, became a great rival and influence. His most frequent themes dealt with the moral corruption of individuals and communities. Films such as Le corbeau and Quai des Orfèvres depict a very cynical assessment of humanity while showcasing Clouzot's immense talent for suspenseful filmmaking. His best film – and the one he is best known for – is undoubtedly Les Diaboliques, a noir adaptation of a Pierre Boileau and Thomas Narcejac novel. Hailed by some as "the French film noir to end all French film noirs," Les Diaboliques turned noir convention on its head and provided one of the best examples of a noir thriller with horror overtones.
Set in an all-boys boarding school run by the tyrannical Michel Delasalle (Paul Meurisse), the first half hour of the film illustrates in no uncertain terms just how much Delasalle mistreats his wife, Christina (Véra Clouzot), as well as his mistress, Nicole Horner (Simone Signoret). Both women are fragile characters who, despite their inherent opposition, join forces to carry out the perfect murder of their shared tormentor. In their complicated plot, they first trick Michel into going to Nicole's house in Niort and poison him, then drown him in the bathtub and transport him back to the boarding school and throw his corpse into the murky swimming pool. Their plan assumed that the body would float to the surface and make Michel's death look like an accident, but when his body doesn't surface and a little boy says that he has seen Delasalle around the school, Christina becomes more and more paranoid about the whereabouts of her supposedly dead husband.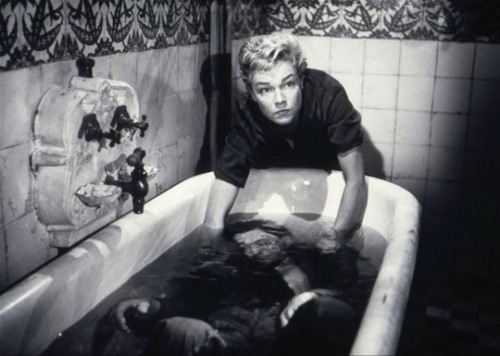 Hitchcock had been an influence on Clouzot for years before he made Les Diaboliques. It is even rumored that Hitchcock himself had tried to purchase the rights to the Boileau and Narcejac novel, "Celle qui n'était plus", but was beaten to it by Clouzot by only a few hours. In response, Hitchcock bought the rights to another Boileau-Narcejac novel that eventually became his classic adaptation, Vertigo. Many would say that Les Diaboliques held the title of most terrifying and innovative thriller ever made for several years. That is, Clouzot's masterpiece lost its title when Hitchcock made his own take on Les Diaboliques with Psycho. There are signs of Les Diaboliques throughout Psycho – the use of high contrast black and white film, similar plot, and morbidity. Most notably, Hitchcock adapted Clouzot's anti-spoiler message in the final credits into his famous policy preventing anyone from entering the theater after Psycho had begun.
Unlike Hitchcock, Clouzot's taut suspense comes from his commitment to symbolism and longer takes. Whereas Hitchcock cut shots together very quickly, creating frantic scenes, Clouzot builds tension slowly and to great effect. Even in the murder scene when Christine and Nicole drown Michel, nothing is done hastily. Clouzot uses funereal images of Delasalle resting on a bed like a body laid to rest in a coffin with arms crossed and a halo of light cast by a nearby lamp. These images dwell on his "unjust" murder, increasing the horror of the audience, and at the same time, tormenting Christina and her morality. The fact that she carries out this murder plot, despite her deep-seeded Catholicism, is one of the most horrifying aspects of the film. She believes divorce is a sin and so cannot leave Michel, but she isn't above killing him if it is the only way for her to keep her money and her boarding school. The guilt of her sins, however, weighs heavily on her. She refers to herself and to Nicole as monsters, and her paranoia only increases.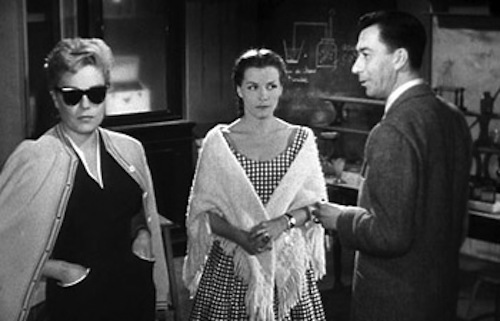 Much of Christina's behavior throughout the film is questionable. From the very beginning, we are aware that Christina knows about Michel's affair with Nicole, yet she tends to Nicole's black eye – a sign of Michel's brutality – as a friend. These two women should be diametrically opposed, but instead we see the wife consoling the mistress, united in their victimization. Nicole is the driven and resilient one of the two and most easily fits the title of femme fatale. Christina, on the other hand, is a former nun and a fragile woman (she suffers from a heart condition that could kill her at the slightest spike in excitement or anxiety). The fact that these two women are not only the main characters here but also allies in a convoluted murder plot that sets Les Diaboliques apart from other film noirs. Clouzot effectively inverts the typical noir pattern of a femme fatale seducing another man into killing her husband and, in doing so, reverses the archetypal roles of men and women in noir. Christina and Nicole carry out their plan entirely on their own, and rather than compete – and murder each other – over a shared lover, they rid the world of their tormentor.
Henri-Georges Clouzot achieves a two-fold feat with Les Diaboliques: he makes his audience identify and sympathize with a murderess and her husband's mistress and then ends his film with a twist that destroys everything we thought we knew about the preceding events. The final twist (that can't in good conscience be revealed here) points to the intersection of film noir and horror in this mystery. The supernatural element that surrounds Michel in death at times distracts from the film's overall noir nature, but in the end, Les Diaboliques remains a dark and horrifying look at people's actions and motivations.