In the fifties and sixties, The United States of America was not the only country to delve into making low budget sci-fi horror movies. In 1960, with the world still reeling from the use of the atomic bomb at Hiroshima and Nagasaki, an Italian producer named Mario Fava (who may or may not be an alter-ego of the Italian master of macabre himself Mario Bava) made a quick and easy fright film called Seddok, l'erede di Satana, released in America three years later as Atom Age Vampire.
Atom Age Vampire starts with a beautiful dancer named Jeanette Moreneau (Susanne Loret from Minotaur, the Wild Beast of Crete) fighting with her boyfriend, Pierre (Sergio Fantoni from Von Ryan's Express), over her career choice.
Pierre dumps Jeanette and, visibly upset, she runs off into the night. Distracted by her heartache, she gets into an automobile accident that severely disfigures her face. While in the hospital, Jeanette refuses to take visitors, but a young woman named Monique (Franca Parisi from Sissi: The Fateful Years of an Empress) sneaks in to see her. Monique tells Jeanette that she works for a doctor who has invented an experimental treatment that can repair the damaged tissue in her face. At first, Jeanette is skeptical, but she eventually ends up at the home of Professor Levin (Night of Violence's Alberto Lupo), who has been conducting tests with atomic radiation and its effects on living tissue ever since he visited Hiroshima years before. He and Monique have developed a serum that can cause damaged tissue to regenerate itself, causing even the most scarred and horrific injuries to heal up without a scratch.
They try their potion on Jeanette and it works miraculously, leaving her face just as beautiful as it was before her accident. In the process, Professor Levin falls in love with Jeanette, and when he discovers that the healing is temporary, he ingests another potion that turns him into a monstrous creature.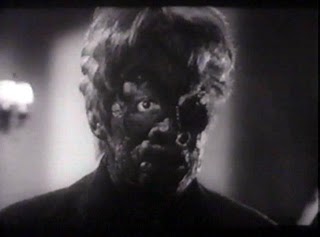 In his beastly form, Levin goes out and murders young women, extracting a gland from their chest that he needs in order to keep Jeanette's face unscarred. When the bodies start to pile up, the police question Professor Levin and Monique, but the scientist's story holds water…until Jeanette's ex-boyfriend Pierre shows up looking for her, and Professor Levin and Monique have to fend off suspicions from both the law and the ex-lover.
The script for Atom Age Vampire
was written by its director, Anton Giulo Majono (The Eternal Chain) along with Gino De Santis (Wolves of the Deep) and Alberto Bevilacqua (Black Sabbath) from a story by Piero Monviso. It's an ingenious variation on the mad-scientist-in-love theme, but it also touches on the subject of serial killing, monsters on the loose and the new worries about the effects of atomic radiation. There is so much to be afraid of in Atom Age Vampire that it's a shame it was so low-budget; it could have been absolutely terrifying with a little money behind it. Even still, the film is dark, moody and just plain creepy, even when it gets campy.
To be fair, Atom Age Vampire is not a vampire movie; the creature that Professor Levin becomes appears to be a cross between a werewolf and a giant lizard.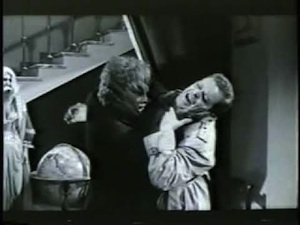 The literal English translation of Seddok, l'erede di Satana is Seddok, the Heir of Satan. Although it's definitely a more frightening name, the producers decided on Atom Age Vampire
as the title for the American release, deciding to play up the atomic radiation part of the story. The dialog was rewritten in English by John Hart (who made his living translating Italian scripts into English, having also worked on Kill Baby, Kill
, The Fury of Hercules and many more) and the English dubs were directed by Richard McNamara (who made his living directing English dubs of Italian films, having done Buffalo Bill and Goliath Against the Giants, among others). Because of the fact that America was a nuclear power, Atom Age Vampire works very well as the title for the sensationalized American release.
Much of the spooky look and feel of Atom Age Vampire
is thanks to spaghetti western cinematographer Aldo Giordani (They Call Me Trinity, The Magnificent One), who seems to be having fun shooting with shadows at night instead of under the hot western sun. The picture is dark, gloomy and gritty, and while it may be short on out-loud screams, the skin-crawling and spine-tingling mood of the film more than makes up for the lack of starts and shocks.
The visual effects in Atom Age Vampire are par for the course with low-budget films, using the same time-lapse photography trick that audiences recognize from the classic Universal werewolf movies to turn Levin into the monster. Turning Levin back to human is another matter, and special effects man Ugo Amadoro (Hercules Against the Moon Men) pulls a nifty sight gag where the beastly Levin steps into a glass booth that fills with smoke. When the smoke clears, Levin is human again. It's an obvious camera trick, but fits in perfectly with the campy-yet-creepy vibe of the film and looks a lot better than just doing the reverse of the transformation.
While America may have been the country that used the bomb, its effects were felt world-wide. Italy may have been on the losing end of World War II, but they still know how to make good low-budget horror films, and, even Americanized, Atom Age Vampire
holds up fifty years later.