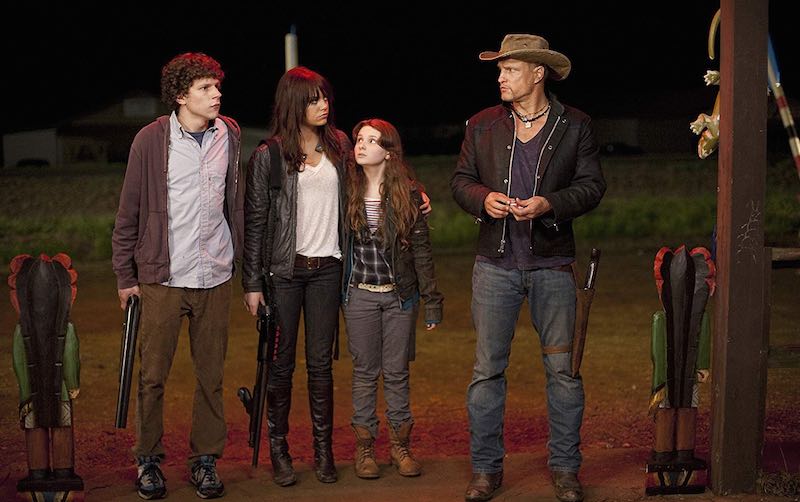 Rosario Dawson Joins the Zombieland 2 Cast
Because who wouldn't want a chance to battle in the (very funny) zombie apocalypse Zombieland 2 is bound to deliver.
If you're excited for more Zombieland twinkles and zombie head-bashing, plus rules to follow during the zombie apocalypse, add this to your list, too: Rosario Dawson is in Zombieland 2.
Rosario Dawson joins the current Zombieland 2 cast, including original stars Woody Harrelson, Jesse Eisenberg, Emma Stone, and Abigail Breslin. The Zombieland 2 cast also includes Zoey Deutch, Avan Jogia, Dan Aykroyd, and Bill Murray.
Just what Bill Murray is up to, considering he was impersonating being a zombie until Jesse Eisenberg's Columbus killed him on accident in Zombieland, has yet to be seen. But hopes are high that he is a zombie spending time on the golf course with fellow Ghostbuster Dan Aykroyd. They may be reuniting for Ghostbusters 3, so it makes sense if they wear their ghostbusting costumes as zombies.
Zombieland 2 Cast to Start Shooting February 2019
Zombieland Director Ruben Fleischer (Venom) returns for Zombieland 2, with screenwriting duties going to Dave Callahan (Wonder Woman 1984, Godzilla), Rhett Reese and Paul Wernick (both worked on Zombieland, 6 Underground, and Deadpool).
Zombieland 2 reportedly takes the zombie comedy to the White House, and into the heartland, where new versions of zombies have evolved, and more human survivors are found. But the family aspect of Zombieland is a main focus, and the growing pains the characters face.
As the Zombieland 2 cast rounds itself out, filming is scheduled to begin in February 2019 with a scheduled theatrical release of October 11, 2019.
Until then, watch Zombieland again for a refresher on how when the zombie apocalypse hits, discovering an abandoned truck full of Twinkies will become the best thing ever. And bashing in a clown's face a dream come true for coulrophobia sufferers and everyone else who can't stand clowns. And for those that do like clowns, It: Chapter 2, starring James McAvoy, Jessica Chastain, and Bill Skarsgård hits theaters before Zombieland 2 — September 6, 2019.