In the horror world, low-budget movies are just as much (if not more) fun than their big Hollywood brethren. Amongst the modern B-Movie pioneers are a number of influential auteurs who have paved the way for those who have come later. Guys like Roger Corman (A Bucket of Blood, Bloody Mama) and Lloyd Kaufman (The Toxic Avenger) have proven that anyone with a little creativity and a lot of perseverance can make movies. Another one of these guys is Charles Band, whose production company Empire Pictures, and later Full Moon Pictures, has been behind great movies like Crawlspace and Tourist Trap. As a director, one of Band's more ambitious ideas involved getting together with six other directors to make a not-really-an-anthology anthology movie called Ragewar.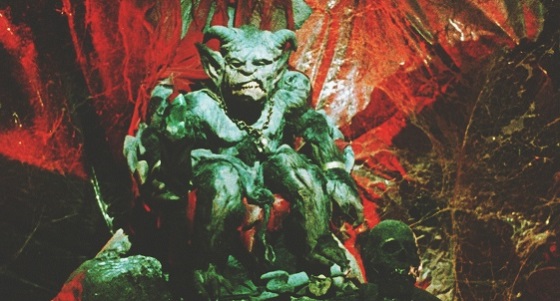 Ragewar is about a talented computer programmer and designer named Paul Bradford (Jeffrey Byron from Metalstorm: The Destruction of Jared-Syn) who invents a computer called X-CALBR8 – Cal for short – that he can link up to with a special human-computer interface. Paul has given Cal a female personality, and his girlfriend, Gwen (Leslie Wing from The Frighteners and Strangeland) gets jealous of the machine. There is little time for petty squabbling, however, because one night Paul and Gwen are sucked into a parallel universe where a demon named Mestema (Richard Moll from Night Train to Terror and Evilspeak) decides that he is a worthy opponent and challenges him to a duel of technology vs. sorcery. Mestema holds Gwen hostage while Paul is forced to go through seven challenges in order to rescue her, with Cal as his only ally in the fight.
Even though Ragewar was the brainchild of Charles Band, the different challenges are each written and directed by a different filmmaker, so the film has an anthology feel to it. The movie still has its own coherent story, it just has an episodic feel to it. The first challenge, where Paul and Gwen must make their way through an icy museum of killers, was written and directed by Rosemary Turko (Scarred). The second, in which Paul must fight his own demon doppelganger, was written and directed by John Buechler (Friday the 13th Part VII: The New Blood). Charles Band himself wrote and directed the third challenge, where Paul must rescue Gwen from the clutches of eighties heavy metal band WASP. The fourth challenge, written and directed by David Allen (Puppet Master II), sees Paul fighting a giant stone monster. Paul's fifth challenge, a mini-slasher movie within the movie, was written by Jeffrey Byron (the actor who plays Paul) and directed by Steve Ford (an actor himself, with roles in Starship Troopers and The Rage: Carrie 2). The sixth challenge, written and directed by Peter Manoogian (Demonic Toys), pits Paul against a little troll who lives in a cave and throws explosives. Finally, the seventh challenge, where Paul and Gwen get caught up in a futuristic Mad Max-like dystopia, was written and directed by Ted Nicolaou (TerrorVision). With Band also directing the wraparound segments, there are a lot of different voices and visions in Ragewar, but the tone of the film manages to remain fairly consistent.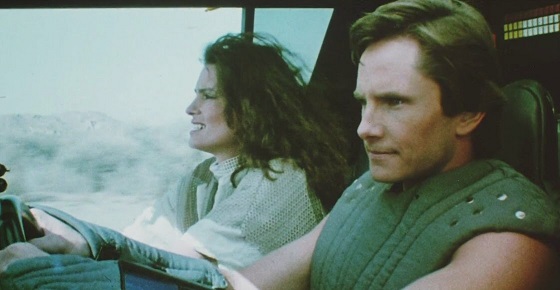 The screenplay is another aspect of Ragewar that manages to stay consistent: consistently corny. The two-dimensional characters are carried over from one segment to the next with only the slightest regard given to the dialogue. Some of the more identifiably ridiculous lines that are spoken in the film include "for a thousand years I have scoured the Earth, now there is you and your machine…the new magic" and "I reject your reality and I substitute my own" (this second one was co-opted by Adam Savage on the T.V. show "MythBusters"). Ragewar is silly, but that's kind of the idea; it is, after all, a Charles Band production.
Ragewar was made in 1984, and it is a product of its time in every way. The characters wear short-shorts and wide-rim glasses that were only fashionable in that era. The computer that makes up Cal's hardware is a bulky and awkward reminder of the earliest days of personal computing. The film features clips of women doing Jazzercise, the exercise trend that was all the rage in 1984. As mentioned above, the third segment features a dated performance of the song "Tormentor" by the heavy metal group WASP and their archetypical cock-rock lead singer Blackie Lawless. The incidental music is ripped straight from the time period as well, with its heavy electronic synthesizer-and-drum machine grooves. The movie was even alternately known as The Dungeonmaster for a short time, a reference to the role-playing game Dungeons & Dragons that had its heyday in the late seventies and early eighties. Ragewar is a lot of things, but timeless is not one of them; it's obviously an early eighties movie.
The special effects in Ragewar are also indicative of its eighties time period, but they are cheesily awesome. Stylistically, the visuals run the gamut, looking like a history-of-fantasy-movies compilation. There's plenty of classic sci-fi lasers and teleporting, all courtesy of simple camera and green screen overlaying. In a couple of the segments, there are fun rubber creature effects, brought to life either by puppetry or by costumed actors. The stone giant segment features some cool Harryhausen-esque stop-motion animation. Another segment includes Fantasia-like cartoon dragons, animation that was actually done by moonlighting Disney artists. And finally, for the purists, there are some good old-fashioned pyrotechnic explosions to really blow things up. Each director seems to have brought his or her own special effects techniques to Ragewar, so there are many different styles of filmmaking on display, but they're all equally amazing.
B-movies hardly ever become box-office hits; they're usually lucky to have some cult success on the home video market before being relegated to showings on late-night cable television. And that's where Ragewar can be found. Don't let that discourage you, though; it's worth the search.