Synopsis: In the city of dreams, a desperate actress will put it all on the line for the role of a lifetime…no matter what the cost.
Release Date: November 21, 2014     MPAA Rating: PG-13
Genre(s): Horror,
Film Review

At one point in Starry Eyes, a movie producer describes his new picture as a "love letter to L.A.," saying that his story is about the ambition of the movie industry. Although he's talking about the movie-within-the-movie that he's making, that little tidbit functions as a pretty good description of Starry Eyes itself.
Starry Eyes is about an aspiring Los Angeles actress named Sarah (Alex Essoe from Passion Play) who, like many wannabe stars, is frustrated with how her career is going…that is, until she gets an audition for the lead in a horror film called The Silver Scream. At first, she thinks she blew the tryout and retreats to the restroom to cry and rip out her hair. The fit that she throws in private turns out to be exactly what the casting directors were looking for, and she is invited to meet the film's producer (Louis Dezseran from Broken Gardenias). When the producer comes on to her, she walks out on him. However, after going back to her cruddy job and her shallow friends, she begins to second guess her decision to not hit the casting couch. Unfortunately, there is much more for Sarah to worry about than just the producer; she has stumbled onto a dark Hollywood underground organization that is seen by few, but has the ability to make her a star.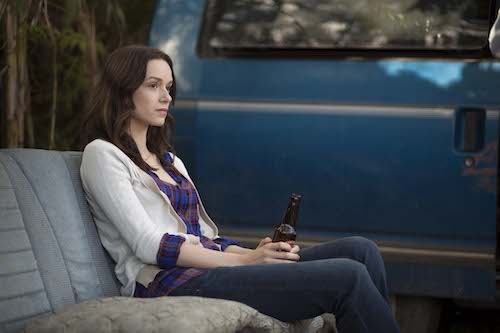 So, Starry Eyes is essentially about a girl living the typical Los Angeles dream; she's got a degrading job as a "Tater's girl," she's got a bunch of jealous and fake friends, and, to top it all off, she's not really all that talented of an actress (the character, not the actress – Alex Essoe does great in the role). She's an incredibly sympathetic character because she really has nothing in her life to which she can look forward, nothing to lose by trading in her life for another. She's set up to be a heroine of the film from the beginning. Then, things change. And that's what is so great about Starry Eyes; everything is always changing.
Written and directed by Kevin Kolsch and Dennis Widmyer (Absence), Starry Eyes is what happens when one tosses a satanic cult film, a slasher movie, and a possession flick into a blender, mixes it up, then adds a dash of vintage Cronenbergian body horror at the end to top it all off. It's a weird combination, but it's tasteful and organic, and never feels schizophrenic. Nothing about the movie gives the impression that the mixture is forced or coerced. And, most importantly, it doesn't feel overused or stale; the influences are there, but the film itself is fresh and innovative, and like nothing that has ever been seen before. Just when the viewer thinks that they have a handle on what's going on, the game changes and the stakes are raised. It's best to go into Starry Eyes with as little knowledge of what's coming as possible, but horror fans should definitely see it. Starry Eyes is one of the best examples of modern horror to come around in a long time.

The sound design for Starry Eyes was done by The Asylum's Brett Bach, who has built his reputation doing sound for movies with titles like Mega Python vs. Gatoroid and 2-Headed Shark Attack. There are no roars or growls in Starry Eyes, however; the audio is relaxed and understated, making effective use of deafening silence and ambient noise. The tense areas of the film are accompanied by a subtle increase in room tone or the slight presence of white noise that just barely punctures through the quiet stillness. When there are loud booms, they really go boom, because the suspense has been set up so carefully by the hush that leads up to them. The music in Starry Eyes, composed by Jonathan Snipes (Room 237), is a perfect complement to the soundscape; the retro-modern synthesizer score is moody and sparse, setting the tone without overpowering the scene. The soundtrack for Starry Eyes is subtle, but subtlety is exactly what the film needs.

When it comes to being scary, Starry Eyes functions on several different levels. The entire film has a subdued creepiness to it that inspires the type of fear that comes from simply not knowing what is going to happen next. Starry Eyes is a veritable smorgasbord of a horror movie, and the scares reflect that. There are times when it's shocking, like a slasher movie. Other times, it's suspenseful and tense like a satanic cult movie. When it gets totally crazy in the third act, it goes for the gross-out. Starry Eyes even gets pulled towards the classic Hammer Horror type of fear by the fact that the movie industry cult members look almost like vampires, with sharp pointy teeth, dark shadowy robes, and eerie black makeup on their faces. Most importantly, it all works. The scares in Starry Eyes don't come fast and furious, but when they do come, they're effective.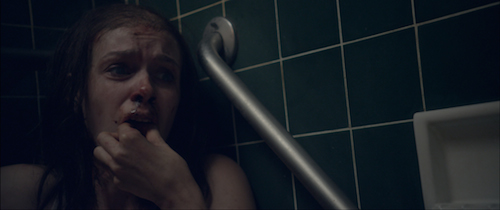 Cast and Crew
Director(s): Kevin Kolsch
Producer(s):
Screenwriter(s): Kevin KolschDennis Widmyer
Story: 
Cast: Alex Essoe (Sarah)Amanda Fuller (Tracy)Noah Segan (Danny) Fabianne Therese (Erin)Shane Coffey (Poe)Natalie Castillo (Ashley)Pay Healy (Carl)Nick Simmons (Ginko)
Editor(s): Brody Gusar
Cinematographer: Adam Bricker
Production Designer(s):
Costume Designer: 
Casting Director(s): 
Music Score: Jonathan Snipes
Music Performed By: 
Country Of Origin: USA