Synopsis: From Walt Disney Animation Studios, the team behind Frozen and Wreck-It Ralph, comes Big Hero 6, an action-packed comedy-adventure about the special bond that develops between Baymax (voice of Scott Adsit), a plus-sized inflatable robot, and prodigy Hiro Hamada (voice of Ryan Potter). When a devastating event befalls the city of San Fransokyo and catapults Hiro into the midst of danger, he turns to Baymax and his close friends adrenaline junkie Go Go Tomago (voice of Jamie Chung), neatnik Wasabi (voice of Damon Wayans Jr.), chemistry whiz Honey Lemon (voice of Genesis Rodriguez) and fanboy Fred (voice of T.J. Miller). Determined to uncover the mystery, Hiro transforms his friends into a band of high-tech heroes called "Big Hero 6."
Release Date: November 7, 2014     MPAA Rating: PG-13
Genre(s): Animation, Comedy
Film Review

Although the primary focus of Disney's $4 billion acquisition of Marvel was a future investment in The Avengers, that partnership has also resulted in unique releases like Big Hero 6. Based on a relatively obscure comic book series, Big Hero 6 casts a group of young geniuses as homemade superheroes, and puts them in unique crime-fighting situations. In the case of Big Hero 6 the film, much of the focus is on the origin of the ragtag team, but it's still, at its core, a grand super hero adventure.
As an animated feature, Big Hero 6 borrows heavily from the likes of The Iron Giant in both its tone and its sense of humor. Our hero, a young boy named Hiro, works together with a medical robot named Baymax to try to stop a mask-wearing criminal. The Iron Giant connection comes into play when Baymax starts dealing with things outside of his own experience. In essence, the film reaps tons of entertainment out of Hiro trying to teach Baymax concepts like "sick" as a positive or the fist bump. It all makes for very funny scenes and is the core heart of Big Hero 6. Anytime Baymax and Hiro are interacting during the film it is magic, up there with any of the other boy/non-human bonding movies.
On top of that, Big Hero 6 adds a superhero (of sorts) origin story wherein Hiro and a few of his genius, techie classmates develop their own unique weaponry and personas. As this rag tag team, the young teens go through all the classic motions of any fledgling hero group; there's the training montage, the comedic use of each power/weapon, and then seeing all those elements come together in a beautifully balletic fashion. Big Hero 6 has all of it and it's a delight to watch the character dynamics mesh with some truly incredible action sequences.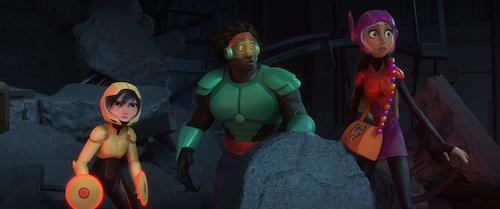 Part and parcel with that are visuals and design that are vibrant and incredibly detailed. At some point you come to expect an excellent presentation from animated films, but even then Big Hero 6 astounds. The film's version of the future, most overtly the city of San Fransokyo has so much to offer as a backdrop, and the filmmakers do well to make it seem otherworldly with slightly familiar touches. But again, the bell of the ball is Baymax, whose barely translucent inflatable skin has a texture you can almost feel. He's just such a great character from top to bottom that it's hard to not fall in love from the very moment he appears.
Big Hero 6's only major fault rests with its first act, which is clunky and filled with dry exposition. Obviously the film needs to introduce all these characters, get them into the right place, and provide a little back-story, but it struggles with tell-don't-show syndrome. It spends so much time having characters spew exposition that it's hard to connect with any of them early on. That becomes even more of a detriment because many of the characters introduced early on needed to have some emotional weight to them. Unfortunately they don't.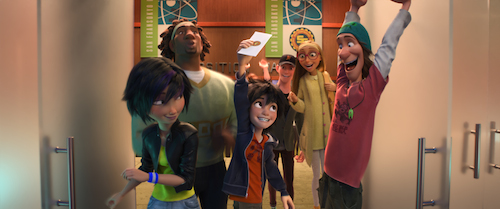 But, when Big Hero 6 does get going – basically when Hiro and Baymax start off on their adventure – it's an unbelievably entertaining movie. It has laughs for kids and adults, great action, and a really good heart. The voice actors are also excellent, bringing life to characters that needed clear definitions almost within their first scene. Big Hero 6 is a first class animated feature with a disappointing first act. And Baymax is sure to stand right alongside the likes of The Minions or Toothless as a classic animated sidekick.

Considering the first act is heavy on exposition, Big Hero 6 is obviously also light on humor or charm in those early moments. But when it kicks into gear it is charming, earnest, and extremely funny. We're not talking chuckle at the obvious kid-friendly joke either, but legitimately laugh-out-loud funny. Kids will absolutely devour this movie from beginning to end and chances are they will have plenty of favorite characters by the end. Parents will enjoy the dry humor of Baymax, and might even shed a tear or two. This year has brought a lot of comedies, but Big Hero 6 is the only film to have brought laughter, tears, and also so much laughter there were tears.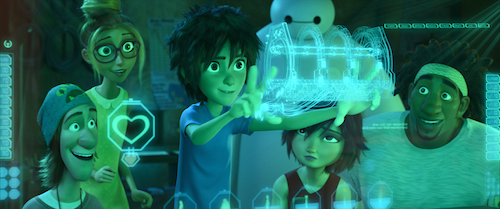 Cast and Crew
Director(s): Don Hall
Producer(s):
Screenwriter(s): Robert L. BairdDaniel GersonJordan Roberts
Story: 
Cast: Scott Adsit (voice of Baymax)Ryan Potter (voice of Hiro)Daniel Henney (voice of Tadashi) T.J. Miller (voice of Fred)Jamie Chung (voice of Go Go)Damon Wayans Jr. (voice of Wasabi)Genesis Rodriguez (voice of Honey Lemon)Alan Tudyk (voice of Alistair Krei)Maya Rudolph (voice of Cass)
Editor(s): Tim Mertens
Cinematographer: 
Production Designer(s):
Costume Designer: 
Casting Director(s): 
Music Score: Henry Jackman
Music Performed By: 
Country Of Origin: USA