Synopsis: An art gallery owner is haunted by her ex-husband's novel, a violent thriller she interprets as a veiled threat and a symbolic revenge tale.
Release Date: November 18, 2016     MPAA Rating: PG-13
Genre(s): Drama, Thriller
Film Review

November has been a banner month for Amy Adams. Just last week, she anchored the awesome sci-fi thriller Arrival. Now, she's back again with the darkly disturbing psychodrama Nocturnal Animals.
In Nocturnal Animals, Adams stars as Susan Morrow, an artist/gallery curator whose ex-husband, author Edward Sheffield (Jake Gyllenhaal from Nightcrawler and Demolition), sends her a proof of his new novel. The book is about a man named Tony Hastings (also Gyllenhaal) who loses his family in a devastating road rage incident and, with the help of a renegade cop named Bobby Andes (Elvis & Nixon's Michael Shannon), seeks justice. As Susan reads, she begins to see parallels between the story and her relationship with Edward, and wonders if the novel is either a veiled threat or an olive branch for reconciliation from her estranged ex-spouse.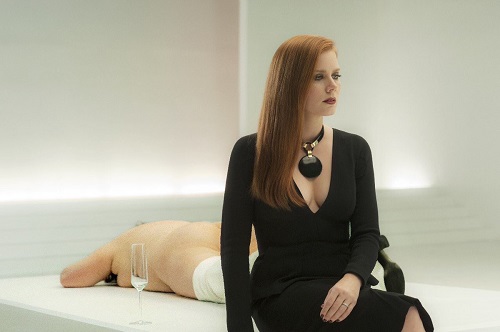 As one might expect, Nocturnal Animals is a story-within-a-story. Writer/director Tom Ford (A Single Man) follows the source material – the Austin Wright novel "Tony and Susan" – pretty closely, with the pretentious story of Susan and her art career providing the framework for the much more exciting revenge tale that is found within the pages of Edward's novel. Of course, the fictitious story is much more engaging, to the point where the audience practically begs for the movie to get back to the carnage when it dilly-dallies too long in the uppity, high-class real world.
There is a stark contrast to the two different movies that comprise Nocturnal Animals. Susan's story is all neon and halogen, big city parties and expensive art installations. Tony's tale is dusty, grimy, and bloody, as close to a modern revisionist western as one is bound to find in today's cinema (think Hell or High Water with a clearer sense of right and wrong). The two stories need each other to co-exist, to show the immense differences between the characters of Susan and Edward. It's a perfect yin and yang, a welcome juxtaposition between stuffy and scruffy.
Nocturnal Animals borders on greatness, and Tom Ford would be hailed as a cinematic genius if only he could have figured out how to effectively tie everything up, but unfortunately, the two stories don't come together in a completely satisfying way. The audience wants them to, hopes they do, and roots for it to happen, but at the risk of spoiling it, there's no big breathtaking revelation of a common thread between the tales. It's just a woman reading a book that's written by her ex-husband that she suspects may or may not be about her. It's still a fascinating combination of beauty and brutality, just don't expect any big "ah-ha!" moments out of it.

There are some really fun things going on acting-wise in Nocturnal Animals. Amy Adams and her screen-husband, Armie Hammer (The Man from U.N.C.L.E.), are delightfully stiff and wooden, just like the stuffy art scene that they represent in the movie. Jake Gyllenhaal is, of course, spectacular, playing double duty once again as a pair of his trademarked emotionally damaged characters (remember Enemy, everyone?). Aaron Taylor-Johnson (Godzilla), Karl Glusman (The Neon Demon), and Robert Aramayo ("Game of Thrones") make a wonderfully despicable band of delinquents in the novel section of the movie. And one can't help but think that Tom Ford is having a little fun with his audience by casting the often-confused-for Isla Fisher (Now You See Me) as the Amy Adams doppelganger in the Tony story as well.
And then, there's Michael Shannon. The short-timer sheriff steals every scene he's in, and Shannon appears to be having a ton of fun with the part. Gyllenhaal may have the meatier role, but Shannon's character is the one that the audience wishes could have a movie of his own. Shannon takes the crazy lawman archetype and runs with it, cranking it right up to eleven along the way. At one point, while interrogating a suspect named Lou who keeps asking him "who?", Shannon spits "you an owl, Lou?" at him in a way that is both hilarious and horrifying. It's the little things like that that make his performance so great, and that, in turn, makes the story-within-the-story in Nocturnal Animals the one that's more fun to watch.
Cast and Crew
Director(s): Tom Ford
Producer(s): Tom FordRobert Salerno
Screenwriter(s): Tom Ford
Story: Austin Wright
Cast: Amy Adams (Susan Morrow)Jake Gyllenhaal (Tony Hastings/Edward Sheffield)Michael Shannon (Bobby Andes) Aaron Taylor-Johnson (Ray Marcus)Isla Fisher (Laura Hastings)Ellie Bamber (India Hastings)Armie Hammer (Hutton Morrow)Karl Glusman (Lou)Robert Aramayo (Turk)Laura Linney (Anne Sutton)Andrea Riseborough (Alessia)Michael Sheen (Carlos)
Editor(s): Joan Sobel
Cinematographer: Seamus McGarvey
Production Designer(s):
Costume Designer: Arianna Phillips
Casting Director(s): Francine Maisler
Music Score: Abel Korzeniowski
Music Performed By: 
Country Of Origin: USA