Last week, Cinema Fearité brought you Offerings, an eighties slasher that was just behind its time. This week, we're heading to the other end of the scale by featuring a movie that was years ahead of its time. That movie is 1983's Sole Survivor.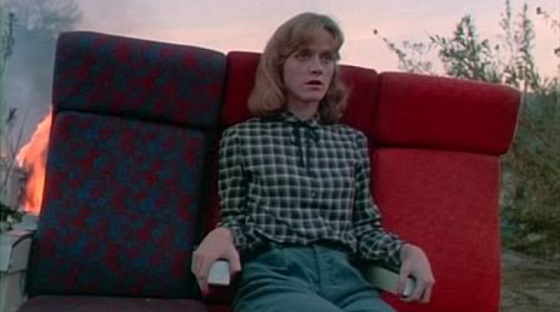 Sole Survivor is about a television commercial executive named Denise Watson (Anita Skinner from Girlfriends) who happens to be the only survivor of a horrific plane crash. After a short stay in the hospital, she is cleared to go home by Dr. Brian Richardson (The Fan's Kurt Johnson), but soon enough, Denise is plagued by weird occurrences and accidents that always seem to be accompanied by the presence of creepy strangers. With the help of Dr. Richardson and a psychic actress named Karla (Caren L. Larkey from Get Out), Denise figures out that she was not supposed to survive the plane crash, and that death has sent its minions to come and collect the debt.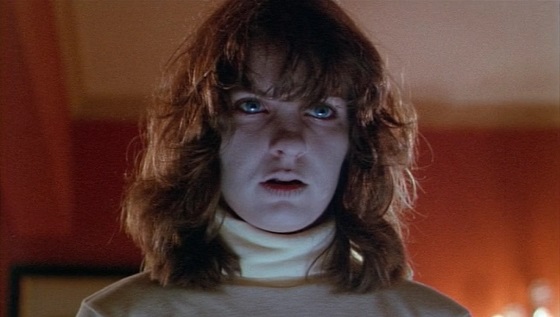 In a horror climate that was dominated by slasher movies, Sole Survivor is a refreshing little piece of eighties schlock. The first movie from writer/director Thom Eberhardt (who would go on to make Night of the Comet the next year), Sole Survivor is part supernatural ghost story and part sci-fi chiller, embraced by a cornily forced love story and capped off with an awesome twist ending. Between its originality and the popularity of its director's next movie, it's a wonder that Sole Survivor isn't a household name.
The influence of Sole Survivor is readily apparent in modern horror, particularly in a pair of movies that were made fairly recently. The whole "cheating death" revenge thing was done to death by Final Destination and its four (so far) sequels, with the first movie even echoing Sole Survivor's plane crash motif. And the creepy people who follows Denise are straight out of It Follows. Or, more accurately, the Its that follow in It Follows are straight out of Sole Survivor. Although it's possible, it would be hard to believe that the filmmakers behind It Follows and the Final Destination franchise hadn't drawn inspiration from Sole Survivor.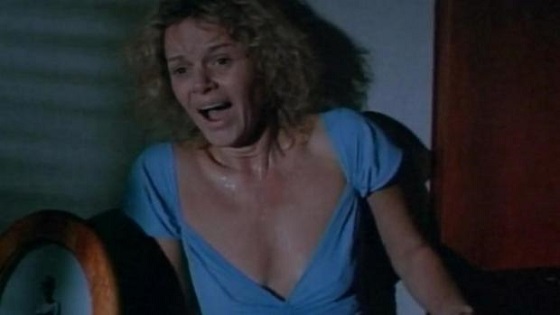 The gloom and doom of Death's imminence is foreshadowed heavily in Sole Survivor, and in retrospect, it's pretty awesome. First, the psychic actress Karla repeatedly warns Denise that something is going to happen, advising her to lock her doors and stay alert. When discussing her plane crash, Denise is reminded that "a large percentage of sole survivors die themselves within 24 months…" Best of all, Denise, while relaying her feelings about surviving the plane crash to Dr. Brian, tells him a story about how she once bought a dress and the transaction never showed up on her credit card bill, and she thought she had gotten away with something. When Brian refers back to the story later, she tells him that she finally did get a bill after a while, explaining that "they may make a mistake, but they eventually find you." These little throwaway lines and snippets of dialogue become deeply meaningful in the context of what's going on in the movie, and it's brilliant.
So, not only is Sole Survivor the first movie from Thom Eberhardt, it's also the first shot by cinematographer Russell Carpenter, who would go on to win an Oscar for his work on Titanic. Sole Survivor is a dark movie, and Carpenter shoots it in a very cold and mysterious fashion. Even the scenes in broad daylight have a certain stoic, mechanical detachment to them. Carpenter also uses a fun trick that was borrowed by It Follows where the camera will show an entire frame and leave it up to the viewer to single out the frightening character who might be threatening our heroine. And that's not even bringing up the most nightmarish sequence in the movie, the surreal aftermath of the plane crash in which body parts are strewn about and around a dazed Denise as she sits trapped, belted to her seat. The rubber carnage effects are retro-kitsch by today's standards, but Carpenter's emotionally distanced photography somehow makes them more visceral.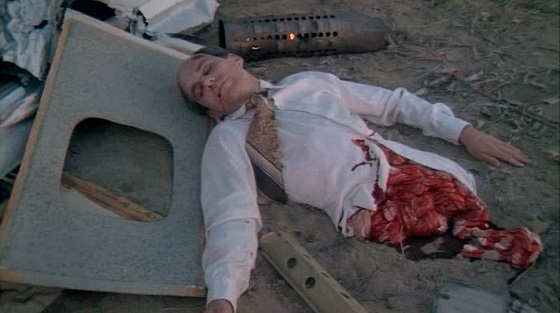 There's an oddly schizophrenic feeling to the music in Sole Survivor. Composed by David F. Anthony (whose credits include television series with names like "Psychology: The Human Experience" and "Universe: The Infinite Frontier"), half of the score is full of fun "Tales from the Darkside"-esque spooky horror clichés. The other half, mostly played to emphasize the awkward budding romance between Denise and Brian, is over-the-top orchestral movie-of-the-week sounding stuff. It's kind of a weird mix of music, feeling like it's from two different movies.
Okay, so Sole Survivor probably isn't as influential of a movie as, say, Halloween or The Exorcist. But it did seem to have some sway over the current crop of horror movies, and for that reason alone, it's worth a watch.